A Floridian Lounge
The Well raises the bar in Pensacola's East Garden district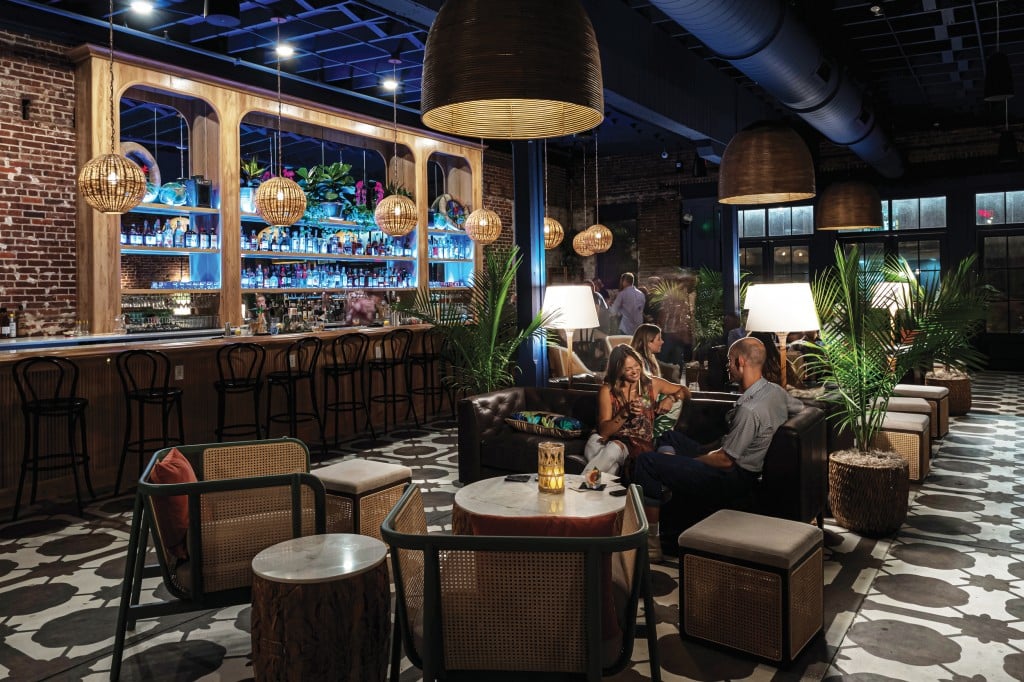 Longtime friends Reed Odeneal and D.C. took their time in bringing The Well, a vintage Florida-style taproom and cocktail lounge, to Pensacola's East Garden district.
"For more than five years, since the idea of Perfect Plain Brewing Co. was born, we have always tried to put our heart and passion into our projects with the hope of making Pensacola proud," Reeves said. "The Well Floridian Lounge has been more than two years in the making so we could get it exactly right."
He said of the lounge, located next to Perfect Plain Brewing Co. and Garden & Grain on East Garden Street, "It's a place that honors our home state, provides the hideaway vibe we love, with a national-caliber cocktail and funky beer program, and most important of all, provides an incredible bar experience."
"We've always had the idea in the back of our minds to create a venue to highlight and express a more creative menu and experience," Odeneal said. "The concept of a Floridian Lounge grew out of our love for Florida's rich culture and long history, especially with this being in America's first settlement."
Dalrymple Sallis Architecture and H+H Building Group did the planning and construction of the $700,000 project. "We're proud to say that something we have imagined and built has inspired more development within a block that had no foot traffic four years ago," Reeves said.
The Well, 2,500 square feet in size, has seating for up to 100 people in areas surrounding an expansive white oak-paneled bar. The interior, designed by Nicholas Pica of Studio Pica Design, features a dusty jade green leather banquette installed along the length of an exposed brick wall and houses colorful terrazzo-topped bistro tables and bentwood chairs.
Three lounge seating areas run along the center of the space lighted by oversized, rattan pendant light fixtures. They are rich in tropical plants supplied by Zachariah Richards of The Green Gardener. The lounge space features brown leather-tufted couches, wicker-accented furniture, and lamps and vintage trunks that serve as tables.
Vaulted industrial ceilings with "salty dog blue" accents and patterned concrete floors stenciled by Richard Ingram Painting add to aesthetics that Odeneal said "turned out incredible."
"We owe a lot of that to Nicholas Pica and his amazing team, but getting the chance to flex our creative muscle, expand our staff and organization and show off a new unique experience to Pensacola is what makes me most excited," he added.
"We wanted to be the first to bring the big city brewery vibe that has been popping up all over the country," Reeves said. "We offer refined yet unstuffy beer and cocktail programs that provide the expectation of a top-quality experience." Odeneal, who is director of brewing operations for R&R of Pensacola, and Gui Jaroschy, a world-renowned mixologist and co-owner of Unfiltered Hospitality, combined to come up with The Well's beverage program.
Jaroschy was twice a semi-finalist for a James Beard Award for best bar. His drink menu here offers 10 signature cocktails with names such as "Panhandle Pie" and "Via de Luna." All are served in unique glassware with festive garnishes. One drink appropriately named "In the Reeds" incorporates Perfect Plain's award-winning Holy Spin IPA, rye whiskey and a fresh grapefruit blend.
"One of my favorites," Reed said. But the signature cocktails are not the only mixed drinks available. "We can definitely accommodate whatever a guest asks for," Odeneal said.
"And everything is fresh," Reeves said. "There's no store-bought lime juice. We put a lot of time and energy into delivering the best cocktail program, and we're proud of how it turned out." Odeneal developed a "funky beer program" after years of fermenting beers in oak barrels and "foeders," which are made from wine, whiskey, rum and tequila barrels.
"Because we make our own beer, we can add our own dedicated beer program to The Well," Reeves said, "and that's going to be a concept that's going to be hard to replicate. That's part of how we can continue to elevate the downtown experience for locals and tourists."
And in case you were wondering, there's food available, too.
"We started a food program this summer that features raw oysters," Reeves said. "And a small bar menu is in the works as we speak."