A Castle by the Sea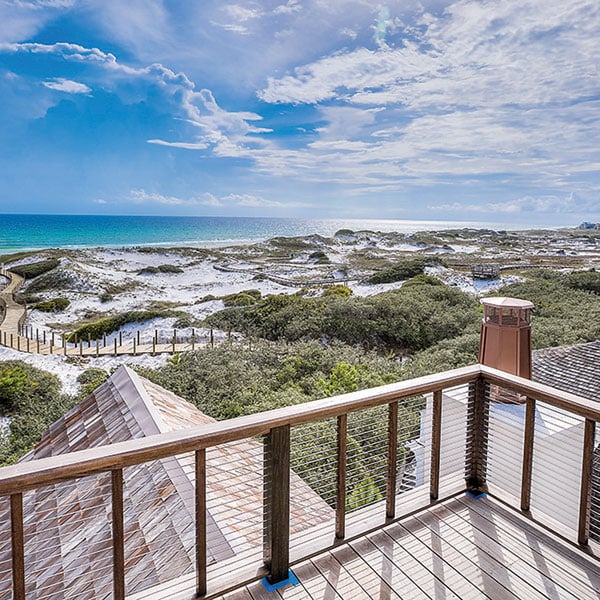 Imagine the most elaborate sand castle you could create. It is expansive, contains room after room, has a unique design and, of course, it is right on the beach. Now, imagine that perfect sand castle has come to life. In the prominent community of WaterSound Beach, it has. 
It is no wonder that this new home did not stay on the market for long. It is everything and more that you could wish for in a 30A home and stands like a fortress on 1.5 acres of private Gulf-front beach. 
"This is the epitome of a 30A residence, created to flow effortlessly between the beautiful environment and the extraordinary craftsmanship," said broker Chad Farnum. "It provides timeless, casual elegance required for the best in 30A living." 
It is open and inviting, each room flowing into the next. The living room faces the Gulf and features nano doors that admit gentle sea breezes. The kitchen boasts all of the latest appliances and a uniquely spherical design. 
There are four levels to this home, three of which offer spacious bedrooms each complete with private bathrooms. The master suite encompasses the entire third floor. It is centrally located as a haven for the queen and king. The views from this third floor space are endless and priceless. A master bathroom and sitting room provide luxury conveniences. 
The fourth floor is known as the tower room, because all castles have one. A sundeck 50 feet off the ground overlooks white sand dunes and Gulf horizons. Connected to the main home is a pedestrian bridge that leads to a carriage house, which includes a bedroom, bathroom and kitchenette. 
Given this home's prime location, world-class views and surplus of space, its new owners are sure to enjoy their castle by the sea.
---
Quick Look
List Price: $5,195,000
Sold Price: $4,995,000
Square feet: 4,050
Bedrooms: 5
Bathrooms: 6 
Contact: Chad & Hilary Farnum, Beachy Beach 30A, (850) 419-7383