A Beautiful Bounty on 30A
Beau Interiors captivates with every shade of sand, sea and sky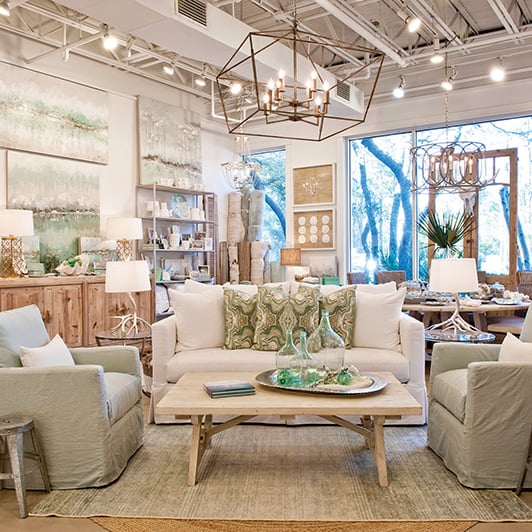 There are few times in your life when you enter a store and realize your experience will transcend beyond shopping. It might be the ambience, the personalized service, the unique offerings or the welcoming sensation that overtakes you; however, Beau Interiors envelopes all of the above by making you feel at home in a store that is meant to enhance your own.
Beau Interiors and Design was first established in 2011 on Scenic 30A in historic Grayton Beach. Because of its beautiful locale and the owner's love for natural elements, the store aims to capture coastal living through simple, understated elegance. These elements are present in pieces throughout the store such as oyster embellished chandeliers, coastal inspired original artwork, natural rugs, plush pillows, cozy couches, reclaimed wood furniture, recycled glass, coral accents as well as unique architectural pieces and more.
As the largest lifestyle and home store on 30A, Beau Interiors offers all you may want or need to completely furnish your home, refresh with updated accessories or find a sentimental gift not to be found in other stores. Your experience is made even more satisfying by the embracing and calming environment, much like you've stepped into a longtime friend's home. This sense of completeness stems from owner Margie Perry's own philosophies.
"I believe that your home should be your resting place; an entertaining place; a place where we make memories and celebrate life with family and friends," said Perry.
One of the ways in which Beau Interiors can help create your ideal living space is through their design services. In addition to design
assistance as you shop, Beau Interiors offers a complimentary one hour in-home consultation to local clients. Their interior design team also specializes in new construction, renovations and commercial projects.
"There is beauty in a well-thought-out interior design plan," explained Perry. "Selections that reflect the homeowner's lifestyle are important throughout the process. Our goal is to help create a beautiful home environment that will be comfortable with select pieces that will stand the test of time."
Whether you want to accent your home with a one-of-a-kind find, update your rugs and pillows or select the perfect gift for a friend, whatever your budget the Beau team is grateful to be included in an aspect of your life that is so very important to you.