4 Festivals That Showcase Creations by Region's Artists
Arts festivals are good places to start an art collection or add to one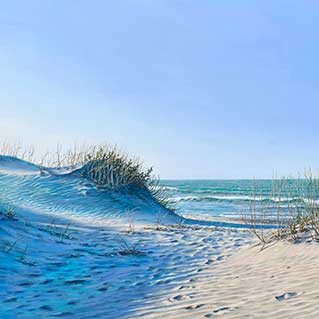 55th Bay Annual Art Exhibit
April 10—May 4
The newly remodeled Panama City Center for the Arts, formerly the Visual Arts Center, will host the 55th Bay Annual Art Exhibit beginning April 10.
The juried show is open to artists who reside in Bay, Calhoun, Escambia, Franklin, Gadsden, Gulf, Holmes, Jackson, Jefferson, Leon, Liberty, Okaloosa, Santa Rosa, Wakulla, Walton or Washington counties. Works in all media, both two- and three-dimensional, with the exception of photography, are eligible. The majority of entries will be available for purchase.
Judging takes place prior to the opening of the exhibit. Winners will be announced at an opening reception on April 7.
Heather Clements of Panama City was the Best of Show winner in 2017. Her paintings, frequently combining human faces with flowers, will be on display at the Center for the Arts beginning May 12.
The Bay Annual Art Exibit is free and open to the public.
A portion of the proceeds from the sale of works is retained by the Center for the Arts.
ArtsQuest Fine Arts Festival
May 12—13
On Mother's Day weekend, the 30th annual ArtsQuest Fine Arts Festival kicks off Art Week South Walton by transforming the streets of the Town Center of Grand Boulevard at San Destin into a showcase of original art.
ArtsQuest will feature 150 local, regional and national fine artists, as well as live music, family entertainment and children's activities. The festival is produced by the Cultural Arts Alliance of Walton County and awards $10,000 in cash prizes.
Last year's show featured ceramics, fiber, glass, jewelry, metal, mixed media, oil and acrylics, original digital art, photography, sculpture, wood and works on paper (such as watercolor and printmaking).
Food will be available from restaurants in Grand Boulevard and additional food vendors. Drinks will be poured at a full cash bar.
Admission to ArtsQuest is free, but donations are accepted at the gate.
MKAF Festival of the Arts
Oct. 27–28
The Mattie Kelly Arts Foundation's two-day signature event returns to Destin the last full weekend in October.
Featuring more than 100 artists from throughout the United States, plus a collaborative exhibit by an additional 80 adults and students, the 23rd Annual Festival of the Arts will showcase diverse styles of media and award $10,000 in cash prizes.
In addition to art exhibits, live art demonstrations, and interactive arts stations for children, guests can expect a variety of music and food. The Festival of the Arts will feature local and regional musicians and the opportunity to dine al fresco while taking in the art, with wine and beer available for purchase.
Admission to the Festival of the Arts is $5, and free to MKAF members and children 12 and under.
Great Gulfcoast Arts Festival
Nov. 2-4
Seville Square, Pensacola | ggaf.org
More than 200 artists including painters, potters, sculptors, jewelers, graphic artists and others participate in the Great Gulfcoast Arts Festival, held as part of Pensacola's Foo Foo Festival.
Performing companies, dance studios, community groups and folk artists add to the event. Craft artists demonstrate traditional arts ranging from blacksmithing and engraving to spinning and weaving. The festival offers hands-on activities for children and features a student art show.
Festival-goers may choose among local favorites and regional fare representing a variety of culinary tastes.
Admission to the festival is free.