2023 Medical Profile: Coastal Skin Surgery & Dermatology
Mandy Frith, PA-C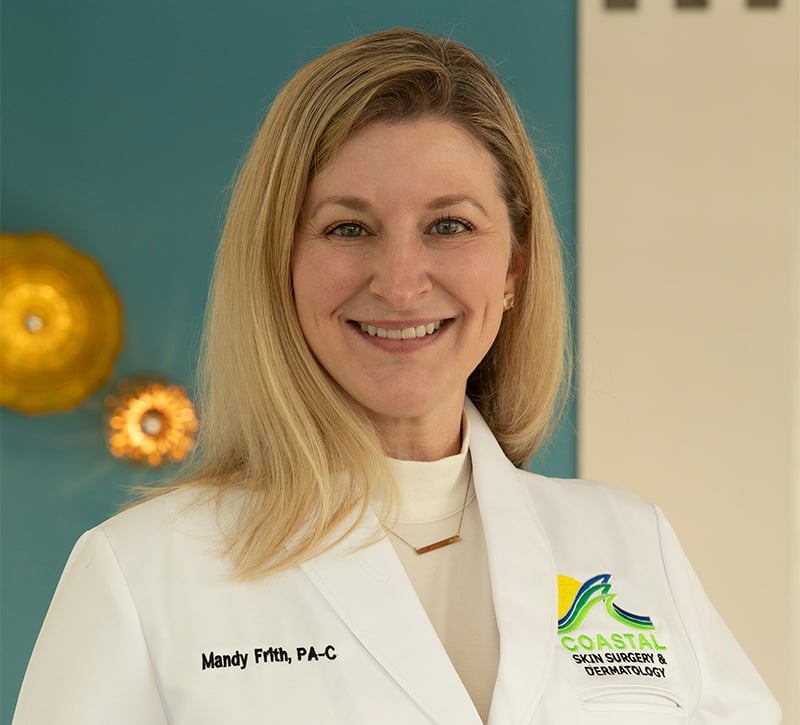 When Mandy Frith was a teenager, she lost her grandfather to melanoma. Ever since, it has been her mission to promote the importance of taking care of your skin and having it regularly checked by a dermatologist.
Propelled by a passion to educate and inform, Frith attended the University of Alabama at Birmingham and earned a degree in surgical physician assistant studies in 2002. In 2003, she went to work at a dermatology practice in Birmingham, Alabama.
She went on to receive her master's degree in physician assistant studies at the University of Nebraska Medical Center in 2007, and in 2019, she received her doctorate of medical science from the University of Lynchburg.
Recently, she felt a longing to live closer to her parents on the Emerald Coast. When researching dermatology practices in the area, she was impressed by the reputation of Coastal Skin Surgery & Dermatology. In July 2022, she secured a position there.
"I feel really lucky to be here, surrounded by an amazing staff and patients," Frith said. "It's a pleasure to come to work every day. It doesn't even feel accurate to call it work when you enjoy it this much."
With locations in Miramar Beach, Niceville, Fort Walton Beach and Panama City Beach, Coastal Skin Surgery & Dermatology offers medical, surgical and cosmetic dermatology ranging from skin checks to Mohs surgery for skin cancer to treatments for aesthetic enhancements.
While she does offer a variety of other dermatological services, skin cancer treatment and prevention is Frith's primary speciality
"As someone who was personally impacted by melanoma in my family, as a Florida resident and with the prevalence of skin cancer on the rise, it's important to promote having your skin checked at least once a year," Frith said.
Frith advises wearing sunscreen every day and investing in quality sunglasses and sun protectant clothing.
Approaching her one-year anniversary at Coastal Skin Surgery & Dermatology, Frith hopes to continue expanding her practice while working with her established patients.
"It feels really good to have repeat patients who specifically request me because they've had a pleasant experience," Frith said. "My goal is that they leave knowing more than they did when they came in and that they always feel comfortable here."
---
Locations:
Miramar Beach | (850) 654-3376
12469 Emerald Coast Parkway
Fort Walton Beach | (850) 314-7546
912 Mar Walt Drive
Niceville | (850) 897-4900
4400 Hwy. 20 E, Suite 410
Panama City Beach | (850) 500-3376
12139 Panama City Beach Parkway
---