2017 Best of The Emerald Coast
The votes have been tallied and here are the winners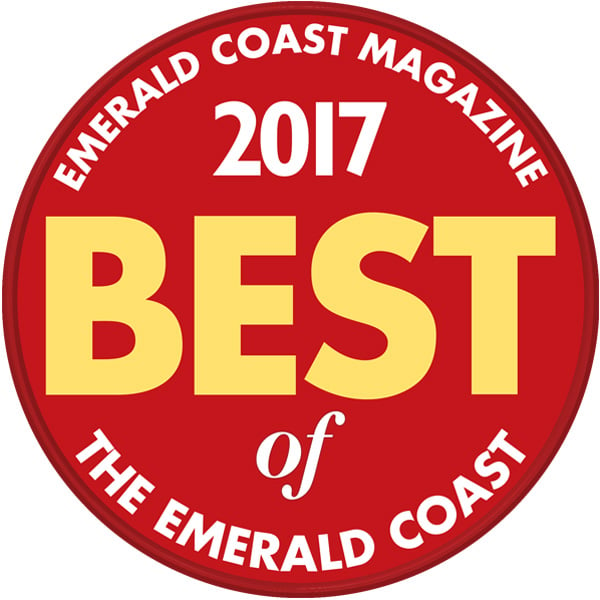 The Emerald Coast lifestyle is brought to you by the people who deliver goods and services here. For the enjoyment of residents and visitors, they serve up delicious food, trendy clothes, stylish furnishings, beautiful art, health care, financial services, premium building supplies, fine automobiles, entertainment, timely repairs and much, much more.
Each year, Emerald Coast Magazine thanks them by inviting our readers to identify the businesses they have found in their own experience to be the best in their fields.
Readers' top choices are awarded the accolade "Best of the Emerald Coast."
In the pages that follow, see which businesses readers say make the Emerald Coast lifestyle one to be envied.
Get to know the people who operate these top businesses at the "Best of the Emerald Coast" extravaganza Oct. 21 at Grand Boulevard in Sandestin. Nearly 200 "Best of" winners will gather to exhibit their products, demonstrate their services and share their stories with new friends and old. Fine food and beverages, live entertainment, high fashion and dancing under the stars are part of the celebration.
General admission tickets are $40 in advance and $50 the day of the event. VIP tickets are $75 and include early access to the VIP lounge, featuring exclusive food and beverages and complimentary swag bags. Purchase tickets at EmeraldCoastMagazine.com. Proceeds benefit the Junior League of the Emerald Coast.
We thank you, readers, for participating in the "Best of the Emerald Coast" poll and giving top businesses the recognition they deserve.
Entertainment
ENTERTAINMENT | FOOD & BEVERAGE | SERVICE PROVIDERS | SHOPPING | ONLINE CATEGORIES
ENTERTAINMENT | FOOD & BEVERAGE | SERVICE PROVIDERS | SHOPPING | ONLINE CATEGORIES
Food & Beverage
ENTERTAINMENT | FOOD & BEVERAGE | SERVICE PROVIDERS | SHOPPING | ONLINE CATEGORIES
Appetizer
Bonefish Grill
bonefishgrill.com
Destin, Panama City, Pensacola
(850) 650-3161*
*Destin location

Asian
Osaka Japanese Hibachi Steakhouse & Sushi Bar
osakahibachiandsushi.com
Destin, Panama
City Beach
(850) 650-4688* 
*Destin location

Atmosphere
Cuvée Kitchen + Wine Bar
cuveekitchen.com
Destin
(850) 460-2909

Bagel Shop
Bagelheads
bagelheads.com
Pensacola
(850) 444-9661

Bakery
Bon Appétit French Bakery and Café
bonappetitfrenchbakery.webs.com
Fort Walton Beach
(850) 244-2848

Bar/Tavern
The Craft Bar
thecraftbarfl.com
Destin, Santa Rosa Beach, Miramar Beach, Panama City Beach
(850) 460-7907* 
*Destin location

BBQ
Buck's Almost Famous Smokehouse
buckssmokehouse.com
Destin
(850) 837-3600

Beer Selection/Craft Beer
The Craft Bar
thecraftbarfl.com
Destin, Santa Rosa Beach, Miramar Beach, Panama City Beach
(850) 460-7907* 
*Destin location

Best Frozen Treat (Ice Cream, Yogurt, Gelato, Snow Cones)
Bruster's
brusters.com/destin
Destin
(850) 269-2920

Bloody Mary
Another Broken Egg Café
anotherbrokenegg.com
Destin, Grayton Beach, Miramar Beach, Panama City Beach, Pensacola,
(850) 424-3416* 
*Miramar Beach location

Breakfast
Another Broken Egg Café
anotherbrokenegg.com
Destin, Grayton Beach, Miramar Beach,
Panama City Beach, Pensacola
(850) 424-3416 
*Miramar Beach location

Brunch
Mama Clemenza's
mamaclemenzas.com
Fort Walton Beach, Miramar Beach*
(850) 424-3157
*Miramar Beach location

Cajun/Creole
Louisiana Lagniappe
thelouisianalagniappe.com
Destin
(850) 837-0881

Chef
Clovis DaSilva/Fat Clemenza's
fatclemenzas.com
Miramar Beach
(850) 650-5980

Chicken & Waffles
Sunset Bay CafÉ
SunsetBayCafeSandestin.com
Sandestin
(850) 267-7108

Chinese (Tie)
Dynasty Chinese Cuisine
dynastydestin.com
Miramar Beach
(850) 837-6675

Lin's Asian Cuisine
linsasiancuisine.com
Miramar Beach
(850) 424-5888

Coffee
Bad Ass Coffee
badasscoffeestore.com
Destin, Pensacola and Santa Rosa Beach
(850) 269-3997*
*Destin location

Crab Cakes
The Red Bar
theredbar.com
Grayton Beach
(850) 231-1008

Crawfish
Brotula's Seafood & Steamer
brotulas.com
Destin
(850) 460-8900

Dessert
Marlin Grill
marlingrill.com
Miramar Beach
(850) 351-1990

Fine Dining
Seagar's Prime Steaks & Seafood
seagars.com
Miramar Beach
(850) 622-1500

Food Truck/Airstream
Big Red Truck
destinfoodtrucks.com
Destin
(850) 737-1185

French
Bijoux
bijouxdestin.com
Miramar Beach
(850) 622-0760

Gourmet/Food Shop/Specialty Food Store
Modica Market
modicamarket.com 
Santa Rosa Beach
(850) 231-1214

Grouper Sandwich
Dewey Destin's Seafood Restaurant
destinseafood.com
Destin
(850) 837-7525

Gumbo
Hightide Restaurant and Oyster Bar
hightiderestaurant.com
Fort Walton Beach
(850) 244-2624

Hamburger
McGuire's Irish Pub
mcguiresirishpub.com
Destin, Pensacola
(850) 650-0000 
*Destin location

Happy Hour
Cuvée Kitchen + Wine Bar
cuveedestin.com
Destin, Inlet Beach
(850) 650-8900* 
*Destin location

Healthy Menu Options
Everkrisp
everkrisp.com
Destin, Miramar Beach
(850) 460-8881*
*Destin location

Hibachi
Osaka Japanese Hibachi Steakhouse & Sushi Bar
osakahibachiandsushi.com
Destin, Panama City Beach
(850) 650-4688*
*Destin location

Italian
Amici 30A Italian Kitchen
amici30a.com
Inlet Beach
(850) 909-0555

Locally Owned Restaurant
Clemenza's at Uptown Station
clemenzasatuptown.com
Fort Walton Beach
(850) 243-0707

Locally Made Product
Honey Hutch
Thehoneyhutch.com
Santa Rosa Beach
(850) 499-6528

Margarita
Cantina Laredo
cantinalaredo.com
Miramar Beach
(850) 654-5649

Martini
Bonefish Grill
bonefishgrill.com
Destin, Panama City, Pensacola
(850) 650-3161*
*Destin location

Mediterranean
Aegean Resaurant Greek Cuisine
aegeanfl.com
Shalimar, Miramar Beach
(850) 460-2728* 
*Miramar Beach location

Mexican/Latin American
Cantina Laredo
cantinalaredo.com
Miramar Beach
(850) 654-5649

Mojito
Cuvée Kitchen + Wine Bar
cuveekitchen.com
Destin
(850) 460-2909

On-site Catering
Marie's Bistro
mariesbistro.com
Santa Rosa Beach
(850) 278-6856

Outdoor Bar
Lulu's
lulubuffett.com
Destin
(850) 710-5858

Outdoor Dining
Boshamps Seafood & Oyster House
lulubuffett.com
Destin
(850) 424-7406

Oysters (tie)
Half Shell Oyster House
halfshelloysterhouse.com
Destin
(850) 842-4788

Hightide Seafood Restaurant and Oyster Bar
hightiderestaurant.com
Fort Walton Beach
(850) 244-2624

Pizza
Fat Clemenza's
fatclemenzas.com
Miramar Beach
(850) 650-5980

Restaurant in Bay County
Firefly
fireflypcb.com
Panama City Beach
(850) 249-3359

Restaurant in Escambia County
Dharma Blue
dharmablue.com
Pensacola
(850) 433-1275

Restaurant in Okaloosa County
Clemenza's at Uptown Station
clemenzasatuptown.com
Fort Walton Beach
(850) 243-0707

Restaurant in Walton County
Mama Clemenza's
mamaclemenzas.com
Fort Walton Beach, Miramar Beach*
(850) 424-3157*
*Miramar Beach location

Romantic/Special Occasion Restaurant
Seagar's Prime Steaks & Seafood
seagars.com
Miramar Beach
(850) 622-1500

Salad
Everkrisp
everkrisp.com
Destin
(850) 460-8881

Sandwich Shop
Lenny's Sub Shop
lennys.com
Crestview, Destin, Fort Walton Beach, Mary Esther, Niceville
(850) 269-1152*
*Destin location

Seafood Market
Destin Ice House
destinice.com
Destin
(850) 837-8333

Seafood Restaurant
Brotula's Seafood & Steamer
brotulas.com
Destin
(850) 460-8900

Sports Bar
Shades Bar & Grill
shades30a.com
Panama City Beach
(850) 231-9410

Steamer
Brotula's Seafood & Steamer
brotulas.com
Destin
(850) 460-8900

Steakhouse
Ruth's Chris Steak House
ruthschris.com
Destin
(850) 837-7884

Sushi
Harbor Docks
harbordocks.com
Destin
(850) 837-2506

Thai
Thai Delights
Destin
(850) 650-3945

Tuna Dip
Old Florida Fish House
oldfloridafishhouse.com
Santa Rosa Beach
(850) 534-3045

Wedding Caterer
Sandestin Weddings
sandestin.com/weddings
Miramar Beach
(850) 267-6736

Wine List/Wine Bar
Chan's Wine World
chanswineworld.com
Destin, Panama City Beach, Pensacola, Santa Rosa Beach
(850) 269-2909*
*Destin location

Wings
Buffalo's Reef
buffalosreef.com
Fort Walton Beach
(850) 243-9464
ENTERTAINMENT | FOOD & BEVERAGE | SERVICE PROVIDERS | SHOPPING | ONLINE CATEGORIES
Service Providers
ENTERTAINMENT | FOOD & BEVERAGE | SERVICE PROVIDERS | SHOPPING | ONLINE CATEGORIES
Acupuncture Clinic
Tortoise Clinic of Chinese Medicine
thetortoiseclinic.com
Santa Rosa Beach
(850) 267-5611

Aesthetician
Emerald Coast Med Spa & Wellness
emeraldcoastmedspa.com
Navarre
(850) 939-5413

Airport
Destin-Fort Walton Beach Airport
flyvps.com
Eglin Air Force Base
(850) 651-7160

Architect
DAG Architects Inc.
dagarchitects.com
Destin, Pensacola, Panama City, Tallahassee
(850) 837-8152*
*Destin location

Automobile Dealership
ZT Motors
ZTdealers.com
Fort Walton Beach
(850) 863-2161

Audio/Visual Provider
Innovative Sight & Sound
beinnovative.com
Santa Rosa Beach
(850) 654-5383

Auto Repair/Body Shop
Emerald Coast Collision Repair
Emeraldcoastcollisionrepair.com
Fort Walton Beach
(850) 664-3762

Bank
First Florida Bank
firstflorida.bank
Destin,Miramar Beach, Niceville, Mary Esther, Freeport, Panama City Beach
(850) 269-1201*
*Miramar Beach

Boat Sales and Service
Legendary Marine
legendarymarine.com
Destin, Fort Walton Beach, Panama City Beach, Pensacola
(888) 843-0532

Builder/Contractor
Carter Building Company
carterbuildingcompany.com
Destin
(850) 978-2106

Car/Limo Rental/Shuttle Service
654Limo
654limo.com
Destin
(850) 654-5466

Cardiologist
​Fort Walton Beach Medical Center
fwbmc.com
Fort Walton Beach
(850) 862-1111

Carpet Cleaner
​Sandollar Carpet Cleaning
Miramar Beach
(850) 585-5712

​

Charity/Nonprofit
Alaqua Animal Refuge
alaqua.org
Freeport
(850) 880-6399

Charter Boat/Watersports
One Shot Fishing Charters
oneshotcharters.com
Fort Walton Beach
(850) 585-9436

Cheerleading/Gymnastics Facility
US Gold Gymnastics & Cheerleading 
destingymnastics.com
Miramar Beach, Crestview
(850) 654-3124* 
*Miramar Beach location

Chiropractic Practice
Payne Chiropractice Wellness Center
destin-chiropractor.com
Destin
(850) 654-8770

Commercial Real Estate Group
Century 21 Blue Marlin Fine Homes and Estates
C21BlueMarlin.com
Destin
(850) 837-7800

Computer and Cell Phone Repair Services/Tech Support
​CRC Data Technologies
crcdatatech.com
Destin
(850) 654-7262

Contractor
Tadlock Roofing
tadlockroofing.com
Panama City, Pensacola
(850) 785-7777*
*Panama City

Cosmetic/Plastic Surgery Practice
Destin Plastic Surgery
theplasticdoc.com
Destin
(850) 654-1194

Credit Union
Eglin Federal Credit Union
eglinfcu.org
Crestview, Destin, Eglin AFB, Fort Walton, Hurlburt Field, Mary Esther, Navarre
(850) 862-0111

Best Customer Service
Gulfshore Air Conditioning & Heating
gulfshoreair.com
Niceville
(850) 897-6540

Dance Studio/Ballet Company
​Luna Ballroom
lunaballroomdestin.com
Destin, Gulf Breeze
(850) 714-1669

Dental Practice
Great Florida Smiles & Orthodontics
greatfloridasmiles.com
Santa Rosa Beach, DeFuniak Springs
(850) 622-5888* 
*Santa Rosa Beach location

Dermatology Practice
Coastal Skin Surgery & Dermatology
coastalskinsurgery.com
Fort Walton, Miramar Beach, Niceville, Panama City Beach
(850) 654-3376* 
*Miramar Beach location

Electric Cart/Golf Cart Dealership
Dixielectricar
Dixielectricar.com
Santa Rosa Beach
(850) 269-0011

Best Event Planning Firm
Proffitt PR
proffittpr.com
Miramar Beach
(850) 460-7777

Event Venue
SunQuest Cruises, Solaris
sunquestcruises.com
Miramar Beach
(850) 650-2519

Eye Doctor Practice
O'Donnell Eye Institute
greatfloridaeyes.com
Santa Rosa Beach
(850) 622-4000

Family Physician/Practice
White-Wilson Family Medicine
white-wilson.com
Destin, Fort Walton Beach, Niceville, Navarre
(850) 863-8100* 
*Fort Walton Beach location

Financial Planning/Investment Firm
Edward Jones
Edwardjones.com
Santa Rosa Beach
(850) 622-1009

Flooring
Infinity Flooring
infinityfloors.com
Miramar Beach
(850) 650-1039

Florist
GG Bloom
ggbloom.com
Destin
(850) 460-2078

Gym/Health Club/Fitness Center/Studio
​Sandestin Fitness Club
sandestin.com/memberships
Miramar Beach
(850) 267-6464

Hair Salon
Avantgarde Salon Spa
avantgardeaveda.com
Destin, Niceville
(850) 654-5057* 
*Shops of Destiny location

Heating and Air Service
Gulfshore Air Conditioning & Heating, Inc.
gulfshoreair.com
Niceville
(850) 897-6540

Holistic Health/Alternative Health
Foundations Medical Center
foundationsmedicalcenter.com
Santa Rosa Beach
(850) 660-6701

Home Cleaning
SoWal Clean
sowalclean.com
Sandestin Resort to Blue Mountain Beach
(850) 687-2077

Homeowner's Association
Kelly Plantation
kellyplantation.com
Destin
(850) 650-7600

Insurance Agency
Insurance Zone
ins-zone.com
Miramar Beach, Santa Rosa Beach
(850) 424-6979*
*Miramar Beach location

Interior Design Firm
Lovelace Interiors
lovelaceinteriors.com
Miramar Beach
(850) 837-5563

Landscaping/Lawn Service
Edwards Landscape Management Inc.
teamedwardslandscape.com
Fort Walton Beach, Shalimar, Destin, Santa Rosa Beach, Panama City, Pensacola, Gulf Shores
(850) 391-8675

Law Firm
​Ward & Ketchersid, P.A.
flaattorney.com
Destin
(850) 837-5507

Lighting Store
Beautiful Lights
beautifullights.com
Destin
(850) 650-9417

Locksmith
Destin Locksmithing
destinlocksmithing.com
Miramar Beach, Panama City Beach
(850) 654-9910* 
*Miramar Beach location

Martial Arts/Karate
​Centerline Martial Arts
CMADestin.com
Miramar Beach
(850) 585-6153

Massage Therapist
​Meritage Spa
meritagespa.com
Miramar Beach
(850) 837-6772

Media Provider (Cable, Internet, Phone)
Cox Communications
cox.com
Crestview, Fort Walton Beach, Destin, Pensacola
(850) 796-1269* 
*Destin location

Medical Center/Hospital
Sacred Heart Health System
sacredheartemerald.org
Miramar Beach, Pensacola
(850) 278-3000*
*Miramar Beach location

Medical Practice
Wells Vision and Laser Eye Center
wellsvisioncenter.com
Destin
(850) 424-6677

Medical Spa
Meritage Spa
meritagespa.com
Miramar Beach
850-837-6772

Mortgage Lender
Bank of England Mortgage
engfwb.com
Fort Walton Beach
(850) 362-6488

Nail Salon
​Spa Sandestin
sandestin.com/spa
Miramar Beach
(850) 267-6466

New Business
​Proffitt Home Services
facebook.com/ProffittHomeServices
Destin
(850) 797-8673

On-Site Dry Cleaner
​Bangkok Cleaners
easycoinwash.com
Santa Rosa Beach
(850) 912-WASH

Oral Health Care Specialty Practice
Great Florida Smiles & Orthodontics
greatfloridasmiles.com
Santa Rosa Beach, DeFuniak Springs
(850) 622-5888

Orthodontist Practice
Stubbs Orthodontics
stubbsortho.com
Niceville, Destin
(850) 678-8338

Orthopedic Surgical Practice
White-Wilson Medical Center
white-wilson.com
Destin, Fort Walton Beach, Niceville, Navarre
(850) 863-8100*
*Fort Walton Beach location

Pediatric Practice
White-Wilson Pediatrics
white-wilson.com/pediatrics.htm
Destin, Fort Walton Beach, Niceville, Navarre
(850) 863-8100* 
*Fort Walton Beach location

Personal Trainer
Destin Health and Fitness
destinhealthandfitness.com
Destin
(850) 842-4612

Pharmacy
Emerald Coast Compounding Pharmacy
eccpharmacy.com
Santa Rosa Beach
(850) 622-5800

Photo Booth Company
Epic Photo Co.
epicphotoco.com
Santa Rosa Beach
(888) 988-3223

Photography
Roland Moriarty
rolandmoriarty.net
Santa Rosa Beach
(850) 358-0764

Physical Therapy Practice
PT Solutions
ptsolutions.com
Panama City Beach, Santa Rosa Beach, Destin, Pensacola, Niceville
(850) 622-0842* 
*Santa Rosa Beach location

Plumbing Fixtures/Service
Emerald Bay Plumbing
emeraldbayplumbing.com
Destin
(850) 837-1979

Pool Building/Service Company
Cox Pools
coxpools.com
Panama City Beach, Destin
(850) 650-9138*
*Destin location

PR/Advertising Agency
Proffitt PR
proffittpr.com
Miramar Beach
(850) 460-7777

Printing/Copying Services
​Eloquent Signs
eloquentsigns.com
Destin
(850) 460-2425

Property Management Group
Newman-Dailey Resort Properties, Inc.
destinvacation.com
Miramar Beach
(800) 225-7652

Prosthodontics Practice
Great Florida Smiles & Orthodontics
greatfloridasmiles.com
Santa Rosa Beach, DeFuniak Springs
(850) 622-5888
*Santa Rosa Beach location

Real Estate Auction Company
Luxury Estates Auction company
leauctions.com
Destin
(850) 460-8877

Residential Real Estate Group
​RealJoy Properties
RealJoyproperties.com
Destin
(850) 424-3094

Security/Alarm System
Westco Security
westcoprotection.com
Mary Esther
(850) 664-6464

Spa Services
Meritage Spa
meritagespa.com
Miramar Beach
(850) 837-6772

Specialty Fitness (Pilates, yoga, etc.)
Destin Hot Yoga
destinhotyoga.com
Miramar Beach
(850) 547-6133

Specialty Pet Services/Products
Goochie Poochie
goochiepoochiesparesort.com
Destin
(850) 460-7460

Specialty Surgical Practice
Destin Plastic Surgery
theplasticdoc.com
Destin
(850) 654-1194

Title Company
Hall & Runnels PA
hrlaw-destin.com
Destin
(850) 337-4600

Tutoring/Learning Center
The Tutoring Center
sandestin.tutoringcenter.com
Miramar Beach
(850) 424-7935

Vacation Rental Company/Service
​ResortQuest by Wyndham Vacations Rentals
WyndhamVacationRentals.com
Fort Walton Beach (main office), Rentals throughout Northwest Florida
(844) 475-2098

Veterinary Practice
Airport Veterinary Clinic
airportvetdestin.com
Destin
(850) 837-3227

Videography
Land Air Sea Productions
landairseaproductions.com
Destin
(850) 499-4366

Wedding Planner Company
Destin Wedding Company
destinweddingcompany.com
Destin
(850) 685-0190

Wedding/Reception Venue
​SunQuest Cruises, Solaris
sunquestcruises.com
Miramar Beach
(850) 650-2519

Weight Loss Facility
Emerald Coast Weight Loss
emeraldcoastweightloss.com
Niceville
(844) 441-8446
ENTERTAINMENT | FOOD & BEVERAGE | SERVICE PROVIDERS | SHOPPING | ONLINE CATEGORIES
Shopping
ENTERTAINMENT | FOOD & BEVERAGE | SERVICE PROVIDERS | SHOPPING | ONLINE CATEGORIES
Antiques Shop
Smith's Antiques Mall
smithsantiquesmall.com
Miramar Beach
(850) 654-1484

Beachwear Retailer
Islanders Coastal Outfitter
islandsurf.com
Fort Walton Beach, Pensacola Beach
(850) 243-4362* 
*Fort Walton Beach location

Children's Clothing Retailer
Coconut Kidz Children's Apparel & Toys
shopsandestin.com/coconut-kidz.html
Miramar Beach
(850) 351-1800

Consignment/Resale Shop
Ava's Attic
avasatticindestin.com
Miramar Beach
(850) 424-6767

Eyewear Store
O'Donnell Eye Institute
greatfloridaeyes.com
Santa Rosa Beach
(850) 622-4000

Furniture Retailer
Sugar Beach Interiors
sugarbeachinteriors.com
Miramar Beach
(850) 837-5157

Gift Shop
The Zoo Gallery
thezoogallery.com
Grayton Beach, Destin, Miramar Beach
(850) 231-0777*
*Grayton Beach location

Jewelry Store
McCaskill & Company
mccaskillandcompany.com
Miramar Beach
(850) 650-2262

Locally Owned Retailer
The Zoo Gallery
thezoogallery.com
Grayton Beach, Destin, Miramar Beach
(850) 837-9233*
*Miramar Beach

Men's Accessories
Island Clothiers
shopsandestin.com
Miramar Beach
(850) 351-1806

Men's Apparel
Island Clothiers
shopsandestin.com
Miramar Beach
(850) 351-1806

Men's Shoes
Sunset Shoes and lifestyles
sunsetshoesonline.com
Miramar Beach, Destin and Panama City Beach
(850) 837-5466* 
*Miramar Beach location

Outdoor Furniture Retailer
Bay Breeze Patio
baybreezepatio.com
Miramar Beach
(850) 269-4666

Sporting Goods Retailer
Half Hitch Tackle
halfhitch.com/stores
Destin, Panama City Beach
(850) 837-3121*
*Destin location

Wedding Shop
Simply Elegant Bridal
sebridals.com
Fort Walton Beach
(850) 862-3334

Women's Accessories
Today's Boutique
todaysdestin.com
Destin
(850) 837-5565

Women's Apparel

Today's Boutique
todaysdestin.com
Destin
(850) 837-5565

Women's Shoes
Sunset Shoes and lifestyles
sunsetshoesonline.com
Miramar Beach, Destin, Panama City Beach
(850) 837-5466* 
*Miramar Beach location
ENTERTAINMENT | FOOD & BEVERAGE | SERVICE PROVIDERS | SHOPPING | ONLINE CATEGORIES
Online categories
ENTERTAINMENT | FOOD & BEVERAGE | SERVICE PROVIDERS | SHOPPING | ONLINE CATEGORIES
Brewery
Grayton Beer Company
graytonbeer.com
Santa Rosa Beach
(850) 231-4786
Personal Shopping/Concierge Service
Be My Shopper
BeMyShopper.com
Destin
(855) SHOP850
Place to Read a Book
Seaside Community
Seasidefl.com
Seaside
(850) 231-6179
Social Media to Follow
Fun 4 Emerald Coast Kids
fun4emeraldcoastkids.com
Santa Rosa Beach
(904) 200-1609