2017 Best of The Emerald Coast Guidelines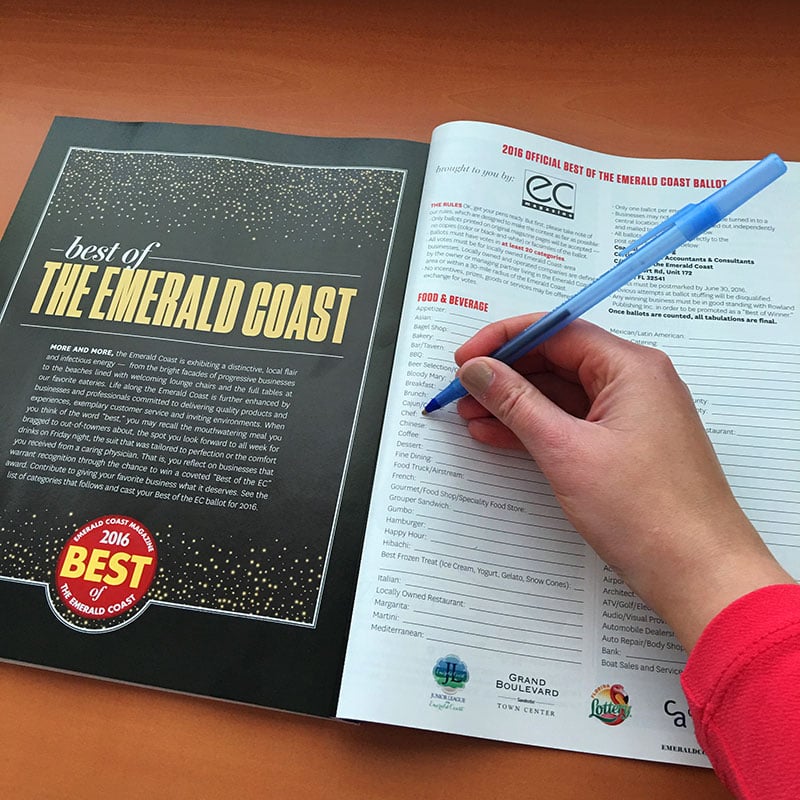 CLICK THE LOGO to vote for our
exclusive online categories!
More and more, the Emerald Coast is exhibiting a distinctive, local flair and infectious energy — from the bright facades of progressive businesses to the beaches lined with welcoming lounge chairs and the full tables at our favorite eateries. Life along the Emerald Coast is further enhanced by businesses and professionals committed to delivering quality products and experiences, exemplary customer service and inviting environments. When you think of the word "best," you may recall the mouthwatering meal you bragged to out-of-towners about, the spot you look forward to all week for drinks on Friday night, the suit that was tailored to perfection or the comfort you received from a caring physician. That is, you reflect on businesses that warrant recognition through the chance to win a coveted "Best of the Emerald Coast" award. Contribute to giving your favorite business what it deserves. See the list of categories in the June/July issue and cast your Best of the Emerald Coast ballot for 2017. Ballots must be postmarked by June 30, 2017. 
Only ballots printed on original magazine pages will be accepted — no copies (color or black-and-white) or facsimiles of the ballot.

Ballots must have votes in at least 20 categories.

All votes must be for locally owned Emerald Coast area businesses. Locally owned and operated companies are defined by the owner or managing partner living in the Emerald Coast area or within a 30-mile radius of the Emerald Coast.

No incentives, prizes, goods or services may be offered in exchange for votes. 

Only one ballot per envelope is permitted. 

Businesses may not require ballots to be turned in to a central location; ballots must be filled out independently and mailed to address listed below. 

All ballots must be mailed directly to the post office box address below: 
Warren Averett CPAs and Advisors
C/O: Best of the Emerald Coast
316 South Bayen St., Suite 300
Pensacola, FL 32502
Ballots must be postmarked by June 30, 2017.

Obvious attempts at ballot stuffing will be disqualified.

Any winning business must be in good standing with Rowland Publishing Inc. in order to be promoted as a "Best of Winner."
Once ballots are counted, all tabulations are final.
Each year, Emerald Coast Magazine celebrates over a hundred businesses throughout our community that have been singled out by our readers as the best of the best. We have always been transparent about this yearly survey and how it works, but for those who may be new to the process, here are answers to some of the more commonly asked questions about "Best of."
---
How are Emerald Coast Magazine's "Best of" winners selected?
The readers of Emerald Coast Magazine choose the winners. A ballot is printed in the magazine (June/July issue) and readers are asked to fill it out and mail it in by a certain deadline. Each ballot must have votes marked in at least 20 categories to be counted. Votes arriving after the deadline are not counted. Refer to rules listed above. We also have four exclusive online categories that anyone can vote for by visiting EmeraldCoastMagazine.com from June 1–30. 
Who counts the votes and decides the winner?
Emerald Coast Magazine contracts with a third party to count the votes and determine the winner and runner-up. The counting will be done by Warren Averrett CPAs and Advisors. 
Do you have to buy an ad in the magazine to win?
Absolutely not. Our winners include advertisers as well as non-advertisers.
Can someone "stuff" the ballot box?
No. Only ballots printed on original Emerald Coast Magazine pages are accepted. Copies or facsimiles of the ballot are automatically rejected.
Who is eligible?
The readers decide whom they want to honor. Locally owned and operated companies are defined by the owner or managing partner living in Bay County through Escambia County or within the Emerald Coast area in a 30 mile radius. 
How are categories decided?
The categories are revisited each year, and we welcome reader suggestions.
What do Best of winners get?
Winners earn the prestige of being selected by a majority of our readers. They also get a listing in the magazine, usage of the Best of logo for a year, discounted advertising rates, an award to showcase in their establishment, invitation to the exclusive winners party and two complimentary tickets to the Best of Celebration.
Information on the best of the emerald coast event coming soon!
Results will be published in the October/November 2017 issue of Emerald Coast Magazine. This year's event will be held on October 21 at Grand Boulevard at Sandestin. Each winner per category will be notified this summer and receive complimentary tickets to the winners party and Best of the Emerald Coast event. Additional tickets will go on sale to the public in July of 2017. For more information on the event and sponsorship opportunities, please contact Mandy Chapman, at mchapman@rowlandpublishing.com or (850) 878-0554.