2016 in Review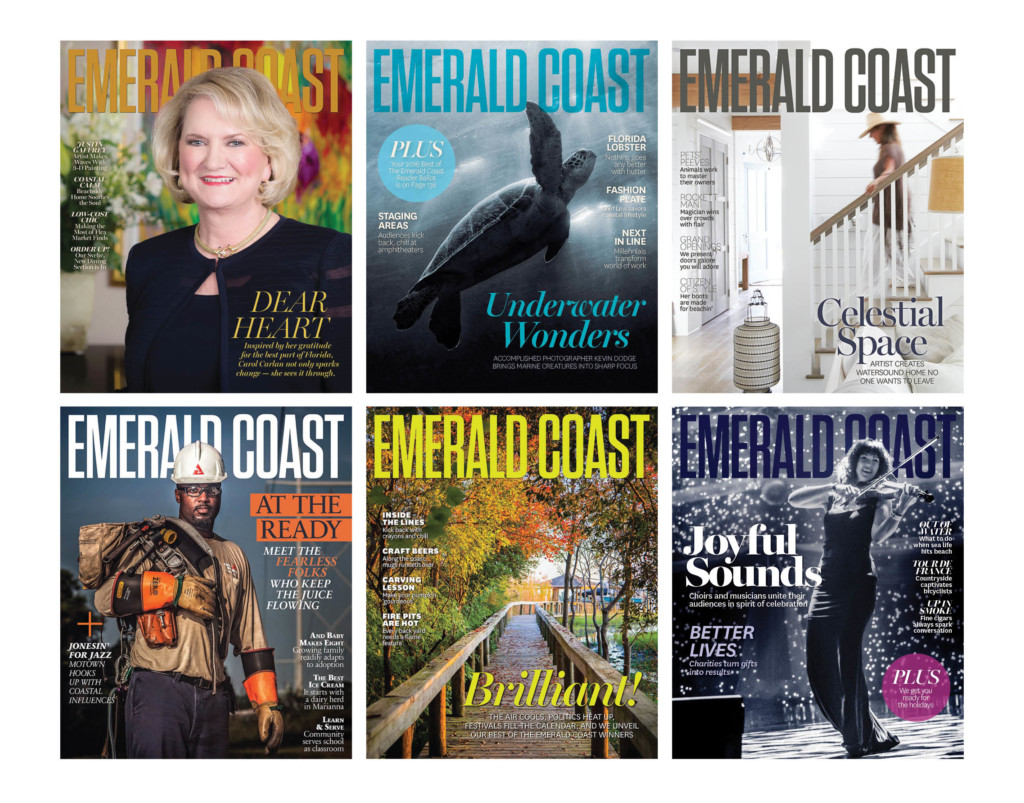 In the course of 365 days and 972 pages, Emerald Coast Magazine has experienced what we feel confident in saying has been our best year yet. 2016 brought about much to celebrate, including a redesign of the magazine and an expansion of our circulation areas into Bay and Escambia counties.
More importantly, we were able to tell the stories of local heroes, philanthropists, enterprising entrepreneurs, creative connoisseurs and a charismatic community. We got to know you on an even more personal level through the use of our social media campaign, #InspiredEC. We thank you for providing us with a window on your passions.
We popped off the December/January issue with a story on the right way to pour and enjoy champagne. After the New Year was rung in, we began focusing on our 2016 resolutions by getting in shape and eating well in ways suggested by our health and fitness profiles. We looked ahead in delivering a comprehensive guide to music festivals planned for coastal venues throughout the year.
Carol Carlan, president of the Sacred Heart Foundation, graced the cover of our February/March issue and shared heartwarming stories about the passion she holds for her job. Justin Gaffrey painted a pretty picture for us as he explained the beauty of 3-D painting. If you looked carefully, you noticed that we began to introduce aspects of our redesign in this issue.
April/May packed a punch as the complete redesign was unveiled and we introduced sections titled The Wave, Panache, Gastro & Gusto, Abodes, Expression and Destinations. We "taco'ed" about the best meals on a shell along the coast and profiled pets and their special bonds with their people. Wedding bells rang with the inclusion of Northwest Florida Weddings Magazine.
We dove deep with underwater photographer Kevin Dodge in a feature article giving up close and personal looks at sealife in the June/July issue. We immersed ourselves in music as we explored the many amphitheaters along the coast dancing to the beat of their own drums. We wrote about the impact of millennials taking the working world by storm.
With storm season upon us, we profiled linemen, the heroes of the dark who give our cities light. We also profiled the Raffield's, a loving family dedicating their lives to the adoption of special needs children. In the heat of August/September, we churned up a story on the Marianna-based Southern Craft Creamery.
As we prepared to cast our ballots, the October/November issue featured interviews with delegates who attended the Democratic and Republican conventions. The best of the best were applauded with the inclusion of the 2016 Best of the Emerald Coast winners list. We sat back, relaxed and enjoyed the cool weather with a local craft beer – after the pumpkin was carved.
For all the success, happiness and stories that filled 2016, we have you, our readers to thank. We can't wait to see what 2017 brings to our pages.