2015 EC Top Salon Recap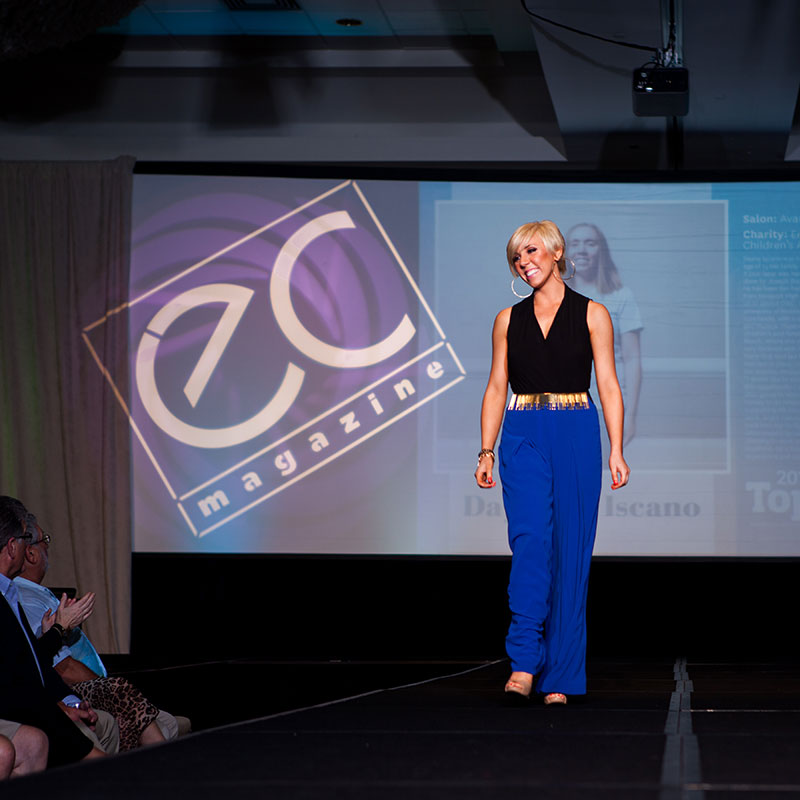 Three screens displayed a video featuring leading Emerald Coast hair salons. Salon owners, employees and guests renewed acquaintances, noshed and raised glasses. The Emerald ballroom at the Hilton Sandestin Beach Golf Resort and Spa had come alive.
Soon, EC Magazine's 2015 Top Salon competition would begin.
First, Ashley McKenzie, a hairstylist who died earlier this year, was recognized for her contributions to her profession and the community. Her husband, along with the couple's infant daughter, graciously and tearfully accepted an award in her honor.
Then, judges Ron Adams, Zandra Wolfgram, Ron Faircloth, Carrie McNeil, Marsha Doll and Dennis Lichorwic were introduced and the show was officially underway.
This year, before each model strutted her stuff, a video revealed her backstory and details about her transformation. In total, 11 gorgeous and newly made-over models took the runway as representatives of the most prominent salons along the EC.
The salons provided hair, makeup and spa services for 24 hours leading up to the competition, which was held April 10. Presenting sponsor Center for Cosmetic and Family Dentistry and other sponsors including BluePrint Health Studio, Marsha Doll Models and Emerald Coast Functional Family Medicine provided teeth whitening, fitness classes, runway lessons and complimentary health consultations for months beforehand.
When models weren't showing off their new looks, bids were placed on items ranging from a stay-cation at the Hilton and a $1,500 shopping spree at Pink Narcissus. Marsha Doll Models dressed in finery available at Pink Narcissus presented a fierce and fashionable runway show.
This year, the voting was conducted via text message and tabulated while Ron Adams, an Elvis impersonator, serenaded the crowd and B-Boy Productions turned fresh and funky dance tunes. An after-party was held at The Beach House.
Avantgarde Salon took home the honor of 2015 Top Salon. Their stunning model, Dayna Iscano, wowed the crowd with her sassy, blonde pixie-cut.
A portion of the event proceeds will go to Avantgarde's charity, the Emerald Coast Children's Advocacy Center. The first runner-up was The Kat House with model Audrey Coates and the second runner-up was Pure & Couture with model Carrie Cassidy.
Again this year, EC Top Salon served as a reminder of the creativity, talent and passion that characterizes salons across the EC.