2014 Festival of the Arts Artist Award Winners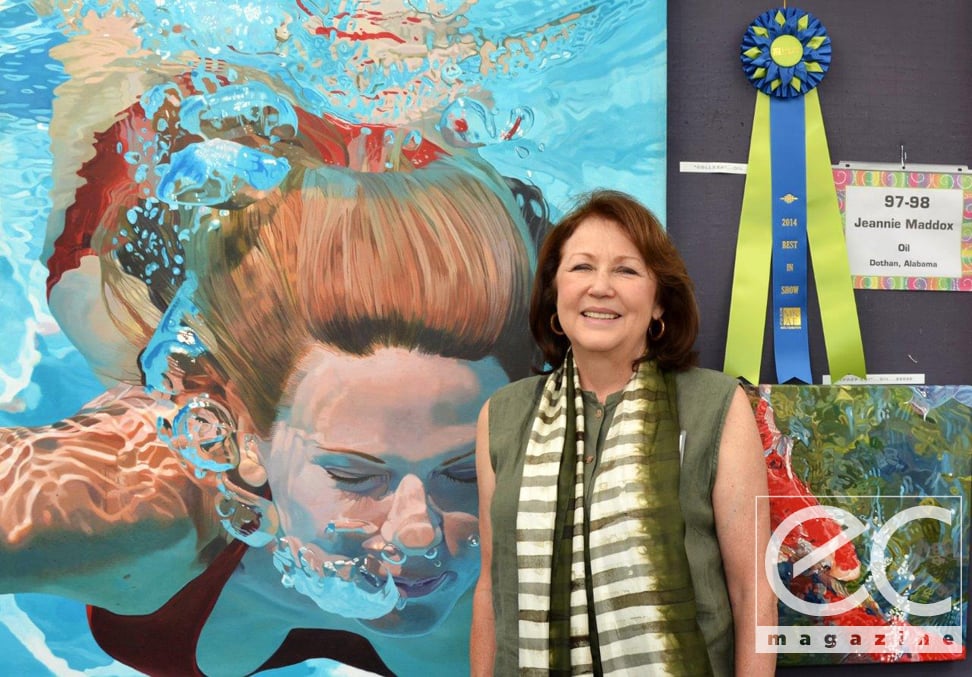 Twenty eight local and regional artists who gathered on the Northwest Florida Gulf Coast from 19 different cities throughout United States to exhibit in the 19th annual Mattie Kelly Arts Foundation Festival of the Arts in Destin were awarded $10,000 in cash art prize awards honors. The two-day signature art celebration held Oct. 25 and 26 in the Mattie Kelly Cultural Arts Village in Destin, Fla., featured exhibits of more than 100 juried artists from 13 states showcasing a diverse palette of artistic styles in 20 different art mediums.
Guest judges were Barbara Johnson Ross, chief curator, of the Ohr-O'Keefe Museum of Art in Biloxi and Charles Carbia, an artist and adjunct art professor from Florida State University. They awarded 28 ribbons that each included a cash prize. In addition to Best in Show, three Awards of Excellence, five Awards of Merit and 10 Judge's Recognition Awards were given to artists whose work reflected exceptional talent and craftsmanship. For eight of the winners it was the first year they exhibited at the Festival.
"We were thrilled to see nearly two dozen new artists join us for this year's annual Festival of the Arts," said Deb Nissley, artist market chair and Festival co-producer. "We are vigilant about ensuring the festival includes only quality artists and a variety of artistic styles and mediums, and I think this year's diverse range of winners are a reflection of that."
Jeannie Maddox of Dothan, Ala., received the coveted "Best in Show" and a $1,600 cash prize for her vivid oil on canvas paintings. Known for her works of photorealism, especially her swimmer series, Maddox's work has spanned nearly three decades. Her larger-than-life paintings have been acquired by collectors from Japan, Italy, Holland, Venezuela, Switzerland, and throughout the United States.
Martin Figlinski of Lynn Haven, Fla. won the 2014 "People's Choice" Artist Award and an $800 cash prize for his scenic landscape oil paintings. Figlinski is a native of Florida and is inspired by the "endless beauty" of living near the Gulf of Mexico. A Plein Air painter, he paints in oil out of doors "from life" as much as possible. "While painting on location, I'm experiencing the scene in front of me … the weather, atmosphere and changing light play a role in the mood of the finished piece," he says.
The full roster of artists honored follows:
Best in Show Winner
Jeannie Maddox, Oil (Dothan, Ala.)
Award of Excellence Winners
John Bloemer, Acrylic (Covington, La.)
Ben Smith, Wood (Jemison, Ala.)
Bryan Yung, Watercolor (Rockville, Va.)
Award of Merit Winners
Michael Fagan, Mixed Media (Pensacola, Fla.)
Daryl Harwood, Mixed Media (Panama City Beach, Fla.)
Colette Martin-Waite, Oil (Daphne, Ala.)
Don Nedobeck, Acrylic (Milwaukee, Wis.)
Kathleen Schumacher, Oil (Niceville, Fla.)
Judges Recognition Award Winners
Francisco Adaro, Mixed Media (Santa Rosa Beach, Fla.)
Jamie Babula, Pencil/Acrylic (Panama City Beach, Fla.)
George Bragg, Metal (Panama City Beach, Fla.)
Joseph Frye, Clay (Clanton, Ala.)
Richie Gudzan, Oil/Acrylic (Birmingham, Ala.)
Linda Kernick, Acrylic (Fort Walton Beach, Fla.)
Mary Kay Samouce, Jewelry (Miramar Beach, Fla.)
Julie Salvetti, Jewelry (Venice, Fla.)
Maria Spies, Clay (Silverhill, Fla.)
Leland Williams, Pastel & Sculpture (Crescent City, Fla.)
People's Choice Award
Martin Figlinski, Oil, (Lynn Haven, Fla.)
Poster Art Contest Winner
Robin Cannon, Mixed Media (Destin, Fla.)
Collaborative Exhibit Winners
Best in Show, Meagan Hindel, Mixed Media (Fort Walton Beach High School)
Adult 1st Place, Karen Valdes, Mixed Media, "Dancing Devil"
Adult 2nd Place, Jackie Lynch, Acrylic, "Hoer's"
Adult 3rd Place, Ian Fagan, Photography, "Monolith"
Student 1st Place, Madison Rusch & Victoria Simmons, Scotch Packaging Tape, "Diana" (Niceville High School)
Student 2nd Place, Savannah Layne Clay, Colored Pencil, "Matt's Baseball" (Crestview High School)
Student 3rd Place, Bella Jenkins, Acrylic, "It's Not an Obsession" (Niceville High School)
More than 6,000 art lovers attended the sunshine-filled two-day Festival, an event record. Thanks to the generous support of local business and media sponsors and a team of more than 100 volunteers, art lovers of all ages were be able to watch artists create works of art before their eyes, browse art from dozens of emerging new and student artists, and get hands-on in the interactive children's art station. Beyond the visual arts, the Festival featured six music acts performing two days of continual live music and a sampling of the local culinary arts scene. Entertaining street performers, lively art drawings and the sale of colorful keepsake souvenirs — all created a family-friendly festival feel.
PHOTOGRAPHY: For images of the 2014 Festival of the Arts artist award winners, view below.
---
About Mattie Kelly Arts Foundation
Mattie Kelly Arts Foundation (MKAF), a 501-c-3 not-for-profit charitable arts organization, was founded in 1995 on the cultural, educational and spiritual beliefs of the late Destin Matriarch, Mattie Kelly. The champion of cultural arts and education in Northwest Florida, MKAF's vision is to impact lives through art and culture. For more information on how you can become a member of MKAF, provide a donation or explore opportunities to get involved on a committee or the Board of Directors, call (850) 650-2226 or visit www.mattiekellyartsfoundation.org.