Wine & Fries to the Rescue
Event Raises $30,000 for Ronald McDonald House Charities of Northwest Florida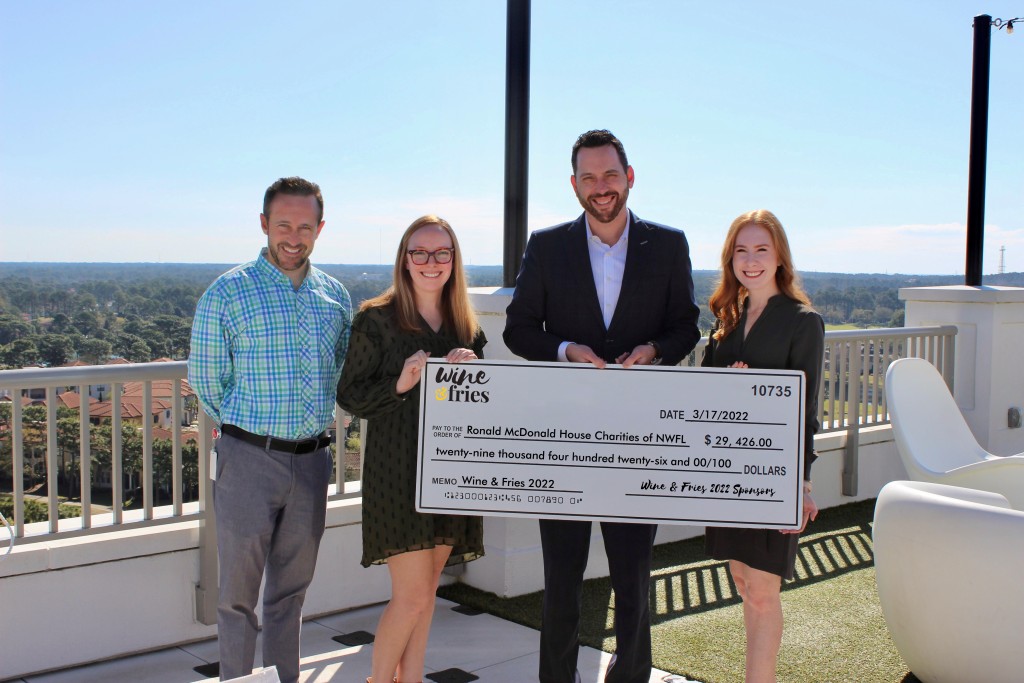 Wine & Fries, the party with a purpose, powered by Step One Automotive Group, was hosted by Hotel Effie Sandestin on Friday, Feb. 18, to help raise funds for the Ronald McDonald House Charities of Northwest Florida, located in Pensacola. To kick off the night, Wine & Fries guests were greeted with McDonald's French fries, donated by Costa McDonald's, followed by an evening of dining and dancing under the stars.
Guests were met with panoramic views from the rooftop pool deck at Hotel Effie Sandestin. The night also featured a large silent auction with prizes ranging from local works of art, a helicopter experience around Destin, to some sparkling pieces of jewelry. Along with the auction, guests had the opportunity to be part of several raffles featuring a wine wagon and Kate Spade jewelry set.
"It was an incredible night for our Wine & Fries guests, along with our sponsors," said executive director, Summer Jimmerson. "From everyone at the Ronald McDonald House, we would like to say thank you to all of our sponsors and partners for helping make the event such a success. The funds raised will help provide 300 room nights for families facing a medical crisis. We couldn't have asked for a better night, and we can't wait for Wine & Fries 2023."
The mission of Ronald McDonald House Charities of Northwest Florida is to love and support families of children with medical needs by giving them a place to call home. Since opening its doors in 1984, the Ronald McDonald House of Northwest Florida has been a lifeline of hope for families. Locally owned and operated, the Ronald McDonald House of Northwest Florida can continue its mission with the assistance of faithful volunteers and through the community's generosity. For more information, visit www.rmhc-nwfl.org or find them on Facebook (www.Facebook.com/RMHCNorthwestFL).