Who's Making Headlines in The EC
Just some of the interesting buzz we've seen and heard around the Emerald Coast …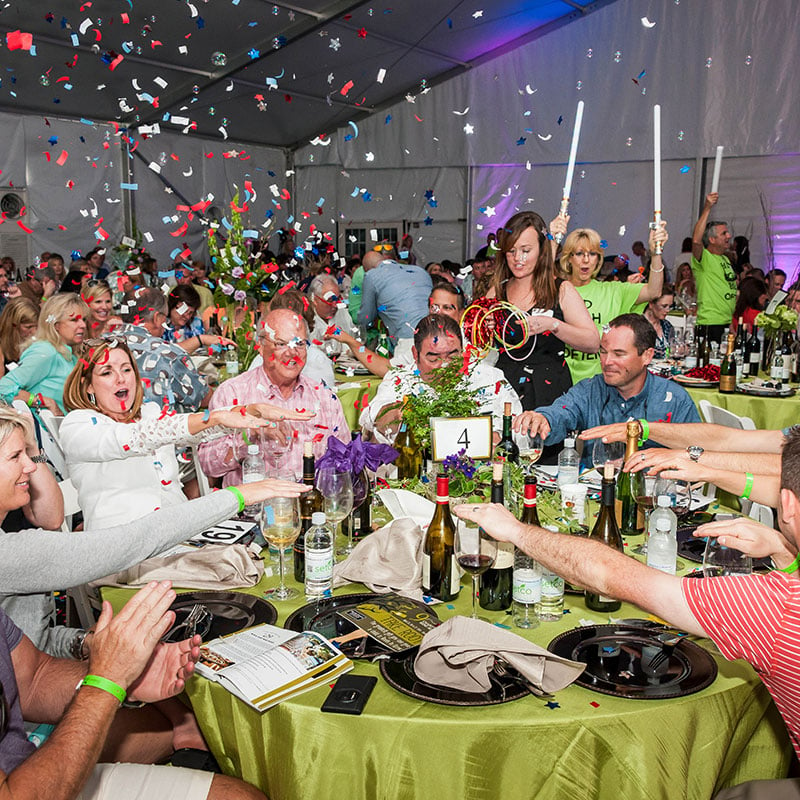 Destin Charity Wine Auction Foundation (DCWAF) announces that the 2014 Charity Wine Auction was among the nation's top four highest-grossing charity auctions in the country as ranked by Wine Spectator magazine. Founded in 2005, DCWAF is celebrating its 10th anniversary this year and has donated more than $10 million to support a variety of children's charities in Northwest Florida over the last decade. In 2014, DCWAF donated $2,035,000 to 12 area charities serving children in need. This marked a 57 percent increase from the 2013 results of $1.3 million. 
Destin Charity Wine Auction is now among the most prestigious wine auctions in the country. For 2014, the top three ranking wine auctions are the Sonoma Harvest Wine Auction at number three, Naples Winter Wine Festival at two and the Auction Napa Valley, which is consistently the top charity wine auction in the country.
New News …
The Pensione at Rosemary Beach is under new ownership. Summer Kitchen Café's James and Miriam Dillon, also owners of Summer Kitchen Café, will operate the business under a new name,

The Rosemary Beach Inn

.

The Market Shops

in Miramar Beach has added two new restaurants in the newly renovated shopping center.

Brian and Monique Murphy

have opened

DIG

(Dig In Gulf), a café-style eatery serving breakfast, lunch and an early dinner. The restaurant will also offer cooking lessons and a healthy selection of gourmet "grab-and-go" meals. In addition,

Jennifer Gizzi

has opened a second

Formula Fresh Coffee & Juicery featuring coffees, cold-pressed juices, superfood smoothies, unique teas and specialty lemonades. (The first is in Redfish Village in Santa Rosa Beach.) Orders can be made online, with delivery services available within a specified geographic region.

​
Sacred Heart Health System

has plans for a major expansion of The Children's Hospital at Sacred Heart, including a five-story building that will connect to part of the front side of the current Children's Hospital. The expansion is estimated to cost up to $125 million. Sacred Heart will look to supporters and donors to raise $55 million toward the project. 
Hahn
New Faces in New Places …
Dana Hahn

has been promoted to vice president of Real Estate for the Howard Group. Prior to her eight years at Howard Group as a leasing manager, Hahn handled commercial and industrial land sales at The St. Joe Company.
Kudos and Congratulations …
Simona Faroni

, president of

G.S. Gelato & Desserts

, was recently named as one of the Influential Women in the Food Industry by The Griffin Report and was listed as one of the Top Female Business Owners by Enterprising Women.
Cause for Celebration …
Two community organizations recently made the very first donations in support of

One Hopeful Place

, a project of Community Solutions to provide emergency meals, transitional housing and support services to the area's homeless population.




Woodall, Williams, Sansom and Mongell

Courtesy of Fort Walton Beach Chamber of Commerce

In this photo,

L.A. Woodall

of Horizons (and board chair of the Greater Fort Walton Beach Chamber of Commerce) is shown receiving gifts of support from the

Rev. Cecil Williams

of the Greater Fort Walton Beach Christian Ministerial Association and the

Rev. Charles Sansom

of Gulf Coast Community Church, with

Mitch Mongell

, chair of the Community Solutions board of directors, watching. The Gulf Coast Community Church donation was generated by offerings made at the Inaugural Blessing of the Emerald Coast.

The first annual

Fleets & Eats

fundraiser had charter boats and Sunshine Watersports transporting guests to local restaurants along the Destin Harbor for a progressive dinner at Boshamps Oyster House, Dewey Destin's, Harbor Docks and the Donut Hole. The event raised $23,000 for the

Emerald Coast Autism Center. 

​
WaterColor Inn & Resort and its on-site restaurant, Fish Out of Water, and The Pearl Hotel in Rosemary Beach have been awarded four-star ratings from Forbes Travel Guide.