What's the word, Redbird?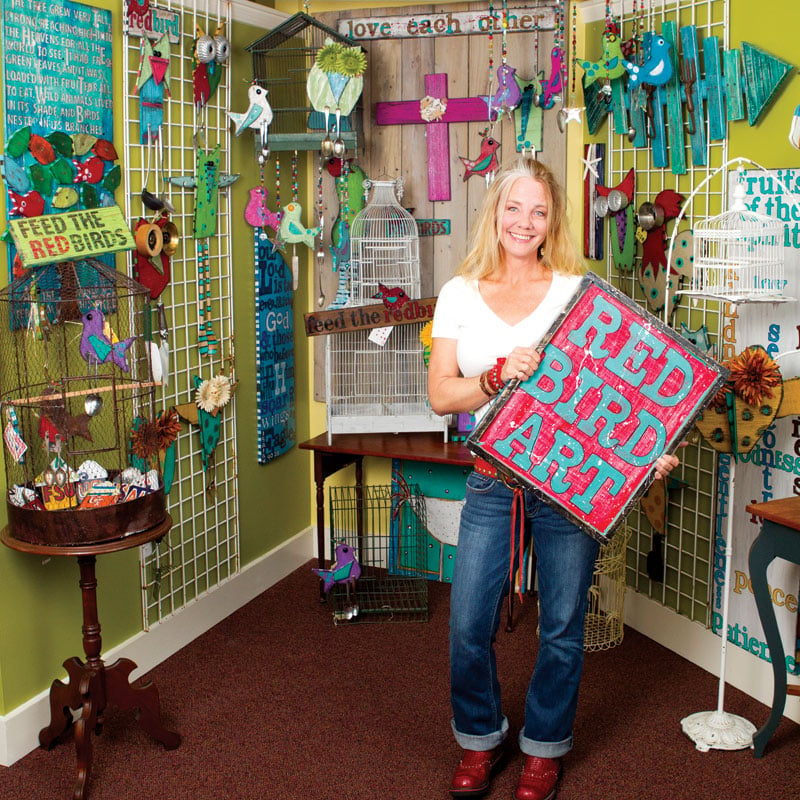 eudaimonia*
Photo by Scott Holstein
When Robin Cannon was growing up in Atlanta, she wanted to be a paramedic, drive an ambulance and "save people." Today, the free-spirited bohemian owner of Redbirdart resuscitates discarded wood, metal and other found objects into lively, animated mosaic-style paintings and folksy art pieces, many featuring whimsical birds, that are flying off Emerald Coast gallery shelves.
As a teenager, the petite, blue-eyed blonde was nicknamed Bird by her boyfriend's father. Both the boyfriend (now husband, Shane) and nickname stuck, and when friends encouraged her to come up with a name for her art, Redbirdart was hatched. Cannon's colorful art can be found at Artesano's in Fort Walton Beach and Flutterby Antique's in Destin, as well as at local art shows, art walks and festivals.
With musicians on one side of her family and artisans on the other, it's not a surprise this artist's talent sprouted wings. "My dad made toys and furniture, so I grew up in a workshop filled with metal and wood lathes."
Like the birds she creates, Cannon's spontaneous style appears to flit easily from one medium to another. "I can go from mosaics to painting birthday cakes. I love to paint, but then I love puzzles so I love to work with recycled things," she confesses.
In her Destin home, a rotating bicycle wheel perched atop a wooded spindle displays dangling art from its spokes. The repurposed piece is just one example of how this antique-lover has breathed life into the various materials and objects stockpiled on the side of her house.
Thanks to the artful resourcefulness of Robin Cannon, Redbirdart is flying to the rescue … one recycled piece of art at a time.
*happiness is …