What's in Store?
A roundup of retail happenings throughout the Emerald Coast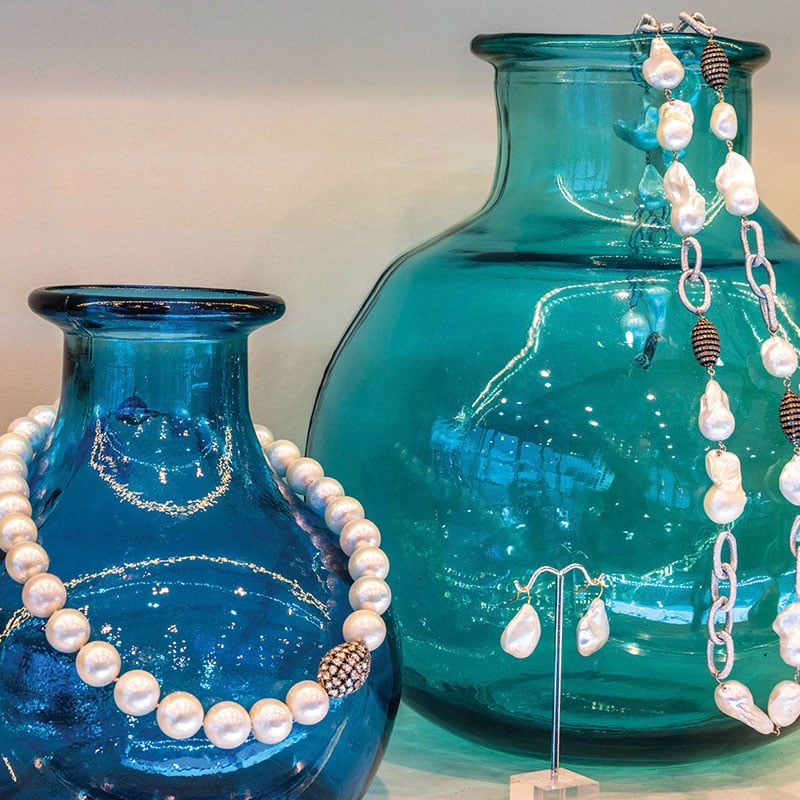 Renee Launiere, a metal-smithing jewelry designer who is certified in pearl grading from the Gemological Institute of America, has relocated her corporate headquarters and design studio from Atlanta to Destin. Bijoux De Mer can be found in the new retail center, City Market Bayside. Translated to mean "Jewels of the Sea," Bijoux De Mer is a fine jewelry boutique featuring Launiere's handcrafted edgy, yet elegant, jewelry designs. The design studio is open Monday through Saturday, 11 a.m. to 6 p.m.
---
Trending now
According to Vogue Paris, redefining a confident look is what's hot for summer 2017. Look for pretty pinks, sunny yellows, splashes of metallics, bold geometric patterns in primary colors, romantic floral prints, '70s-inspired patchwork patterns, jazzy jumpsuits, exaggerated lines and shoulder shapes, plucky pleats and chic lounging robes (appropriate any time of day).
---
Artful Shops and the Hottest Trend
Located on 30A in WaterColor and owned and operated by mother-daughter dynamic duo Debbie Taylor and Christi Sheffield, The Blue Giraffe is known as a one-of-a-kind boutique, featuring "art and gifts with heart." Recently, the business expanded its series of Creative Classes for all ages to include Paint Like a Rock Star with artist Aaron Sutton, Paint Therapy with artist Shannon Harris, Upcycled Art with Moore Family Folk Art and Creative Writing Boot Camp with Beth Hermes. To reserve your spot at an inspiring class, call the shop at (850) 231-5112 or register online at bluegiraffe30a.com. 
Gulf Place on Scenic Highway 30A in Santa Rosa Beach is welcoming four new merchants: Beach House Tile and Design; Lord & Son Construction; Rock Creative Images; and Conerly, Bowman and Dykes Law Firm.
The Market Shops in Miramar Beach announces three new merchants: 30A Television, Chapeau & Chocolat and Escapology.
Sandestin Family Retail has refreshing new reasons to lure shoppers to The Village of Baytowne Wharf, which recently renovated many of its hot spots.
---
Glass Galore
Artist Mary Hong will open a second Shard Shop location in Destin in the Paradise Isle Shopping Center. The make-your-own-art boutique guides guests in repurposing glass on painted canvas. The original Shard Shop, in Grayton Beach, has extended hours and offers four classes a day, six days a week. Register for classes at ShardShop.com.
Hong also has launched a new glass-art product called SURP (Single Use Resin Packs). The pre-measured resin packs, sold exclusively at ShardWorx.com, are designed to be easily mixed in a clear pouch. The 6-ounce pouch covers an 8×10-inch canvas, and the 8-ounce pouch covers a 12×12-inch canvas.
Mary Hong Gallery also will open a second gallery in the heart of downtown Nashville, on the ground floor of the Bank of America building (corner of 4th and Union), in Spring 2017.
---
Community
Fab'rik, in Grand Boulevard at Sandestin, hosted its first ever Gal'entine's Day Social and raised $653.36 for Dog Harmony, which coordinates compatible matches between canines in need and human companions, while providing education and training to ensure devoted, lifetime unions.