What's Haute
Your Dad is your hero. Honor him this Father's Day with a gift that celebrates who he really is at heart.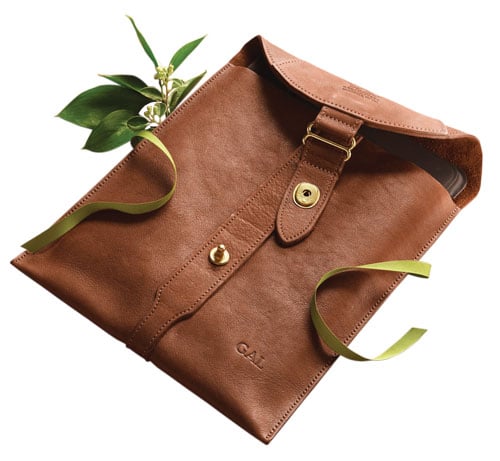 Businessman
Give your dad the business with this stylish tanned leather case made from 100 percent Tennessee steer hide. American Steer hide iPad Case, $159. Available at Orvis in Grand Boulevard at Sandestin and orvis.com.
Athlete
Your Moondoggie dad will have fun hitting the sand with this Beach Bocce Ball set. Comes with a carrying case, two koozies and a bottle opener that doubles as a tape measure. $22. Purchase at Brookstone in Destin Commons and brookstone.com.
Nature Lover
Honor your wise old dad and help conserve the Emerald Coast's feathered friends at the same time. Thanks to the Emerald Coast Wildlife Refuge's Adopt an Animal Ambassador program your dad can sponsor an unreleasable Great Horned Owl named Huff and Puff for $100 or any number of deserving wildlife. Call (850) 650-1880 or check out the donation program online at ecwildliferefuge.com.
Dapper Dad
Dress up your dad with these handsome monogrammed silver toned engraved Pin Stripe Cufflinks from Men's Wearhouse in Destin. $26.99
Traveler
Is your dad a globetrotter? Ease his travel worries with the Nomad Traveler kit, including hair and body wash, shaving cream, aftershave balm and eau de toilette, $22. Crabtree & Evelyn, Silver Sands Factory Stores, Destin.
Sportsman
Dads like to be prepared for any situation. The Orvis pocket multi tool will serve him well on any adventure with its superb versatility, $29. Sold at Orvis at Grand Boulevard at Sandestin and orvis.com.
Timekeeper
Keep him on the ball with this elegant Engineer Hydrocarbon Magnate Chronograph Ball watch. This timepiece has a 40 mm case crafted from stainless steel with a brushed finish and follows the designs of early chronographs with separate start/stop, reset buttons and two sub-dials. $3,999. BICO Australia in HarborWalk Village, Destin.
Gourmand
For the father who loves to grill consider a great marinade created from fully matured Maker's Mark, Maker's 46. The first new product from Maker's Mark in 52 years, this Kentucky bourbon is a bold blend of caramel, vanilla and spice flavors. $35. Kelly's Beach Liquors in Fort Walton Beach, Crestview and Panama City.