What's Been Seen on The EC Scene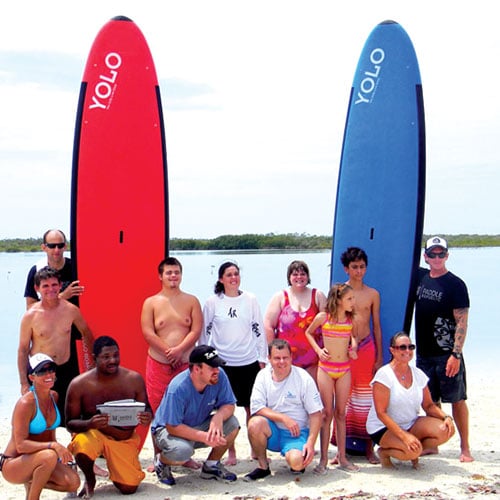 NEW NEWS
▪ The U.S. Department of Labor awarded a $3.9 million grant to the University of West Florida and Chipola College to provide education, training and job placement assistance to meet the demand for high-skill workers in Northwest Florida.
▪ The Emerald Coast Children's Advocacy Center, a local organization that helps child abuse and neglect victims throughout Okaloosa and Walton counties, has opened a second location in DeFuniak Springs. The first location is in Niceville.
▪ Legendary Marine has opened a new full-service boat repair facility in Fort Walton Beach. The service center is located within the dealership's existing sales and marina complex, located at 1198 Miracle Strip Pkwy. at the foot of the Brooks Bridge.
▪ A new, non-profit and federally qualified health center was recently dedicated in Bruce on the grounds of the Muscogee Nation of Florida. The Muscogee Creek Tribal Health Center is one of four such centers opened by PanCare of Florida, Inc., a 501(c)(3) non-profit organization that operates dental and health care clinics on a sliding scale fee for the uninsured in Bay and Walton Counties.
▪ Local event design company, AlliBeck Events, owned and operated by Beck England, has changed its name to BE Events.
▪ Destin Commons welcomes Life is Good, Pandora, Kay Jewelers and Steve Madden to its retail center.
▪ Pensacola celebrity chefs Dan Dunn of H2O at the Hilton Pensacola Beach Gulf Front, Irv Miller of Jackson's Steakhouse, Jim Shirley of the Fish House, Gus Silivos of Skopelos/Nancy's Haute Affairs and Frank Taylor of Global Grill showcased the area's culinary offerings at New York's acclaimed James Beard House during a recent dinner honoring Florida's rich history. The chefs served more than 80 guests a menu of historical recipes that have been used in Florida for hundreds of years, modernized with their own artistic touch. The University of West Florida assisted the chefs in their historical research and prepared a culinary timeline over the last 500 years for the event.
▪ YOLO Board donated $1,200 from a special sales promotion to the Special Olympics Florida, which provides year-round sports training and competition to 15,000 children and adults with intellectual disabilities.
CONGRATULATIONS AND KUDOS
▪ Samantha Nicole Brooks
(J R Arnold High School), Preeyal Gupta (Pensacola High School), Zachary Cooley (Holmes County High School), Blake Benton (Marianna High School), Kyle Saleeby (Niceville High School), Roman Vena (Pace High School), Elizabeth Evans (Walton High School) and Alana Hearn (Vernon High School) were recognized as Northwest Florida's highest achieving science, technology, engineering and mathematics (STEM) students during the 2012 Sunshine State Scholars program in Orlando. The Scholars event, which began as a simple science and math competition in 1997, has evolved into a program designed to recognize Florida's top high school STEM students. The program also recruits them to pursue their post secondary education in Florida — increasing the likelihood that they will join Florida's future workforce. Each school district selects one 11th grade scholar based on established criteria.
▪ Chautauqua Vineyards & Winery in DeFuniak Springs won a double gold medal at the Florida State Fair for its Florida Noble Red Muscadine wine.
▪ Congratulations to the Northwest Florida Symphony Orchestra, which celebrates its 25th anniversary in August. The orchestra will mark its silver anniversary with a five concert series, as well as numerous educational endeavors for youth, including the regional Concerto Competition, annual NFSO concerts for 5th graders, NFSO musicians who visit area schools, a Kids at the Symphony program and more. The orchestra performs at the Mattie Kelly Arts Center on the Niceville campus of Northwest Florida State College. For 2012 season details, call (850) 729-5382.
▪ Okaloosa County has been acclaimed as the first Purple Heart County in Florida. The Military Order of the Purple Heart (MOPH) recently honored the Okaloosa County Board of Commissioners, especially County Commission Chairman Don Amunds (District 4), Vice Chairman Dave Parisot (District 2), Commissioner Wayne Harris (District 1), Commissioner Bill Roberts (District 3) and Commissioner James Campbell District 5, as well as Okaloosa County Public Information Officer Kathy Newby.
NEW FACES
▪ John Russell and Scott Russell have formed Russell and Russell Hospitality Consulting offering strategic planning, administrative management, staff training, sales development, marketing, public relations and community relations services to hotels and full-service resorts located throughout Northwest Florida.
▪ Howard Group has named Karen McNevin as its vice president of hospitality and human resources for the company's new Hospitality Management Services division. McNevin will be responsible for the property management and operations of all hospitality projects for Howard Group, including the two Marriott hotels in Grand Boulevard at Sandestin.
▪ Pensacola native James Briscione, chef instructor at the Institute of Culinary Education (ICE) in New York City, returned to the Emerald Coast to serve as a "celebrity chef" for a patron wine dinner for the Destin Charity Wine Auction Foundation. He was joined in the kitchen by his wife, Brooke Parkhurst, author of "Belle in the Big Apple."
▪ Veteran pastry chef Yascha Becker joins the Hilton Sandestin Beach Golf Resort & Spa where he will oversee the design of handcrafted pastry creations for the resort's catering services and six restaurants.