What Keeps Ron Sanstead's Love of Life Going and Growing
The Main Thing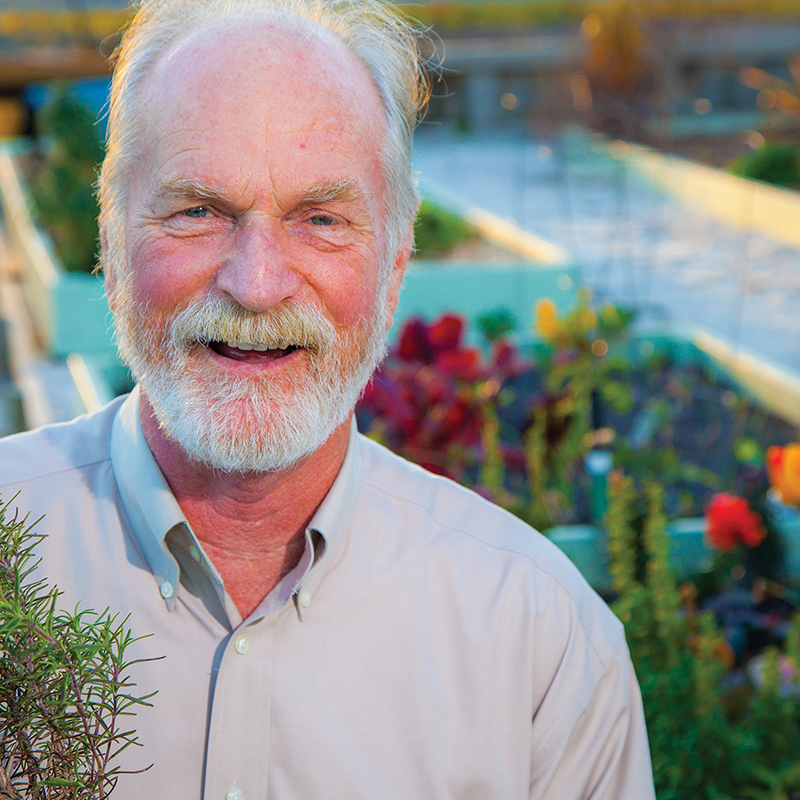 ABOUT THE ALLIANCE 
The Main Street Betterment Alliance of Destin is a not-for-profit organization of business owners and community
members who wish to beautify Main Street. For more information on the donation of funds and volunteer opportunities, call (850) 974-9616, visit their website, or find them on Facebook by searching for "Main Street Betterment Alliance."
Ron Sanstead doesn't like concrete. For the impassioned gardener, jewelry maker and antique shop owner, it's a missed opportunity, an eyesore that begs for life and color. True, it's a natural part of city life, but for a place like Destin, Sanstead wants more — and he's determined to make it happen.
In addition to hammering out unique pieces of metal jewelry and repairing furniture to sell at Flutterby Antiques on Main Street, the bright little shop he co-owns with his wife, Michele, Sanstead stays busy digging in the community garden he helped start two years ago.
He also works with other independent business owners who share his desire to beautify Destin's Main Street, to make it a highlight rather than an overlooked stretch of road. That initiative, called the Main Street Betterment Alliance of Destin, already has made its mark. But for Sanstead and his fellow Main Streeters, the work is far from done.
It takes only a few minutes talking with Sanstead to learn that the energetic 69-year-old is far from retirement.
EC: What makes you the happiest in life right now?
RS:  I'm doing the things every day that I love — making jewelry and working in the garden — so I don't ever really plan to retire. I think that you can pretty much tell what a person loves by where they spend their time, and that's what I'm doing.
EC: How did the Main Street Betterment Alliance begin?
RS: In 2013, I approached most of the businesses on Main Street with the idea that we form an organization to improve our street. It had gone through a major renovation several years before, but not much had improved, so we came together to see what could be done privately. It was pretty exciting, and we had many great ideas among us. Now we're a real, not-for-profit organization.
EC: How have things been going?
RS: We've adopted Main Street as part of the city Adopt a Street program; repaired and painted one of the businesses on the street; planted trees in the medians; cleared the land and started the Main Street Community Garden behind the American Legion; and raised money for veteran's charities. Our goal for Main Street is to make it the most beautiful and unique street in Destin.
---
That goal, much like the plants growing in the community garden, is fed by Sanstead's infectious spirit and the personal care he takes in everything he does — from tilling the soil to hammering out a necklace.