What is "Art"?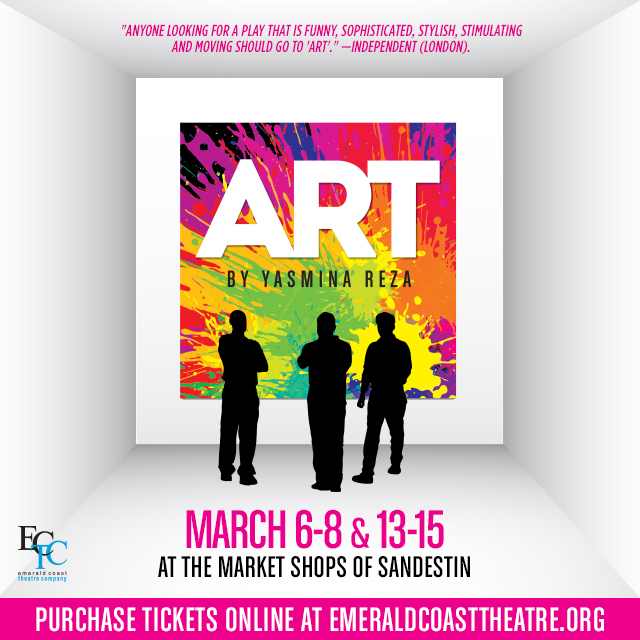 Have you ever been to an art show and thought, "How is this piece considered 'art'"? We all have different interpretations of what constitutes as "art" and this spring Emerald Coast Theatre Company — a non-profit professional theater founded in 2012 by Nathanael and Anna Fisher to enrich and entertain the Emerald Coast community through professional and educational theater — is exploring this concept even more.
"Art," by French playwright Yasmina Reza, explores this situation with a comedy that raises questions about art and friendship. The performance, staged by ECTC producing artistic director Nathanael Fisher, follows three life-long friends, Serge, Marc and Yvan. Serge indulges in his fondness of modern art by purchasing a large, expensive, completely white painting. Marc is horrified by Serge's decision to purchase this "art" and their relationship suffers considerable strain. Their differing opinions on what constitutes "art" puts their friendship on rocky terrain. Yvan is caught in the middle of the conflict and tries to please and mollify both of them. Purchase your tickets here to see how it all unfolds.
This play is recommended for adult audiences as it uses strong language. "Art" will be staged at the Market Shops in Miramar Beach on March 6, 7, 8, 13, 14 and 15 at 7:30 p.m. Tickets are $20 and can be purchased online at www.emeraldcoasttheatre.org.
Doors open at 6:30 p.m. Come early to enjoy a glass of wine and browse the art exhibition featuring a number of local award-winning visual artists such as Andy Saczynski, Mary Hong, Lori Drew, Velia Lala, Mary Kay Samouce and more.