Turn Your Favorite Fasion Brand Names into Interior Designs
Many of fashion's biggest stars are turning their sense of style to furniture, textiles, bedding and accessories for the home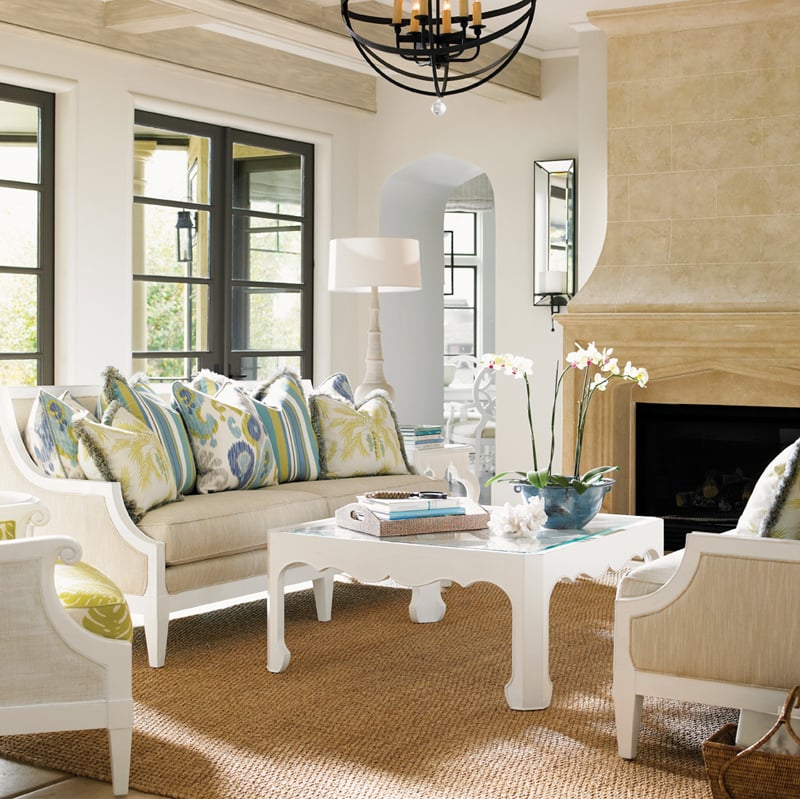 Fashionistas must be elated. Now they can tap their stiletto-heeled Jimmy Choos across an Isaac Mizrahi rug, curl up on a Calvin Klein sofa, fluff a Trina Turk pillow, toss a Ralph Lauren throw, and then sip a Bellini from a Giorgio Armani glass.
Rigid classicists may wrinkle their noses in disapproval as the blizzard of fashion brand names invades every corner of the house, but Emerald Coast interior designers are more broadminded. They point out that fashion designers' great sense of style translates well into home furnishings, and that consumers drawn to fashion imagery may well end up with more sophisticated rooms.
"For a very long time, color and style trends have come from high-fashion runways, then transitioning to local designer racks and finally to home interiors," says Lindsay Miller, a designer with Lovelace Interiors in Destin. "The difference is that so many high-profile designers now have their own home furnishings brands, and why shouldn't they? They set the trends, so I think that it's only appropriate that they should design for the home as well."
Jessica Faircloth of Lemongrass Interiors in Santa Rosa Beach agrees, with one minor point to ponder.
"Yes, there's a direct link between fashion and interior design, and it can expand consumers' visual vocabulary," she says. "And good design is good design, no matter who does it. But let's face it: How many of the fashion designers really design that chair or that bed? Most are actually tastemakers who approve or disapprove designs put in front of them. Look, is there anybody who believes that über-model and actress Sofia Vergara really designs clothing or coffee tables? Her name adds star power to products. It's as simple as that. And there's nothing wrong with that. It's good business."
Florida Best-Sellers 
Fashion icon names that make it into many Florida homes include Diane von Furstenberg, Tommy Bahama, Trina Turk, Lilly Pulitzer, Betsey Johnson, Ralph Lauren, Calvin Klein and Oscar de la Renta.
"A lot our clients love Lilly Pulitzer's designs for Lee Jofa Textiles," Miller says. "They are so Florida, and people love the story of her ascent, from a juice stand in front of her husband's citrus grove. She made a simple sleeveless, printed smock that would camouflage juice stains. It shot to stardom when her old schoolmate Jacqueline Kennedy was photographed in one while vacationing in Florida. Now Lilly was in the dress business, and it was inevitable that the dresses would eventually give birth to textiles. Recently I decorated a third-floor guest suite exclusively with her fabrics, and the result was so cheery and bright."
California designer Trina Turk's affection for vibrant color and print has made her home furnishings Florida favorites as well.
"Trina's designs have a California vibe that's beachy, but not too literal," Faircloth says. "They suit Florida homes. I have used tons of her textiles. Recently, I used one for window treatments in a client's home. It so happened that the client had a Trina Turk dress in her closet. I liked that."
To Russia with Love
According to designers at the Tamarind Group in Miramar Beach, the everyday client isn't typically familiar with brand names in home furnishings. In their experience only "avid fashionistas" know the top names. Those in the know might say, 'I want that Donna Karan bed or that Oscar de la Renta sideboard.' One Tamarind Group client ordered two of his homes furnished exclusively with Ralph Lauren designs, from elegant desks to exquisite chandeliers. They happily obliged thinking  'Who wouldn't be happy to put the Ralph Lauren aesthetic to work in a St. Petersburg (Russia) mansion and a country dacha?' They designed his rooms here in Florida and shipped it all to Russia.
Tommy Bahama, known for its beach-themed clothing and accessories, is a great Florida favorite, and that goes for the brand's furniture collection for Lexington as well.
Tuskers Home Store in Miramar Beach sells a lot of the Tommy Bahama line, from dining rooms and case goods to sofas and coffee tables. It's all enormously popular, according to store personnel, and Jessica Faircloth says that it's the collection's island vibe that appeals to Floridians. "Here we have a departure from the usual white and light-colored furniture we see so much around here," she explains. "It has sort of a colonial Britain-in-the-tropics look."
Teenage girls can get into the mode in their rooms, too. Betsey Johnson, known for her over-the-top clothing, recently introduced a bedding line featuring an exuberance of ruffles and skulls.
"Betsey Johnson's admirers call it rad," says Jill Pigg of Bed, Bath & Beyond in Destin. The store also carries bedding by fashion designers Kenneth Cole and Jill Sanders.
Viva Italia
The Italians were the first players in the fashion-to-furniture trend. Firms such as Armani, Versace, Fendi, Gucci and Prada are represented at design centers, designer showrooms and online, so if you're hungry for bit of la dolce vita, you might consider an Armani table or a Capellini chair. They can add welcome style to any room.
It's not possible to talk about Italian fashion without mentioning Pucci. His prints are as adored today as they were in the 1960s, when they were a must for the ultra-fashion-conscious woman. Signor Pucci died in 1992, but today Capellini covers chairs in an Emilio Pucci collection in prints that are teaching the whole world to speak Italian.
Versace's home collection is usually over the top in its extravagance and calls for palazzo surroundings, but the company's dinnerware for Rosenthal could be a compromise for more modest digs. Featuring the Versace logo's head of Medusa and gold, it can make any woman feel like an heiress.
Giorgio Armani's furnishings are super-sleek and luxurious, but if the $20,000-plus price tag on one of his sofas floors you, there's also a line of accessories, such as Murano vases, silk pillows, candles, pottery, flatware and linens.
So what's next in fashion-furniture crossover strategies? Lemongrass Interiors' Faircloth just might have the right idea.
"How about interior designers creating runway fashion?" she asks. "I, for one, am extremely interested in seeing what people like Kelly Wearstler, Barbara Barry and Jonathan Adler can do with fashion. Kelly is already designing items like jewelry and scarves. I think that soon we'll see a furniture-to-fashion trend, and nobody will find it the slightest bit strange. I repeat: Good design is good design, no matter who does it."