Turn, turn, turn!
Craftsmen fashion works of art on lathes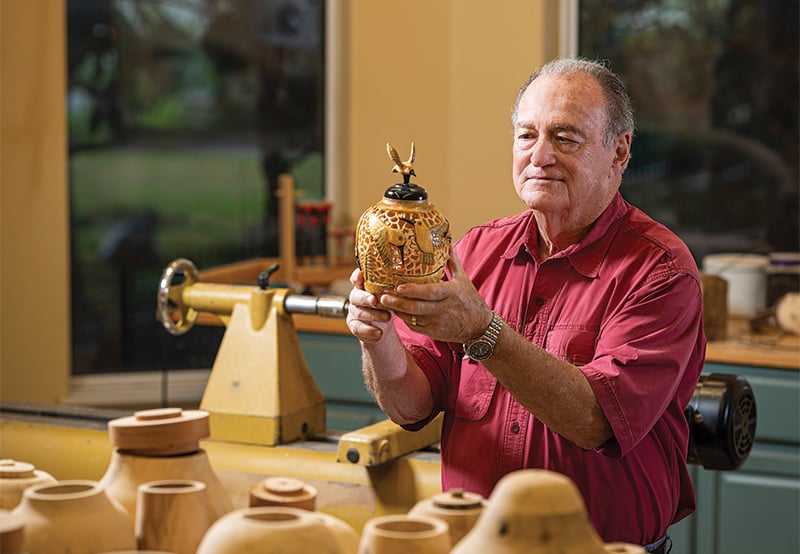 I completed shop class in junior high with all 10 fingers intact, so the most interesting aspect of that experience was an assignment to make something on the wood lathe. At home, no one ever really knew what my creation ended up being. It might have done as a humidor for short cigars, if it had been made of Spanish cedar, and if I'd turned out a lid for it, too.
Still, I have known the satisfaction of a three-quarter-inch gouge with a hissing sound, carving grooves and channels into a spinning wooden blank. It was that memory that accompanied me to the studio/workshop of the Emerald Coast Woodturners' Guild in Santa Rosa Beach.
The antecedent of the modern trade union, a guild was an association of artists and merchants with a trade in common. The Emerald Coast Woodturners' Guild, however, is a modern nonprofit organization — no merchants, only artisans — with apprenticeships that may last hours or years. Yet, by and large, the motivations of the old-time guild survive.
It's a rainy, leaden day, and finding guild headquarters requires a sharp eye — "south side of U.S. 98, behind Florida Bath" — but once there, I'm greeted by Chuck Chaloupka, guild president, who ushers me through a cavernous industrial building into a breakroom, part of the guild workshop.
He introduces me to retired neurologist Alan Prince; retired electrical engineer and club techie John Blackwell; and building owner Al Christopher. Sitting at a nearby coffee table, Christopher's wife Rebecca smiles tolerantly while her husband speaks of his creative habit. Also present is the purring Obnoxious Cat — the feline's actual name — for whom there is no such thing as a strange lap.
ECWT is a chapter of the National Guild of Woodturners and was chartered first in 2003 in Freeport, but like so many worthy endeavors, was forced by rampant gentrification into other venues.
Fortunately, the club landed in Christopher's corrugated metal palace in Santa Rosa Beach.
The guild's current membership stands at 65 with ages ranging from 11 to 94. The youngster is president Chuck's grandson, Jimmy Murray III.
"I started him when he was 4!" said Chaloupka. Christopher is the eldest of the guild.
The woodturners currently hold their meetings on second Saturdays. Dues are a nominal $40 per year. They often participate in community events benefiting veterans and homeless children and man booths at art fairs, including the Walton County Cultural Arts Alliance's ArtsQuest.
After orientation in the breakroom comes a much-anticipated tour of the 3,000-square-foot, well-kept studio-workshop containing 11 medium-sized wood lathes alongside sets of gouges — straight, fluted, chisel-like tools with wooden handles.
In the midst are buffing wheels with arms sticking out like the cardinal directions of a compass, each with different grit wheels used to put a finer and finer shine on wood.
The most basic woodturning involves a block of wood securely fixed at the end of a steel axle that extends from a motor that is good for some serious rpm's.
Parallel to the spinning axle is a moveable tool rest to brace one's gouge on. While the wooden block is spinning, a woodturner places his choice of gouge on the tool rest, then holds the cutting edge against the block. The shavings fly and the block morphs, first rounding, then gradually condensing under the blade.
Straight gouges are used for canister shapes, and as fascinating as that might be, with bent tools, a turner can hollow out bulbous shapes through a hole no larger than the mouth of a jug. Electronics have added a laser sensor to traditional techniques for ensuring uniform thickness of the walls of a piece.
"The club started out making pretty utilitarian pieces, salad bowls and such," Chaloupka said. "Over the years, our styles have evolved. Today, if you were to show up at a show with a plain ol' turned bowl unpierced or uncarved or both, they'd pat you on the head!
"There are more esoteric turning techniques," he continued, "like mounting the block off center on the axle — that's called offset turning."
"Don't forget fractal burning," Prince interjected. "National chapter frowns on that one; too dangerous!"
Fractal burning, while featured on social media sites as a cool, new wood-burning technique, is actually a life-threatening stunt that has already claimed lives. It involves the use of an unfettered electrical current with no safeguards should you come into contact with the metal rods or other conductor.
Chaloupka calculates that out of the guild's 65 members, a little over half are regulars at lathe work, and some also have home workshops. A goodly number of members have filled every storage place in their house with the fruits of their labor.
Prince is rumored to have a dragon's treasure cache of hundreds of exquisite, common and exotic wood sculptures.
Christopher led me upstairs to his own showcase.
On three of the room's four walls and on the floor sits his collection including 200 or more astonishing shapes, sizes, moods, colors and textures. Countless shelves present pierced wood bowls; a hollow woman with ragged flames where her head should be; a slinky, red lounge singer; 26 turned and carved apples, each apple of a different wood with the name of each wood corresponding to a letter of the alphabet; a floor display of giant 50-cent pieces; and finally, taken from a box and unswaddled from cloth, the cherished mahogany quail that took 40 years to complete!
Traditionally, woodturning has been considered a craft, but perhaps the evolution that Chaloupka describes will carry products of ECWT members into the realm of pure art.
I might argue that it already has.
---