'Tis the Season!
Make merry in velvet, satin, sequins and ugly sweaters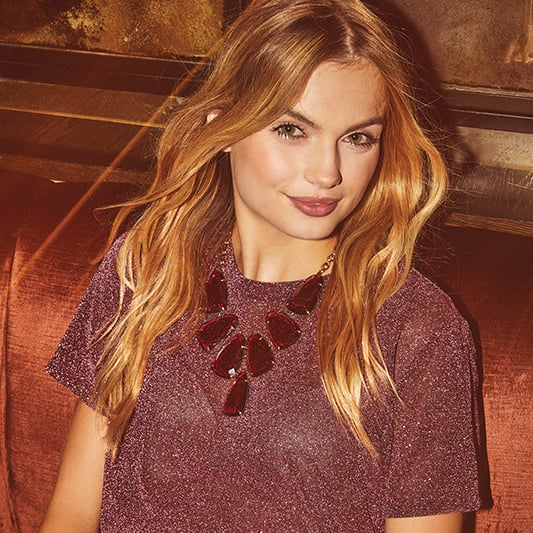 There's a long-sleeve, red velvet mini-dress that hangs in a neglected corner of my closet. Only worn once, its threads bear memories of an unusually chilly December night in Destin spent at a holiday bash. Paired with sleek black tights and my go-to ankle booties, I felt a bit like an elf, but a chic one, nonetheless.
Now that the holiday season is upon us, I can't wait to show that dress some more love. From silks and satins to faux leathers and furs, the holidays are the perfect excuse to rock your favorite fabrics. But when party time rolls around and you get ready to dust off that special statement piece or purchase a new one, it's important to keep in mind that moderation is key.
For Abbie Reeves, fashionista and owner of The Dressing Room Boutique in Destin, 'tis the season to let wardrobes shine.
"Velvet, lace and faux leather are huge this year, and a great bonus is that they play well with one another, so don't be afraid to mix it up!" Reeves encourages. "Jewel tones, deep neutrals and shades of red are everywhere right now. That said, choose one key piece to be your WOW factor and let everything else serve as a counterpart. If you just can't resist that killer sequin shift dress, pair it with a subdued, fitted blazer or moto jacket."
Outerwear will be the cherry on top of your look. For dressier occasions, drape a classic pea coat or structured trench over your little black dress.
"You'll be welcomed with compliments on your coat only to shed the layer and reveal a built-in wardrobe change," Reeves adds.
Store manager and buyer Elyse Waite of Envie Boutique in Pensacola recommends throwing on a faux fur if you're feeling extra fancy. Oh, but leave room for accessorizing!
"Jewelry such as chandelier earrings illuminated with crystals complete any holiday look," Waite says.  "This year, mystical charms like stars and butterflies will add intriguing detail."
Clutches, pouches and purses with "beaded embroidery, lace embellishments and shimmery details" are also sure to be show-stopping.
Though it may be warm enough on the Emerald Coast to go forego hosiery, tights are always classy companions for your party dress. Reeves suggests investing in a quality pair, like black Dex Essential Ponte Leggings, to complement anything from the casual tunic to elegant evening wear.
For most ladies, though, it's all about the shoe.
"Footwear options for this holiday season have embellishments and textures such as velvet and sequins," Waite notes. "Metallic colors and slides are an easy and comfortable way to complete your look!"
Reeves concurs, and adds, "Classic strappy heels and closed-toe pumps are always a safe bet for the season's many cocktail parties, but don't shy away from boots on other occasions!" Whether chunky heeled, flat, over-the-knee, or ankle-high, boots options are endless and can do no wrong.
As for you men out there, plenty of trends let you join in on the fun, too.
While indulging in eggnog and hot toddies, exude festivity with flannels and cashmere quarter-zips.
"For casual parties, pair a tucked in button-up with cropped-hem denim and Chelsea boots," Reeves recommends. "If the event is more bubbly than brewery, simply swap the Chelseas for Wingtip Oxfords, and the denim for dress slacks."
While men may shy away from sequins, bow ties, suspenders and hats will spruce up any outfit.
One such party calls for none of these tips. You can thank millennials for the reviving that platform for fashion disasters, the "Ugly Sweater" party. Twenty-somethings may find what they need in a parent's or grandparent's closet. Or search tipsyelves.com or myuglychrsitmassweater.com for the tackiest stitching of Rudolph and Frosty the Snowman available anywhere.
---
Holiday Fashion Ornaments
You're the tree and Kendra Scott's bejewelled necklace is the tinsel. See more from her Winter 2017 Collection at Envie Boutique in Pensacola Beach and other fine outlets.