'Tis the Season to Embrace the New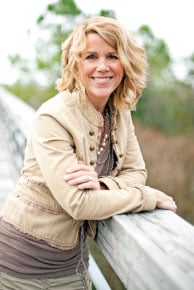 I love the beginning of a brand new year. Every 12 months we all get a new lease on life, don't we? I know I eagerly await the chance to turn the page on the calendar to gain a fresh start. In addition to cleaning out closets, it's the perfect time of year to take stock of some personal inventory. Time to toss out old, bad habits and embrace all things new and optimistic.
In a sense, it's a great excuse to "reboot." In this edition of EC magazine, we have packed it full of stories that celebrate doing just that. In one of our feature stories, for example, we meet several local Emerald Coasters who didn't wait for the New Year to ring out for them to reinvent their lives. With each dramatic career change, they created a new beginning for their families and put their lives on a brand new, albeit scary, path. These brave and inspiring trailblazers tell us how and why they changed their life course.
Speaking of impacting lives, the Emerald Coast is fortunate to be filled with many incredible charities dedicated to improving and supporting the lives of children. These important organizations are there when the chips are down, giving our most vulnerable and innocent second chances every day. This compelling feature story spotlights several deserving organizations and tells you exactly how you can take action and get involved this holiday season (and all year round) to help those too young to fight and fend for themselves.
Having a good lease on life means making healthy choices. In our Chat column, you'll meet two talented and knowledgeable local chefs dedicated to dishing up delicious and healthy choices for their lucky clients each day. And for mental and physical balance we get off the floor and soar to new heights with In Motion to look at an exciting new fitness trend on the rise — aerial yoga!
Sometimes we need to make things a little easy on ourselves. So we corralled local interior design experts to give you a handy list of Top 12 holiday trends for 2012. And we get the inside scoop from cosmetologist and shop owner Cheyenne Isenhour, who tells us why it's OK, and even fashionable, to "wig out" from time to time.
We hope your time is spent living and loving well. Here's to celebrating the season … and living your best life.
Editor's Picks
A Good Read and Deed
Life is Good is one of my favorite brands. How can you not love a company whose mission is to be optimistic? We have enjoyed their signature hardcover book "Life is Good: Simple Words from Jake and Rocket," which pairs words of wit and wisdom with the company's iconic stick figure graphics ($20 at Destin Commons). All proceeds from the book purchase go to the Life is Good Kids Foundation, established to help children facing unfair challenges. For more info on this worthy cause and cool company, visit lifeisgood.com.
Bubbling Over With Excitement
Here's to December! We toast this festive month because it means the annual Champagne Walkabout at Chan's Wine World in Destin is here. This year's event is Sunday, Dec. 9, from 1 to 4 p.m. (see the EC calendar for full details).
Loco Over Shopping Local
This holiday season why not make a commitment to shop local? Many Emerald Coast area shops make it inviting (and even more affordable) by extending discounts and specials to locals. They know we are here to support them long after the tourist season is over. Enjoy excellent service and up to 20 percent off at some of my favorite shops: The Zoo Gallery (save even more at the Zoo Gallery Outlet on Airport Road in Destin), Today's Boutique in Destin and Ivey Ladies Boutique in Fort Walton Beach.
A Wink Gets the Nod
Little black dress (check). Red lipstick (check). Lush lashes (check and check)! This holiday season the eyes have it with glamorous eyelash options. Avantgarde Salon does a beautiful job of applying Xtreme Lashes Eyelash Extensions, which look completely natural. If you really want to be eye catching, why not take yours over the top? We love the added drama from self-adhesive mink lashes with Swarovski crystals by Goddess Lashes (goddesslashes.com). Who says being girly has to be natural? Wink, wink!