Tickets Now On Sale For Miss Bennet: Christmas at Pemberley
Performances are Dec. 12-22 at 7:30 p.m. with 2 p.m. matinees on Sunday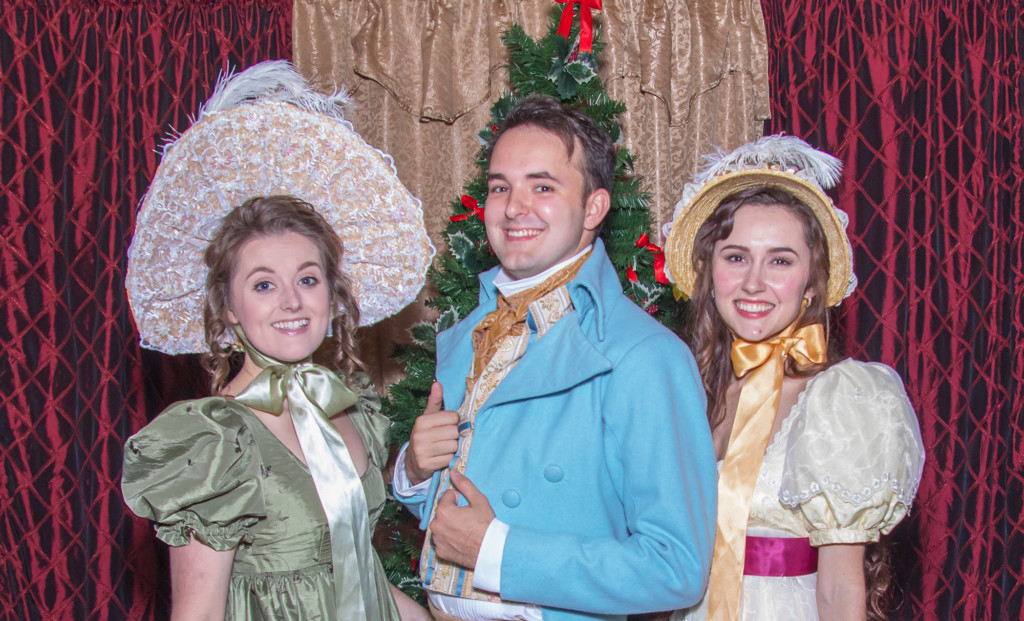 This season, Emerald Coast Theatre Company (ECTC) gets one and all into the spirit with a new American holiday classic brimming with nostalgia.
Welcome back all of your fan-favorite characters from "Pride and Prejudice" as ECTC presents the second offering of its seventh season, "Miss Bennet: Christmas at Pemberley."
The performance runs Thursday, Dec. 12 (opening night) through Saturday, Dec. 22, and will be staged at ECTC's performance space located at 560 Grand Boulevard (upstairs) in Grand Boulevard at Sandestin in Miramar Beach, Florida.
The imagined sequel to "Pride and Prejudice" was adapted for stage by Lauren Gunderson (the most produced living playwright in America) and Margot Melcon, who thought up the play in 2013 during a six-hour road-trip together and outlined the plot on Starbucks napkins.
ECTC producing artistic director Nathanael Fisher directs this romantic holiday comedy that tells the story of Mary Bennet, the bookish and oft-forgotten middle child, who has her quest for independence sparked by an unlikely visitor.
This production honors the legacy of Jane Austen's humor, playfulness and wit and simultaneously explores the complexities of family and love.
Set and lighting design for this production is by Rebeca Lake. Costumes courtesy of Glen Breed with Wardrobe Witchery and styled by ECTC co-founder and associate producer Anna Fisher. Stage management is by Phillip Padgett.
The cast includes both new and familiar faces on ECTC's stage. Making their ECTC debut are Christina Coulter (Mary Bennet), Truman Griffin (Arthur de Bourgh), Charlie Meeks (Mr. Darcy), Katie Cross (Elizabeth Darcy), and Phil Biedron (Charles Bingley). Returning to ECTC's stage for the holiday production are London Bailey (Jane Bingley) last seen on ECTC's stage in "Pinkalicious the Musical" and "The Fantasticks;" Rachel Lewis (Lydia Bennet) who appeared on ECTC's stage in "Almost Maine" and "A Midsummer Night's Dream;" and Tara Padgett (Anne de Bourgh), who appeared with ECTC in "Pinkalicious the Musical."
″This is a wonderful opportunity for the all generations of the family to come together and celebrate the holiday season," said ECTC co-founder and producing artistic director Nathanael Fisher. "Wit, humor, intrigue and charm are all abundant in this script. It will be the perfect holiday outing."
Tickets are $32 per person for adults; $30 for seniors (55 years old and up) and military and $28 for students (must show ID).
All professional mainstage production schedules are Thursday (opening night) through Saturday at 7:30 p.m. with Sunday matinees at 2 p.m.
The production runs at 7:30 p.m. Thursday through Saturday with 2 p.m. matinees on Dec. 15 and Dec. 22.
Running Time is two hours and 20 minutes with a 15-minute intermission. The production is appropriate for ages 7 and up and older.
Theater patrons are encouraged to come early (doors open at 6:30 p.m.) to browse artwork by local artists showcased in the ECTC Lobby Gallery curated by Lori Drew, founder of Lowkylzart.
A portion of proceeds from each sale benefits ECTC and its education outreach and scholarship programs.
To purchase tickets, make a tax-deductible donation, volunteer or learn more about Emerald Coast Theatre Company, find them on Facebook, call (850) 684-0323 and visit www.emeraldcoasttheatre.org.