The Year We Almost Lost the Panhandle
On The Auction Block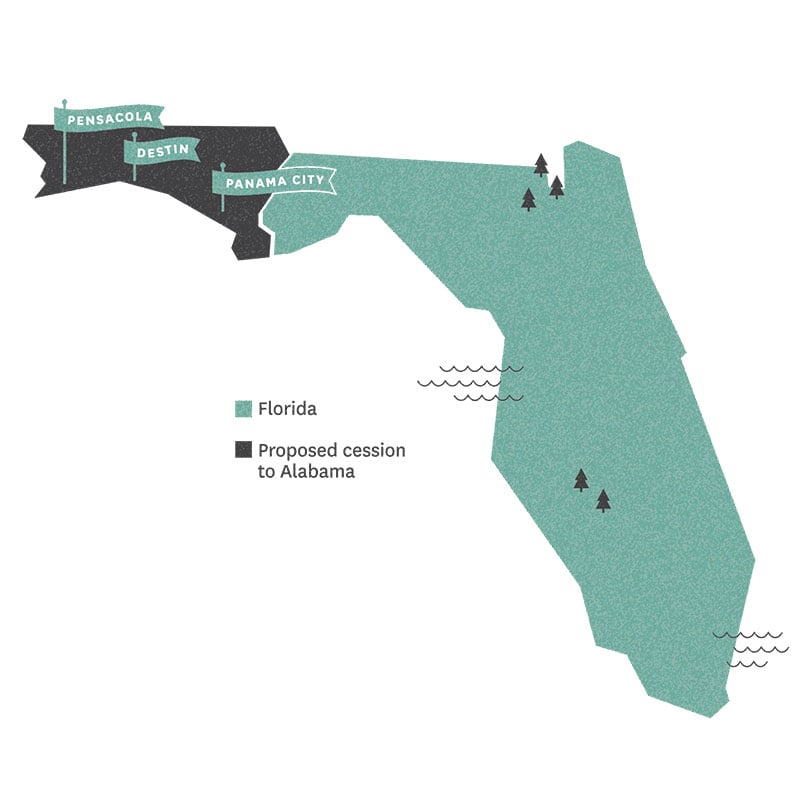 Illustration by Rebecca Taylor
There once was a year in which Alabama offered to buy Florida's Panhandle — and Florida almost agreed to sell!
It was in 1869 that representatives of Alabama and Florida actually signed a cession agreement that would have given to Alabama all of the land west of the Apalachicola River, an area that included 27,000 people and harbors at Pensacola, St. Joe and Apalachicola. In return, Alabama would pay $1 million in 8 percent bonds, payable in 30 years.
When residents of the area were asked their opinion in an election, they agreed: 1,162 voted in favor, while 681 were opposed.
This wasn't the first time, nor the last, that Alabama had sought a wider border on the Gulf. At least seven times between 1811 and 1901, Alabama petitioned for cession of western Florida. Indeed, the latest effort was only 20 years ago when the Alabama Legislature discussed the possibility of buying just the area west of the eastern shore of Pensacola Bay — including, by the way, the city of Pensacola. Needless to say, Florida wasn't selling.
But in 1869, a sale was almost made. The Alabama Legislature sent three commissioners to Florida to propose cession. This was no new thing because Florida had almost developed as two territories, one centered on St. Augustine and a western one under Pensacola. Western Florida had, at that time, strong bonds of kinship, trade, culture and geography with south Alabama, and extending Alabama to the Gulf seemed a "natural" idea.
In response to the visit of the Alabama commissioners, the Florida Legislature authorized the governor to appoint a committee to confer on cession of West Florida. On May 19, 1869, a cession agreement was signed and an election arranged for.
Alabama Gov. David Lewis, an ardent annexationist, urged the Alabama Legislature to approve the agreement "in ringing terms worthy of an advocate of Manifest Destiny." Lewis said that West Florida was designed "by the laws of nature" to be part of Alabama. "The necessities of commerce, the outlets to the great highways of the world's trade and travel, reciprocal wants, necessities and benefits," he said, cried for annexation. In 1873, the Alabama Legislature agreed and approved the arrangement (though not without opposition).
Meanwhile, enthusiasm in Florida had cooled. Gov. Harrison Reed had come to oppose the project. He offered the view that he couldn't believe that many people of Florida "seriously entertained the idea of ceding one-fifth of their territory and population, and the finest harbor in the Gulf, for such an insignificant consideration."
If Reed felt that $1 million was insignificant, one wonders what price would have been acceptable?
The Florida Legislature took no action, and the issue died. But for one brief time, 115 years ago in May, West Florida was on the auction block, and the highest bid was almost accepted.
---
This story was first published in the Spring 1984 edition of Tallahassee Magazine.