The Secret Behind Smooth & Shiny Hair
Expensive, Yes. But Smooth, Shiny, Strong Tresses Make Argan Oil Worth the Price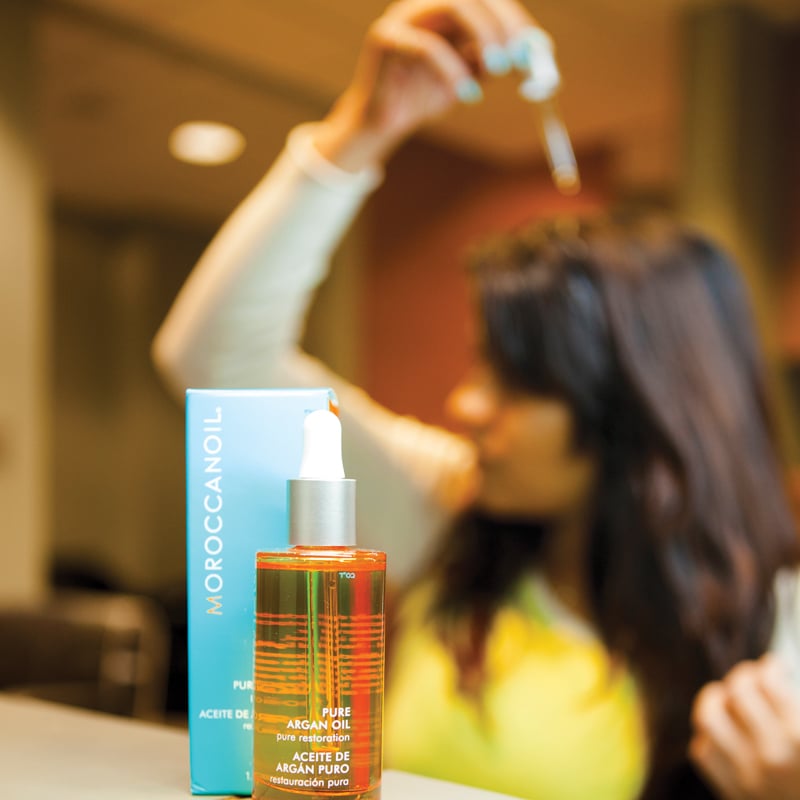 Every so often, a product comes along that revolutionizes how we care for our hair, making it faster, easier — or even possible — to maintain a salon style at home. The blow dryer. Hot rollers. The flat iron. And now … argan oil.
This light-as-a-feather oil is hailed by many as a miracle — taming fly-aways and cutting drying time — while also giving all hair types additional strength, smoothness and shine.
Matt Burke
Just a drop of argan oil will add luster to your locks.
"If (someone) has fine hair a lot of times fine hair doesn't have enough body," explained Rhonda Davis, spa director at Serenity by the sea Spa. "A particular argan oil product can give fine hair lift and volume. People who have thick, coarse or wavy and curly hair, would also have benefits from argan oil because it can repair frizzy hair, damage and split ends. It gives hair hydration."
While it may be new-to-you, argan oil has actually been around for centuries, used for hair and skin care as well as cooking in Morocco, the center of the world's argan oil production. 
The oil comes from the olive-like fruit of the argan tree, which grows in the arid land of southern Morocco and has a most interesting backstory. A quick search on YouTube shows amazing videos of goats climbing the trees to eat the fruit. Historically, the nuts would be harvested from the goat's dung, but it is now collected by women who take off the outer husk, open the almond-like shells by cracking them on a rock and then grind the inner kernels with a primitive stone wheel to release the oil.
Because of the recent boom in argan oil's popularity, Moroccan women have joined together to create cooperatives, which can purchase equipment to extract the oil in a much less labor-intensive manner. It has also preserved argan trees from being cut down for development, since the oil is a valuable commodity.
Pure Morrocan oil is expensive (poppyaustin.com sells a two-ounce bottle online for $25), but only a few drops are needed to treat a full head of hair. Many products on the market now mix the oil with extenders or in other hair care products such as shampoo and conditioner.
Davis said that at Serenity, they decided to incorporate argan oil into their repertoire with the Moroccanoil brand — an extremely popular professional line. A personal advocate as well as a professional one, Davis is a huge fan of this seemingly one-size-fits-all product. 
"Moroccanoil gives me volume," enthused Davis. "It gives my hair hydration. (My hair) is really shiny and blow-dry's exactly how I want it to blow-dry. It makes my hair very manageable as well as healthy looking and feeling." 
As with any oil-based product, though, a little can go a long, long way. "Too much of a good thing isn't always a good thing," reminded Gretchen Leslie, master stylist and cosmetologist with Shores Salon in Destin.