The Musings of Blaze
Barbershop owner perfects the fade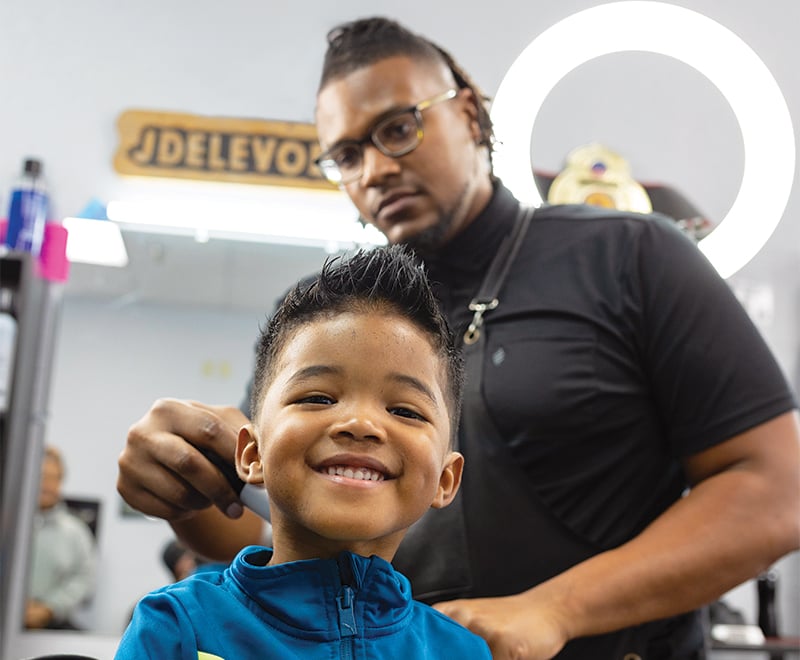 Reflecting on his early years behind the chair, Blaze Barbershop owner Jonathan Delevoe can't help but laugh. "I started cutting hair when I was 16, a sophomore in high school," he said with a grin. "I was terrible."
But he saw an area of opportunity and never gave up.
For Delevoe, who grew up in Dania Beach, there was something about cutting a person's hair that he thoroughly enjoyed — even if his beginning was a little rough.
"I think we all have been put on this earth to serve in one way or another," he said. "For me, helping people bring out the best version of themselves is always fulfilling. Seeing someone's day turn around is what it's all about."
While attending the University of West Florida, Delevoe turned his passion into a proper side hustle.
"I started cutting hair out of my dorm to make some money," he recalled. "I had a $55 phone bill, so I would perform spoken words to win $25 at an open mic event, and then I would cut my five clients' hair to make the other $35. Eventually, it started taking off, and by junior year, I was cutting a lot of people's hair on campus."
After graduating with a degree in information technology, Delevoe spent a short time in his field but eventually found his way back to barbering. For a time, he cut hair 12 hours a day to pay the bills and save enough money to attend the Adrian H. Wallace Barber Academy in Pensacola.
"Adrian Wallace is the owner," he said. "It's the best barber school in town."
By the time Delevoe enrolled in the barber academy, he already had a strong clientele as well as a digital booking and payment system in place.
"The things that I learned in college and during my short time in the professional world, I took into barbering," he said.
Wallace noticed his initiative and, in late 2016, extended Delevoe the opportunity to take over his shop — the popular Blaze Barbershop on Brent Lane. At just 26 years old, Delevoe was slightly intimidated by the prospect of owning his own shop, but he accepted the offer.
By January 2017, he had graduated from the academy and walked into his own shop.
"By the grace of God, and being in the right place at the right time and having the right people around, I'm able to be where I'm at today," he said.
Delevoe is 32 now — and not a bit bored with barbering. From skin fades and shadow fades to basic beard trims or dramatic transformations, he's there for it all.
"For a long time, my favorite haircut was the high-top fade where you just flatten out the top, and it'll go straight up," he said. "A lot of people don't do it right, and it can be uneven."
Delevoe has worked to put his own stamp on Blaze and create a welcoming, diverse space where people of all backgrounds can go for a quality haircut.
"People of all nationalities can be spotted in my shop," he said. "I don't ever want to be in a situation where I had to tell someone no because I don't cater to their hair texture or style."
The barbers who rent space at Blaze are also a well-rounded group.
"We have people from different walks of life," Delevoe said. "I have people from Pensacola, out-of-towners and people who have made mistakes and gotten a second chance to turn things around."
Decorated in the barbershop-signature color palette, red and black, the shop has seven barbers and a stylist with a comfortable waiting area where a TV usually plays kids' movies.
"We try to be family-friendly," said Delevoe, expanding on his core value of accepting everyone that walks through the door — including the little ones.
Delevoe also sells his own line of hair products, named "A to Z," which includes a cream for moisturizing and softening longer curly hair. His line also includes butter for conditioning the scalp and beard, and he plans to add a shampoo and conditioner in the future.
"The power of a haircut can transform how someone feels about themselves that day," Delevoe said. "And sometimes, especially for men, it's a place to vent and be open about life."
Since taking over Blaze, he's grown close to countless clients and watched their lives change along with his own. People whose hair he's been cutting since college are now married or have children; some have gone on to achieve their master's degrees.
"It's not just about what we do for people's hair," Delevoe said. "It's about what we can do for them spiritually and emotionally."
It's all part of giving his clients an exceptional experience, from A to Z.
---
Open For Business
Blaze Barbershop is located at 15 Brent Lane, Suite 8 in Pensacola. For more information, content them at (850) 483-1253.
Photography by Mike Haytack
---