The EC's Top 12 Holiday Trends for 2012
Local designers share their tips and tricks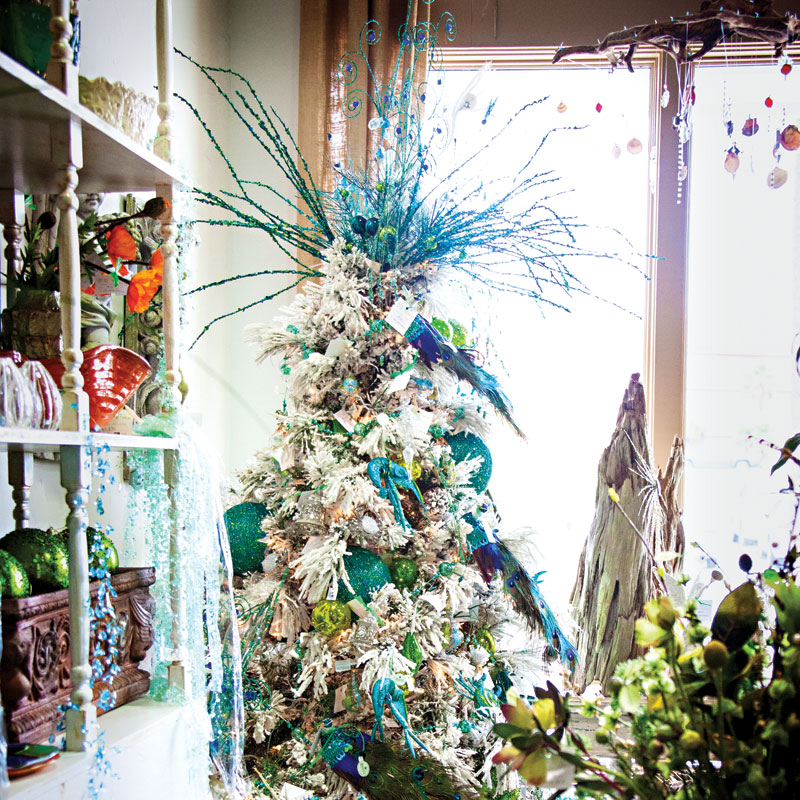 Even Christmas, that most traditional of holidays, is subject to trends. New colors arrive from fashion runways, environmental issues come into play and pop culture inspires holiday styles. Here, Emerald Coast designers share ideas brought home from this year's Christmas fairs, and naturally they've paid special attention to the decorations that'll recall treasured moments along
the shore.
1. Glitz & Glam. "Ornaments extravagantly embellished with glitz are everywhere this year," tells Kelly Porter of Porter House Designs, Destin. "It takes just a few to add an edge to more staid finery from previous years, so this is good for tight budgets."
2. Theme's the Thing. Crazy about TV cooking shows? Or fashion? "Then you'll love the new cupcake, shoe and purse ornaments," says Dorothy Creamer, editor of Selling Christmas Decorations, a publication for holiday retailers. "Look for other decorations that'll tie in with favorite films, shows and interests. You're sure to find them."
3.Man Trees. Now he has his own holiday tree. "You can decorate it with a broad choice of ornaments, from cowboy hats and boots to golf clubs and six-packs," says Mary Romair of GG Bloom, Destin. "Bows? How about camouflage ribbons?"
4. Going Coastal. The entire nation has gone coastal, and Shellie Henderson loves it. A designer with Destin's Lovelace Interiors, she tells that decorations with sea and shore connections are especially plentiful this year. Crisp white starfish tie to the tree with turquoise velvet ribbons, Swarovski crystals add glitz to nautilus shells, jellyfish are recreated in blown glass and all sorts of sea life glitters with gold and silver. "It's lovely," says Henderson, "and so right for our area."
5. Back to Nature. Wreaths of seashells created by local artists are favorites of Pam Johnson of Barefoot Lawn Care, Santa Rosa Beach. She also likes to hang sand dollars, starfish and driftwood balls on trees and garlands, indoors or out. Woodlands are another favorite nature theme. This look includes pinecones, berries and twigs.
6. "Green" Trees. Is an artificial tree, which can be used year after year, more "green" than a real one? That's the current debate. Johnson says that real trees are "green," too, when they're composted. To make artificial greenery look more real she adds magnolia leaves. "Their sheen is festive and they are long-lasting," she explains.
7. Take a Bough. Romair's big find at the holiday markets is "arms" that clip to the Christmas tree. "They look somewhat like paddles, so they have a flat surface where you can display candles and other decorations," she tells.
8. Fashion Hues. Christmas colors have segued beyond red and green. Fresh from the runways come turquoise, celadon and coral, all great hues for beachy homes. At the opposite end of the spectrum, you'll see more dramatic combinations, such as the white tree with red ornaments created by Ashley Harkins of Design Avenue, Destin. An easy, elegant way to trim a tree is with decorative mesh, she says. The fabric comes in many colors, including stripes and metallics, for wonderfully graphic effects.
9. Twinkle, Twinkle. While white lights remain favorites, aqua bulbs are coming on strong. "It's such a good color here by the coast," says Romair, "and it looks even better when the tree is trimmed with copper ornaments." Johnson notes strong interest in animated lights. "Think Santa's helicopter landing on the lawn or dolphins leaping across the yard," she says.
10. Personal Touches. What grandma can resist the toothless smile of a new grandbaby on a tree ornament? "People love personalized items," notes Harkins. "And who can blame them? They're a way to stand out in a mass-produced world. At our shop, we create ornaments depicting kids, cats, dogs and sometimes just somebody's name or monogram."
11.Nesting for the Holidays. Our feathered friends, from swans and mallards to cardinals and bluejays, land decoratively on holiday trees. Birdhouse ornaments are also indicative of bird watching's high ranking on America's hobby meter.
12. For Art's Sake. There are lofty solutions for those who want statement ornaments. Creamer tells of bone china creations plated in 24-carat gold or platinum. There are even ornaments that capture the artistry of the famous Fabergé eggs collected by the Russian czars. Expect to pay as much as $150 for such wonders.
With stores bulging with holiday ideas, most of us are likely to add to our collections, but Harkins has a word of warning. "If you also have a lot of things from previous years,  could be time to edit," she says. "Don't use everything you have. It could become a jumble. Instead, create vignettes — on tabletops and the mantel, for example — so you can really appreciate the finery."