SWBWFF Donates $30,000 to Destin Charity Wine Auction Foundation
The record donation will enable DCWAF to support 16 local children's charities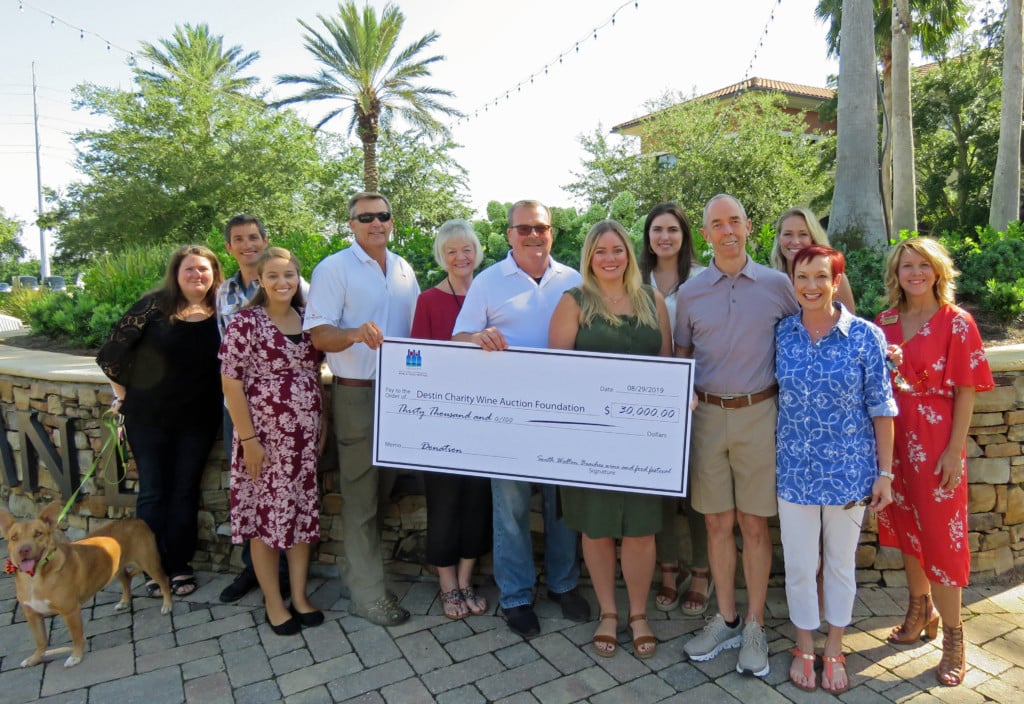 South Walton Beaches Wine & Food Festival donated $30,000 on Thursday to Destin Charity Wine Auction Foundation (DCWAF), which supports 16 children's charities in Northwest Florida.
The charity wine festival, founded by Chan Cox of Wine World, designates DCWAF as the sole recipient of the net proceeds of the event. More than 4,500 people attended the 2019 festival.
"It's so exciting to be able to present the biggest check we ever have to charity for DCWAF to support the fantastic work they do in the community contributing to so many charitable organizations that do really important work in Northwest Florida," said Stacey Brady, director of marketing and communications for Grand Boulevard at Sandestin and executive director of the South Walton Beaches Wine & Food Festival.
Sponsors, Grand Boulevard staff and DCWAF president John Russell gathered in the Grand Park at Boulevard on Thursday, Aug. 29 for the check presentation ceremony. Afterward, Russell spoke with Emerald Coast Magazine about what the donation means to DCWAF.
"We have to raise a lot of money because we have a lot of charities we support," said John Russell, DCWAF president.
"Our partnership with Grand Boulevard goes back to 2013 and is so important to us. But it's not just the money, we wouldn't raise as much money at the auction without the festival going on. It's a great synergy; we're the center of the wine world in the U.S. the last weekend in April, and we work so closely together to make it all come together. And the vintners and the people in town love it because they get to experience all of it. There's not many places where you get both the festival and the auction in one weekend. It's something our community can be proud of because it's a national event that has gotten a lot of national recognition."
Though DCWAF has quickly risen to a national scale, the 16 charities it benefits support children in need right here on the Emerald Coast.
Last year, the funds raised at the auction at Grand Boulevard enabled DCWAF to donate $3 million to its charities — a record high.
"The synergy is absolutely amazing, and we couldn't be more grateful to work with Grand Boulevard. They provide enormous logistical support and charge us nothing. So, we're pretty lucky," Russell said.
How does the funding actually help local charities? Russell quickly rattles off some examples
"We just got notification that Habitat for Humanity's next house is going to be built for an employee in one of the Grand Boulevard facilities," he said. "I know her personally, and that's what I love. I can go help her build her house, so that's pretty cool.
"(On Aug. 29) at the Hilton, we're doing a dinner with Boys & Girls Club for 300 people. Derrick Brooks, who is a Fall of Fame linebacker with Tampa Bay Buccaneers, is coming in. He's a Boys & Girl's Club alumni, and so we'll talk to him about a Super Bowl auction lot in Tampa.
"We recently had a groundbreaking for Youth Village in Fort Walton Beach. They've been paying rent for years. This is the first time they have had their own building, so they will be able to help twice as many children now. We attended a ribbon cutting for a new organization, Westonwood Ranch in Freeport, which helps older autistic children.
"So you can see there are both short term and long term implications for our community. That said, there is more we need to do," Russell said.
Since it was established in 2005, Destin Charity Wine Auction Foundation has donated $21,490,247 million to Northwest Florida charities through hosting world-class wine and culinary events.
These funds have impacted the lives of more than 90,000 youth. DCWAF is recognized as one of the nation's top 10 Charity Wine Auctions in the U.S. by Wine Spectator magazine for the past six years.
Last year, Destin Charity Wine Auction was held during the wine and food festival and helped to raise a record $3 million for the charitable organizations to address hunger, homelessness, abuse, and physical and mental disorders for thousands of children in Northwest Florida communities.
The 2019 South Walton Beaches Wine & Food Festival was held April 25–28 throughout the Town Center of Grand Boulevard at Sandestin.
The festival featured a stunning showcase of the best wines in the world. Wine lovers were able to meet and talk with the celebrity wine producers and master distillers presenting their fine wine and spirits from around the world.
The Savor South Walton Culinary Village offered a sumptuous array of foods to taste, wines to pair, as well as wine- and food-tasting seminars.
Extra features were the Rosé All Day Garden, Spirits Row and Nosh Pavilions and live entertainment throughout the weekend. The Craft Beer & Spirits Jam and Winemakers & Shakers events round out the festival weekend.
Presented by Grand Boulevard at Sandestin, Visit South Walton and Wine Enthusiast Media, the festival offers the ideal backdrop for a beach getaway.
The festival is made possible by the generous support of the following founding partners: Destin Charity Wine Auction Foundation, Visit South Walton Tourist Development Council, Florida Restaurant & Lodging Association and Visit Florida, Hilton Sandestin Beach Golf Resort & Spa, Wine World of Northwest Florida and Grand Boulevard at Sandestin.
ResortQuest by Wyndham Vacation Rentals is the official lodging partner of the festival, and Rowland Publishing Inc. is the official media sponsor of the festival.
For more information and to purchase tickets for the eighth annual festival slated for April 23-26, 2020, visit SoWalWine.com.