Studio Meets Street
The athleisure trend rages on this summer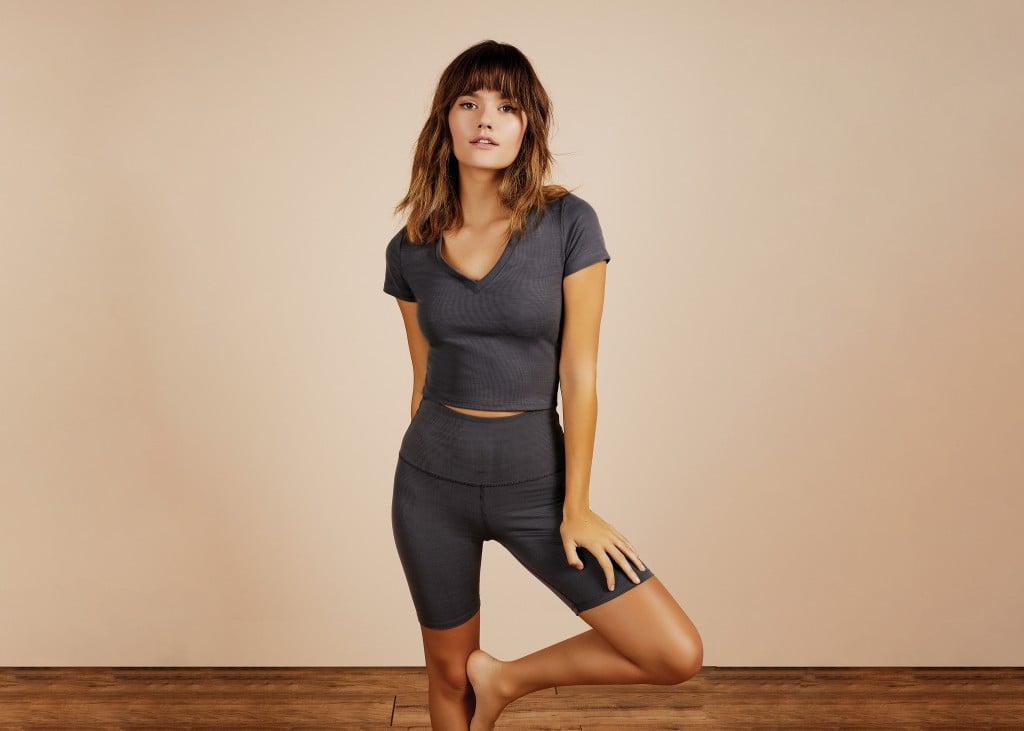 In our turbocharged society, convenience is no longer a luxury but an expectation.
From delivery apps and digital assistants to K-cup coffee and dry shampoo, we tend toward items that save us time — and clothing should be no exception.
For the fitness conscious, toting a gym bag is no longer necessary. Athleisure wear marries purpose with pizzazz, making it possible to move from cardio to carbohydrates at brunch without a wardrobe change.
"The term 'athleisure' basically translates to versatility," said Susan Clark Waters, owner of Pure Pilates and Pure Fitness Apparel in Pensacola.
"The trend as we know it today offers leggings in complimentary, high-waist cuts and tops that are dry-wicked, lightweight and soft," Clark Waters said. "That way, when you step out of class to go to lunch, you feel fit and fashionable. You feel contoured but not compressed."
For Clark Waters, a mother who teaches Pilates classes in Pensacola and in Las Vegas, where her Marine husband is stationed, life gets hectic. A hassle-free wardrobe, she says, is just the ticket.
"I'm in the studio all the time," says Clark Waters, "so I love the fact that I can be comfortable and fashionable while I work out and, afterward, simply throw on a cross-body bag to go grocery shopping or to meet friends."
Pure Fitness Apparel, located in downtown Pensacola and with a presence online, showcases nine brands that have been vetted by Waters Clark: Beyond Yoga, Alo, Splits59, Onzie, Goldsheep Spiritual Gangster, Tasc Performance, Sol and Selene, PKR and, of course, original Pure Fitness apparel.
Because she also teaches Pilates classes on the West Coast, Clark Waters researches trends that are popular among celebrities.
"A lot of the brands and items we carry, you'll find Hollywood wears," she said. As the new saying goes, "Diamonds were a girl's best friend, but then leggings happened.
"Of course, you've got your basic black," Clark Waters said about leggings, "but you've also got the fun, winter options of navy, greens and burgundy. And, don't be afraid to have fun with prints. Lately, we've been seeing a lot of cheetah/leopard print, speckled ombré and glitter."
Clark Waters recommends that leggings be paired with a similarly colored bra and an off-shoulder sweater or open-backed, long-sleeve top.
The appeal of studio-to-street style, Clark said, crosses generational lines. Young and not-so-young visit Pure Fitness Apparel seeking the same style and functionality.
"The only thing that really differs is that with leggings, the younger crowd seems to go for a longer tee or tank that they can tie at the front or side," Clark Waters said.
"The older crowd definitely appreciates a long-length top that covers the hips. Those who don't want something quite as form-fitting opt for a wide-legged, cinched pant, which also translates well to everyday wear. This really is a trend that suits all ages, all shapes and all sizes."
The bestseller at Pure Fitness Apparel is Alo's high-waist, black Moto legging, which Clark Waters calls "practice-to-pavement ready."
"I've worn the Moto legging to formal functions," she admits. "Simply pair them with a nice pump or bootie and throw on a nice blouse. During workouts, they require only a fashionable bra and muscle tank, so it's easy to transition from day to night."
When the weather warms up, many turn to classic biker shorts, Clark Water said.
"You can throw on a tennis shoe with those, or, since we're in Florida, don't be afraid to slip on your slides," Clark Waters advised. "If it's a brisk afternoon, simply go with a lightweight bomber jacket."
The Goldsheep mesh bomber jacket is a hot commodity at Pure Fitness, and it can be coupled with a pair of jeans for an elegant, edgy look.
And, speaking of edgy, don't be afraid to wear an open-backed, key-holed or twisted tank with your favorite jeans or shorts. Cropped pullover sweaters, hoodies or tanks offer excellent breathability during exercise and work well with high-waisted pants for a fun night out.