Stories From The Heart: UWF Dance Marathon Dances on Despite Challenges
For six years, Dance Marathon has put its best foot forward to benefit Children's Miracle Network Hospitals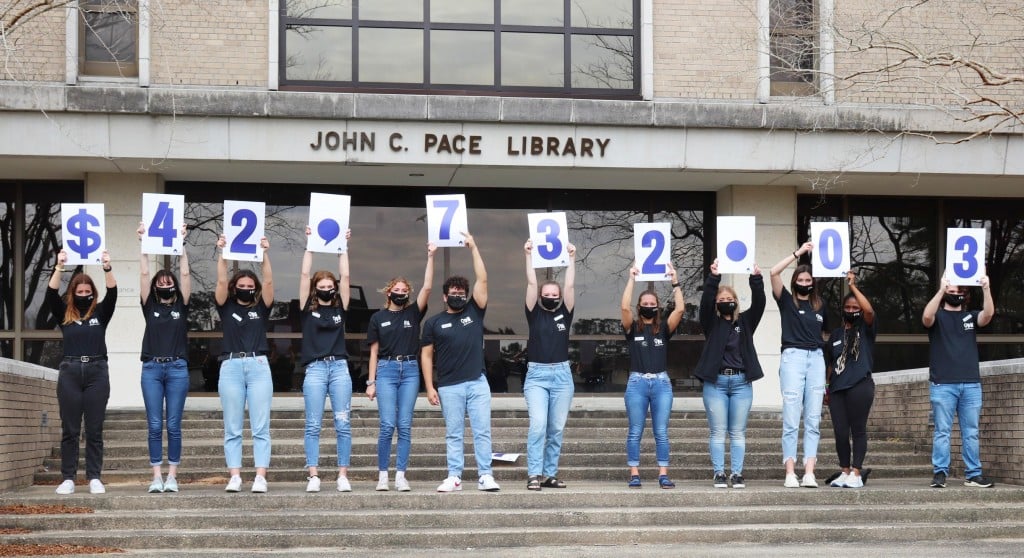 The life-changing care Ascension Sacred Heart provides has touched the hearts of many who strive to ensure that this incredible mission of care continues for future generations. Ascension Sacred Heart Foundation is proud to partner in this endeavor by sharing Stories from the Heart.
For six years, Dance Marathon has put its best foot forward on the campus of the University of West Florida in Pensacola, all to benefit Children's Miracle Network Hospitals. The daylong event requires a year's worth of planning and initiatives — culminating in 10 hours of dancing, games and camaraderie to raise funds and awareness for sick and injured children at hospitals, like our local Studer Family Children's Hospital at Ascension Sacred Heart.
Taylor Kindler has been part of the event for three years, progressing from team captain to board member to executive director. A senior at UWF, the nursing major says she was inspired to get involved with Dance Marathon because of her passion to help people.
But when COVID-19 changed the world, the event had to undergo changes to keep fighting for the kids. Taylor was a big part of that push, brainstorming ways to continue fundraising during a time when it was nearly impossible to meet in person.
In a "normal year," UWF holds various fundraising events and spirit nights at local restaurants leading up to the Dance Marathon. On event day, participants are taught a new dance progression every hour. There are games and challenges and it's a great time for all, including families who have benefited from the care of Children's Miracle Network hospitals.
"The families come and speak and share their stories," Taylor says. "The kids are on stage dancing, and it's a really fun time as we recognize our yearlong efforts and how they impact the families."
In 2021, Taylor and her team had to get creative. All of the fundraisers prior to the big day were held virtually. Then, Dance Marathon was hosted outside for the first time in UWF history, with a limit of 50 participants at any given time. The rest of the party took place on the communications platform that made a name for itself during quarantine — Zoom.
"During COVID-19, we thought it would be safer for the families to stay home, so a lot of our engagement came from participants online," Taylor says. "Carter Harrison, our local Children's Miracle Network champion, joined in for an online dinner so his family could tell their story and tie in to why we have Dance Marathon."
Still, despite the circumstances, through virtual parties and live-streamed dancing, the UWF team managed to raise $42,732 for the kids. Without Taylor and her team, this year's event may never have happened.
The Studer Family Children's Hospital at Ascension Sacred Heart recently opened the Bear Family Foundation Pediatric Oncology Center for Hope, made possible in part by annual donations from the UWF Dance Marathon. The hospital plans to continue its expansion of specialized care units, all designed with our community's children in mind.
"I think there's a big misconception that Dance Marathon is only for the university, but the whole community comes together to fight for children's health, and having this event on campus is such an impactful thing,"
Taylor said.
To learn more about UWF Dance Marathon and how you can get involved,
please visit DanceMarathon.ChildrensMiracleNetworkHospitals.org.