Stories From the Heart: Giving Back to the Community They Serve
Meet Radio Royalty: Mary and Dave Hoxeng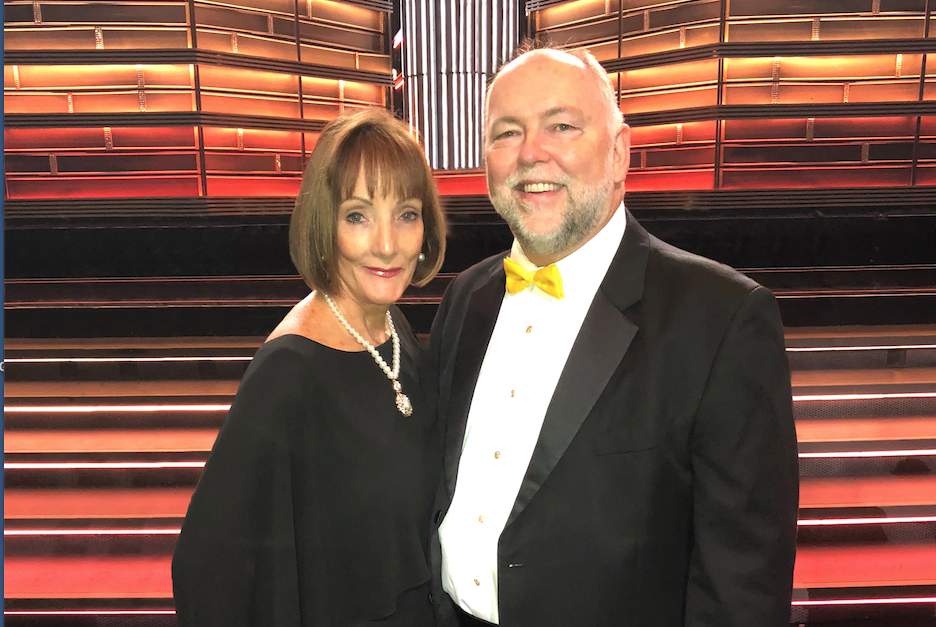 The life-changing care Ascension Sacred Heart provides has touched the hearts of many who strive to ensure that this incredible mission of care continues for future generations. Ascension Sacred Heart Foundation is proud to partner in this endeavor by sharing Stories from the Heart.
Dave and Mary Hoxeng built their award-winning, local radio team together, a joint venture of highly distinctive skill sets. While owning a radio station was a lifelong dream of Dave's, it took a lot of patience and due diligence to make it happen. He applied in 1984 for a new radio license in Pensacola, which turned out to be a very long process — about 15 years actually.
In 2002, Dave and Mary moved to this area to start up their first radio station from scratch: CatCountry 98.7. Then they got the opportunity to purchase a run-down station in Atmore that eventually became News Radio 1620/92.3. This was followed with yet another acquisition, WEBY-ESPN 1330/99.1. Recently, they started Playlist 94.5, which plays Pensacola's favorite hit music non-stop. Today, Mary is general and sales manager of all four stations, while Dave is CEO and the self-described "catalyst."
Mary was born and raised in New York City, the youngest of six children in a poor, Irish-Catholic family. Her mother was employed Full time at Singer Sewing Machine, and her father worked three jobs to provide a roof over their heads and food on the table.
"We had what we needed," Mary says, "not what we wanted. But what I learned from my parents was that if I worked hard, stayed honest, was responsible and had good morals, I could go anywhere and do anything I wanted."
This became the blueprint for her life's journey. After 12 years of Catholic schooling, she went to work, determined never to struggle as her parents had. She attended college at night and graduated Summa Cum Laude at 31. Her studies were in the career field of advertising; little did she know this would lead to her meeting Dave in 1979.
Dave grew up Pittsburgh, where his father was employed in research at U.S. Steel. He attended the University of North Carolina, majoring in radio, television and motion pictures. Upon graduation, he went to New York City, where he had been working for ABC Sports and CBS Sports as a production manager during his final two years of college. His desire to own a radio station continued to be the dominant desire in his life, and he believed selling radio and television advertising on Madison Avenue after college would serve as a pathway to achieving his goal.
One of his clients was Mary, a media buyer at a large advertising agency. They met, fell in love and married after a long courtship. They lived in San Antonio for 18 years, where Dave worked at a radio station and Mary successfully pursued her career in radio and as a television sales manager. After finally obtaining the radio license for Pensacola, he and Mary moved to the area to build CatCountry 98.7. However, her expectation was a life of leisure: "The way Dave presented this to me was that it was just going to be a little community radio station, maybe six, seven employees. I would work a couple of days a week and spend the rest of my time being a 'beach girl.' " But it didn't turn out that way. They now have more than 40 team members that are their "family" at the radio stations.
The couple believes in giving back to the community by contributing their time, talent and resources to a multitude of charitable organizations. They have been philanthropic supporters of Ascension Sacred Heart Foundation for many years. One of the foundation's projects they sponsor is the annual CatCountry 98.7 Cares for Kids Radiothon, a live broadcast to raise funds that will help children fight cancer. They were also substantial donors to the foundation's campaign that helped build Studer Family Children's Hospital at Ascension Sacred Heart.
"Seeing what you have done for the children is phenomenal," Mary exclaims. "The new hospital is just a miracle. How lucky we are to have this in our community, equipped with all the latest and greatest equipment needed to be able to treat and save so many children." Dave also expresses his admiration for the fundraising efforts that Ascension Sacred Heart Foundation carried out, making it possible to build the Children's Hospital. He says,
"God does find the right people at the right time, and Carol (Carlan) was the right person to take the Foundation to a new level."
Dave sees the Children's Hospital as the differentiating factor in Ascension Sacred Heart's success in the local market, saying, "I think it is the 'secret sauce' of your enterprise." And Mary adds that Sacred Heart's involvement in the local community — such as the Radiothon and Cordova Mall Ball — is important for its continued growth, helping to keep the hospital "top of mind."
Dave and Mary have been married for 31 years, still love each other, still work together. Mary explains it this way: "I found an amazing man who had similar goals. We've built a good life for ourselves and a great business for our community."