So Much More Than Lip Service
Artist Bradley Copeland speaks to holistic balance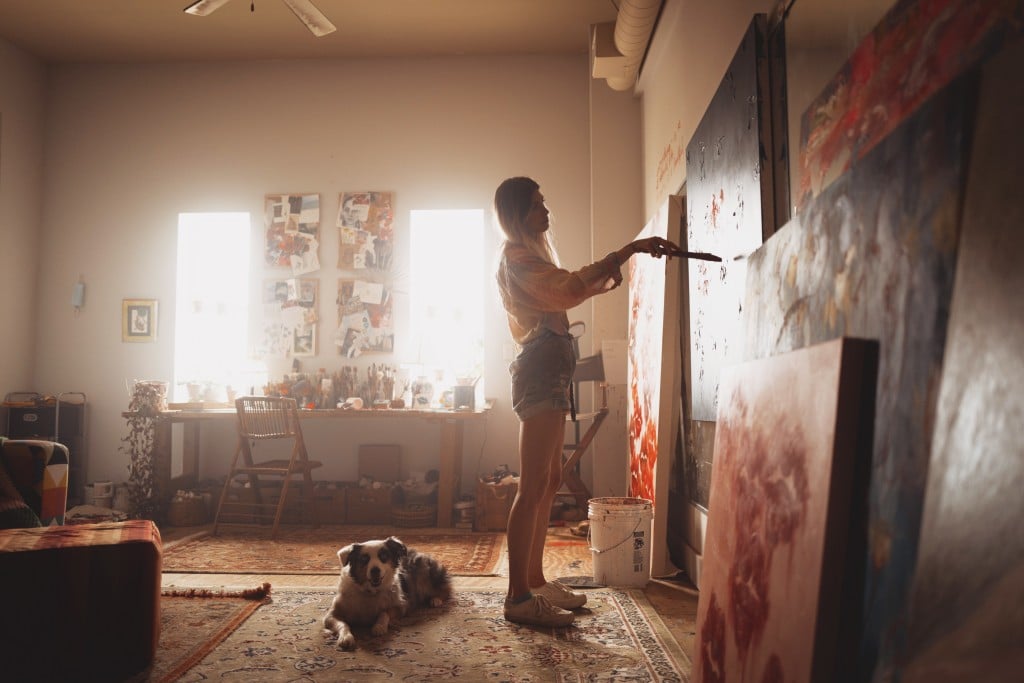 The artist Bradley Copeland paints lips.
Luscious, alluring, sensual, inviting, pursed, puckered, provocative, vivid, bee-stung, intensely colored, indelicate, maybe dangerous lips.
They are not defiant, but they are exaggerated characterizations of lips that possess a certain "kiss you" energy, the most gentle of kiss-offs. Nothing vulgar about them; they are instead confident. While "girly," to use Copeland's word, they are also strong.
"We all have masculine and feminine energy inside of us," Copeland said. "It doesn't even have to do with male and female so much."
But societal expectations, mores and pathways can discourage a blending of those energies or even an acknowledgment of them.
"Most men have been told that emotions are a sign of weakness, and women have been dismissed as hysterical," Copeland said, pointing out that "hysteria" stems from hystera, the Greek word for uterus. The lack of feminine-masculine balance in the lives of people, it seems to her, accounts for countless failed relationships.
"I wish that we would all stop just trying to win," Copeland said. "If we all had each other's best interests in mind and it wasn't about righteousness or being better than the other party, and we just balanced, everything would run a lot smoother."
Righteousness can equate to suppression, even where lipstick is concerned. Flapper fashion caused a flap among school boards in the 1920s.
As school was resuming in Clay County, Arkansas, in September 1921, principals including N.E. Hicks of Knobel High School, announced to students a rule newly adopted by the school board: "The wearing of transparent hosiery, low-necked dresses or any other style of clothing tending toward immodesty in dress, or the use of face paint or cosmetics, is prohibited."
Three girls were sent home on Day 1 and ordered to wash their faces. Two complied. The third, Pauline Pugsley, retained an attorney and sued the school board in what came to be known as the Lipstick Case. The matter reached the Arkansas Supreme Court, whose justices ruled that school officials had acted within their authority in dismissing Pugsley and placing conditions upon her return. Whether the dress code was silly was not for the courts to decide, according to the majority opinion.
Still, Pugsley had made a statement and won over supporters.
"It is not only for my rights that I am fighting, it is for the rights of those hundreds who have written to me to continue my fight," Pugsley said as her trial date neared.
Lipstick would prove irrepressible, of course, and it is fair to ask whether anyone lost thereby. Copeland, for whom lips have formed the basis of statement pieces of her own, has not.
Copeland graduated from Auburn University with a degree in art. A native of Birmingham, she followed a boyfriend to South Walton upon graduation. The relationship dissolved, but Copeland stayed. Today, she lives with her Australian shepherd, Ella, and a kitten in a two-story, metal-sided place in a light industrial park in Santa Rosa Beach. Her gallery is on the first floor, her living quarters and studio on the second. On the walls, along with paintings, are handwritten lists of painting ideas.
Before she began to enjoy financial success as an artist, Copeland gave herself the freedom to do "trash art" not intended to impress anyone.
"I did a ton of faces, eyeballs, hands, random categories of things just to keep painting," Copeland said. "I just enjoyed the process of it without worrying about the outcome."
Copeland resolved to paint "10 or 15 drag queens because they are fun, and they are strong." In so doing, she arrived at a series of "messy faces" with, aha, prominent red lips.
She proceeded to make a painting of lips, only. Gallery owner Anne Hunter, who now represents Copeland, saw it, liked it and suggested that Copeland participate in an outdoor tent event at Seaside. She arrived with four sets of lips and several messy faces and painted more lips on-site.
People liked them.
"Now, the lips are an easy thing for me to do," Copeland said. "So if I get stuck and I don't know where I'm going with a painting, I can easily crank out lips and it's a bit of a mindless thing for me to do."
Lips, then, have become something that people can associate with her. It won't be surprising if one day she adds a pair in signing and numbering prints featuring other subjects she paints.
Indeed, to reduce Copeland to lips would be an unfair exercise in synecdoche. She paints plants, which she sees as
emblematic of events and milestones she has experienced, and she suggests that a person's life story might be expressed as a painted garden. She has begun to play with realism. She is creating big pieces first by making a mess of a blank canvas and then releasing paints onto it and seeing what emerges. She has plans to build a chandelier out of prescription bottles that she has been collecting for years.
At this writing, she is working to unite her disparate works in preparation for shows that will take place this spring in DeFuniak Springs and later, she hopes, in New York City.
Copeland departed Auburn not believing that she would soon be able to support herself solely as an artist. "Maybe when I'm 50," she thought.
She was working retail in Seaside, doing some commissioned paintings — someone might want a painting of his dog, for example — and had little time left over for trash art.
Things changed.
Copeland lost control of a pot of boiling water and scalded herself, sustaining second- and third-degree burns over much of her body. Horribly blistered, she could not wear shoes for weeks.
"The tips of my fingers had grown light bulbs," she said.
Unable to work or much less walk, Copeland, with bills to pay, threw herself into her religion, that is, her art. And, she's making it, not at 50, but at 24.
"Everything happens for a reason," she said of her accident.
People, Copeland believes, are reservoirs of energy that always has been present and cannot be destroyed. With that energy, she strives to be the Bradley she is intended to be as best she can.
Signs are good.
Schedule a gallery visit by contacting Copeland at (205) 369-6797.
---
Plant Lives
Among Bradley Copeland's favorite subjects are plants, a reflection of her nearness to nature and her belief in the interconnectedness of all life forms. She paints plants that connect, for her, to events in her life. It is like her to suggest that a life might be represented as a garden, that a garden is like a silent symphony, organized in rows with each section contributing to a bountiful whole. Everyone is privileged, Copeland would tell you, privileged to be a repository of energy that existed long before we came along and will be around long after we are gone. Division is an enemy. We should turn our energies toward connection. — Steve Bornhoft