Snapshot: Painting Smiles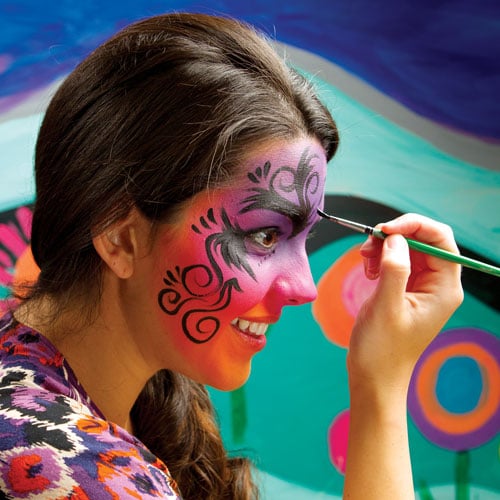 Sherri Owens' colorful creations amount to much more than a thousand words. The 28-year-old Abrakadoodle face painter has generated thousands of smiles by painting rainbow butterflies and Spiderman poses on "too many faces to count."
A graphic design major and fine arts minor from Flagler College, Owens owns Sassy Ink Design, a graphic design company. She clearly dips into her background as well as Snazaroo paint products to produce amazing masks for kids in as few as two minutes.
What is the trick to flawless face painting? "Use a face sponge for an air brushed effect, and let the brush do the work," the Santa Rosa Beach artist says.
After three years with Abrakadoodle, a children's art and creative learning program based in Destin, Owens now trains all of the new face painters. The company has acquired a team of 20 artists, making it the largest face-painting outfit on the Emerald Coast.
From Memorial Day through Labor Day, Owens can be found at The Village of Baytowne Wharf at Sandestin every Tuesday night from 7 to 10 pm. Children can get their faces transformed into masks and mystical creatures absolutely free (the resort absorbs all of the costs).
Owens' joy extends far beyond the reach of her brush. "My passion is making others happy with my art. If it's a logo for your company or your child's smile after getting their face painted, I'm happy making others happy. That's what makes me feel good, that's what matters the most," she says.