Six Couples Reminisce About Their Magical Emerald Coast Wedding
They said "I Do" on sugar-sand beaches, on grand lawns at luxury resorts, sailing on yachts in the bay and in art galleries on 30A.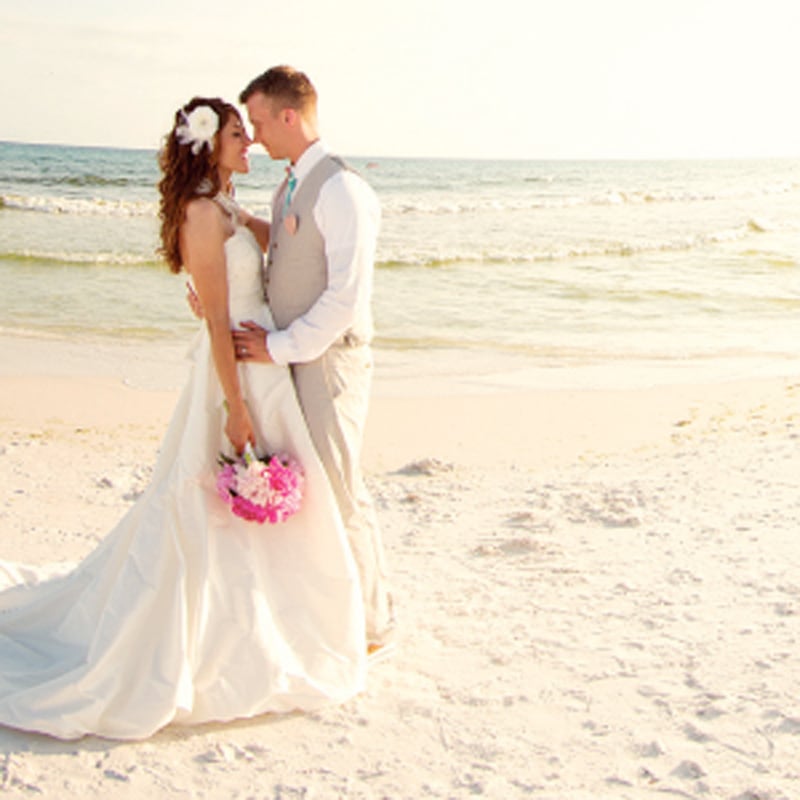 Rustic Whimsy: Rachel + Gabe
June 16, 2012 — Amid the mismatched picture frames, rustic twine, hearty burlap and handmade wood carvings — effortlessly uniting the whimsical and the classical, Rachel and Gabe Reagan were joined in matrimony at their tailor-made wedding on Grayton Beach, which was followed by a reception at Weatherall Fine Art Gallery.
"We never once doubted our decision to have our wedding at Weatherall," said Rachel of the gallery setting. "We were in love with the venue, it was amazing, sparkly, whimsical and intimate — everything I wanted!"
The couple's guest book was a hand-carved wooden box made by Rachel's grandfather, and guests placed personal notes to the newlyweds inside. The bride, her sister and her father crafted some of her favorite pieces from the wedding — the groom's and groomsmen's boutonnières — out of wood and carved the couple's initials, "G+R," into them.
Outfitted in a custom Casablanca Couture gown, the bride exchanged vows with Gabe, who, instead of simply writing his vows on a piece of paper, had his groomsman pass him a slip of rolled-up paper tucked inside a bottle, for him to pull out and read to her.
Wedding planner: Heather Weatherall and Rachel Chrisman
Cake: Sweet for Sirten
Gown designer: Casablanca Couture
Groom's wardrobe: J.Crew
Photographer: Kansas Pitts Photography & Design
Wedding venue: Grayton Beach
Reception venue: Weatherall Fine Art Gallery
Flowers: Destin Floral Designs
Invitations: fineanddandypaperie
Officiant: Pastor Randy Greene of Good News United Methodist Church
Entertainment: Michelle Adams of Sand and Strings
Click on the "next page" arrow below to see the rest of the weddings
Starlight Delight: Amber + Ben
May 26, 2012 — Pensacola natives Amber and Ben Gordon wanted an evening where their friends and loved ones could relax and enjoy the beach, the sunset, the food and wine, the music and, of course, the great company. In a gown by Ella and a linen suit from downtown Pensacola's Don Alans, the pair opted for a Pensacola Beach wedding at sunset, followed by a reception at the Lee House Bed & Breakfast Inn.
"Do your homework and know your vendors," said Amber. "If you select the right caterers, wedding planner and florist, for example, you can relax and have confidence that your guests will enjoy themselves. Hire a good wedding planner. Don't let the details overwhelm you."
Event planner: Megan K. Events
Wedding planner: Megan K. Events
Cake: Marcia Margarita
Gown designer: Ella
Groom's wardrobe: Don Alans
Hair: 10th Avenue Hair Designs
Makeup: Skin Beauty Boutique
Photographer: Dede Edwards Photography
Wedding venue: Pensacola Beach
Reception venue: Lee House Bed & Breakfast Inn
Flowers: Fiore of Pensacola
Invitations: Nancy's Haute Affairs
Décor: Fiore of Pensacola and Megan K Events
Officiant: Pastor Jack Kale of Gulf Breeze United Methodist Church
Entertainment: Prime Time Entertainment
Click on the "next page" arrow below to see the rest of the weddings
Country Chic: Monique+Seth
June 23, 2012 — Seth and Monique Wagner boarded The Solaris at The Village of Baytowne Wharf in Sandestin to tie the knot and then took to the open seas with their closest friends and family to celebrate. The groom, an Army flight medic, and his bride, a bank service advisor, selected a dinner cruise aboard the 125-foot luxury yacht — a wedding that was planned, set up and decorated by their close friends and family while Seth was deployed to Afghanistan for a year.
Monique, a Crestview native, said she really appreciated the help from everyone in making her wedding so special and that it wouldn't have had the beauty that it did without them.
"We wanted a very casual, comfortable wedding, nothing too big," Monique said of the self-described laid-back couple. "We had about 75 close family and friends attend."
She recommends brides try letting their bridal party and family do everything and even to be a little selfish, which she said is just fine on their big day.
Event planner: Kristy Jenkins Adkinson
Wedding planner: Shelli Brown, Monique Wagner and Jordan Brown
Cake: Lolo's Cakes & Sweets
Gown designer: Maggie Sottero
Groom's wardrobe: Calvin Klein
Photographer: Ariel Crews Photography
Wedding venue: The Solaris at Baytowne Marina
Reception venue: The Solaris yacht
Flowers: Uniquely Created Interior & Floral Designs
Invitations: VistaPrint
Officiant: Capt. Steve Isaacs
Click on the "next page" arrow below to see the rest of the weddings
Floral Fanfare: Heather+Dwayne
April 9, 2011 — As professional event planners, Heather Cleveland and Dwayne Johnson knew their wedding décor and food would be very important to them, so they opted to marry at their workplace, the Grand Lawn and Azalea Ballroom at Sandestin Golf and Beach Resort, where they could run the show and where their out-of-town guests could enjoy the lush landscaping and blossoming flowers that they get to enjoy year round.
They outfitted the Azalea Ballroom with accents of pink and green for the reception and provided a bountiful bevy of succulent seafood and other tasty delights for their guests.
"We really wanted to showcase how naturally beautiful Sandestin is and highlight how delicious the flavors of the Gulf Coast can be," said Heather. "We worked with Sandestin's chef on custom menus that represented fresh, Gulf seafood options and bold, rich flavors, then finished the evening with a key lime wedding cake."
Wedding planners: Heather Cleveland and Dwayne Johnson
Cake: Pastry Chef Yascha Becker
Gown designer: Allure Bridals
Groom's wardrobe: Simply Elegant Bridal
Hair: Tricia Hisky of Fusion Spa Salon
Makeup: Tricia Hisky of Fusion Spa Salon
Photographer: Allison Yii
Wedding venue: Sandestin Golf and Beach Resort
Reception venue: Sandestin Golf and Beach Resort
Flowers: Emerald Coast Flowers & Gifts
Décor: Rebecca Scozzafave of Showtime Events
Officiant: Pastor Randy Greene of Good News United Methodist Church
Entertainment: The Tip Tops
Click on the "next page" arrow below to see the rest of the weddings
Plush Pageantry: Leslie+Tim
June 30, 2012 — High-school sweethearts Tim and Leslie Horst held their wedding ceremony on Carillon Beach, complete with a military sword arch and a special appearance by their beloved dog, Dexter. The couple was creative and incorporated several do-it-yourself projects for their wedding, including placecards made out of luggage tags that had each guest's name and "destination" on them. The pair also hired an oyster shucker to split shells for their guests at the reception.
Leslie found Carillon Beach online through a photographer's website, but as soon as she saw the beaches and Market Street, she knew it was "the one."
"I couldn't stop staring at the pictures and was tearing up at the thought of using the beach walkover and soft sand for my aisle," she said. "When we got to the resort, the tears started flowing again, as it was more beautiful than the pictures even made it seem. Everything is perfectly manicured; the houses are all bright, Florida colors; and the beaches are some of the most incredible I've ever seen … It's one of the most important spots in the world to us."
Wedding planner: Carillon Beach Weddings
Cake: Cakes by Tanis
Gown designer: Jordan Fashions
Groom's wardrobe: U.S. Marine Corps summer dress blues
Hair: Indulgence Salon
Makeup: Indulgence Salon
Photographer: Michelle Castle Photography
Wedding venue: Carillon Beach
Reception venue: Carillon Beach Resort's Resort Pool
Flowers: Fisher's Flowers
Invitations: I Do Bliss
Décor: Fisher's Flowers
Officiant: Michael Young of Chapel at the Beach
Entertainment: Gulf Talent Services and Emerald County Line
Click on the "next page" arrow below to see the rest of the weddings
Street Lights, Big Dreams: Jessica+Daniel
Oct. 1, 2011 — Panhandle native Daniel Fox engaged his Texan love, Jessica, in the Big Apple, but returned to Florida, more specifically the Edgewater Beach and Golf Resort in Panama City Beach, to tie the knot on the Emerald Coast.
Daniel, the owner of Santa Rosa Beach's Fox Delivery, proposed to then-New Yorker Jessica at the famous tree in Rockefeller Center, so New York City served as the central theme of the "semi-Jewish wedding" — complete with a New York skyline cake. The couple — outfitted in a La Sposa wedding gown and a Perry Ellis suit — married beneath a traditional chuppah marriage canopy surrounded by purple and white calla lilies.
"I left New York City to get married to my amazing husband, and we decided to start our lives here due to his wonderful business and the stress-free environment the beach has to offer," said Jessica of her apple-to-orange decision. "Enjoy every moment, and have no worries because it all goes by way too fast!"
Event planner: Kerri Maney of Edgewater Beach & Golf Resort
Wedding planner: Kimberly Bartoli of Elegant Beginnings
Cake: Cakes by Tanis Gown designer: La Sposa
Groom's wardrobe: Perry Ellis
Hair: Amber Gately
Makeup: Amber Gately
Photographer: Jacqueline Ward
Wedding venue: Edgewater Beach & Golf Resort
Reception venue: Edgewater Beach & Golf Resort
Invitations: Mike Lasry of NYC Wedding Invitations
Click on the "next page" arrow below to read about seven sure signs you've found the right marriage mate
7 Sure Signs That You've Found the 'Right' Marriage Mate
By Jacqueline Del Rosario
You've invested a lot of time, effort and emotional energy in your relationship. Things are good, and you think you've found "the one" — that marriage-worthy person you're prepared to spend the rest of your life with for better or for worse. But, before you say "I do" to a life-long commitment, first determine if you and your mate are compatible in key areas proven to foster happy, healthy marriages that go the distance. This simple checklist will help you analyze the relationship hand you've been dealt so you can hold 'em or fold 'em.
You are like-minded. While you don't have to be exactly the same (let's face it, that would be boring), you do need to have congruent core morals and values. After all, how can two people travel together, and enjoy the journey, unless they are heading in the same direction and agree on how they will get there?
Your temperament balances one another. If you are the Yin to your mate's Yang or vice versa, you will better your chances of achieving a harmonious relationship. But, bear in mind these differing character traits should serve to create a well-rounded whole relationship. Beware if your respective tendencies are just too different to ever make the puzzle pieces fit.
You are both committed to do the work. The Beatles got it wrong – love is NOT all you need. Effort and work is necessary to cultivate a strong and satisfying relationship for the long term. Rewards rarely come by just "phoning it in"; rather, dividends are realized when you work hard at something with forethought, intention and resolve.
You are able to speak your partner's "love language." In a marriage, each partner has their own "love language" — those romantic, sexual and emotional needs that make each individual feel fulfilled. Is your mate taking the time to learn and speak your love language, and are you interested in speaking theirs — or is such emotional gratification already being lost in translation?
You are able to work together to resolve problems. Marital life is filled with bumps, twists and turns, so having a partner that works well with you to work through conflict minimizes the stress on the relationship. The key is to be true to yourself while learning when and how to compromise so that you can effectively work through problems without one or the other feeling resentful. If this isn't possible now, take pause.
You are attracted to them. Do you remember that initial spark between the two of you? There is a special chemistry that is electrifying when there is a true physical attraction. Every fire will burn itself out if not fueled, so assess if the flames are being stoked now well before the wedding day.
You genuinely like who your partner is as a person. A relationship must be based upon a solid friendship that can stand the test of time. Do you genuinely enjoy each other's company and prefer to spend time together rather than alone or with others? You should like the person as much as you love them. Respect, admiration and honor are enduring traits that remain even as passion ebbs and flows over time.
"America's Marriage Doctor" Jacqueline Del Rosario is a published author and president/CEO of Recapturing the Vision International, an organization dedicated to promoting healthy marriages and family strengthening.