Season's Greetings
Homemade cards make holidays especially merry and bright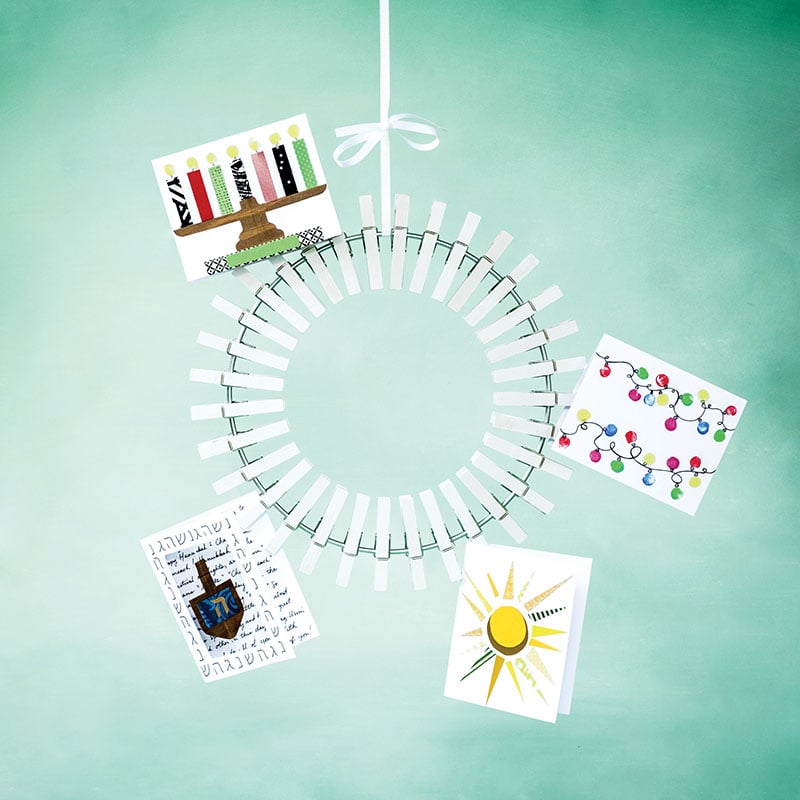 Surprise your friends and family and recognize their holiday traditions by sending them one-of-a-kind holiday greeting cards.
Not so long ago, people received greeting cards through the Post Office during the holiday season. These cards, often accompanied by a photograph, were proudly displayed on mantelpieces, where they served as holiday décor and as reminders to their recipients that they had not been forgotten in the hustle and bustle of the season.
The mother-in-law of a colleague of mine had a Rolodex file in which she kept track of those people who did or did not send her a holiday greeting card. If someone didn't send a card for three years in a row, that person's name was torn from the Rolodex. Imagine what this woman would have thought of receiving a holiday greeting via email.
Yes, e-cards and e-newsletters are convenient, and they're even environmentally friendly … but there's something sort of heartless about them. They're sent in a
huge batch to all of one's contacts — the sender's insurance agent receives the same email as the sender's mother-in-law — and that smacks of indifference. But a real, Post-Office-delivered card takes effort. The recipient knows that the sender thought about her, however briefly, when he wrote her name in the card. The sender may have even stood in a line at the Post Office to mail the card. That, alone, is an act of love.
So cast aside any newfangled notions you may have about emailing your holiday card or newsletter this year and cling, instead, to heartfelt greetings sent by post. If the environmental friendliness of e-cards and e-newsletters appeals to you, buy recycled or vintage greeting cards, which can be found in antique and thrift stores.
Best of all, make some homemade greeting cards. Each of the following cards uses a piece of recycled, white cardstock, cut to 7 x 5" (pre-folded size) as its base. Write a personalized message inside the card and, to achieve perfection, include a family photo.
Christmas
Using a black felt-tip pen, draw two curling lines across your card. At regular intervals on both sides of the curling lines, draw three tiny ovals, stacked one on top of the other. These are the bases of your light bulbs. Use a fingertip dipped in acrylic paint to create colored Christmas lights. (Hint: After you dip your fingertip, press it to a spare sheet of paper to remove excess paint.)
Kwanzaa
To make Kwanzaa candles, cut out seven thin strips of paper in various shades of red, green and black. Cut a small candelabrum shape from brown paper. (Hint: to make the candelabrum symmetrical, fold the paper in half before you cut it out, as you would to create a paper heart). Glue the candelabrum and candles in place. Use a black pen to draw wicks on the candles. Create yellow flames using a fingertip dipped in acrylic paint.
Hanukkah
To make a dreidel card, first make two identical dreidels. Cut the dreidels and two Hebrew letters associated with the dreidel game from brown paper, and cut the backgrounds from blue paper. Glue the pieces together. Then, glue the dreidels back-to-back with a strand of white embroidery thread running vertically through the middle. Using a hobby knife, cut a "window" in two cards. The windows must be identical and larger than the dreidel. Tuck one card inside of the other and glue the solid sides of the cards together, creating a double-thick card. Place your dreidel between the two layers of the window, pull the string taut, and tape either end of the string in place. Glue the window layers together, hiding the tape and string. Wind the dreidel before you tuck the card in its envelope. When the recipient opens the card, the dreidel will spin!
Winter Solstice
The sun is of particular significance in winter solstice celebrations, because it follows the longest night of the year. These sun-themed cards are made using yellow paper in various hues and patterns. Keep everything freehand for this card. Cut out a small circle for the sun's center, and cut out pointy rays of various lengths and thicknesses to surround the circle. Arrange the paper pieces on your card and glue them in place.
---
Check out these Holiday How-Tos!