Seasonal Berries Are the Perfect Fillings for Summer Pies
The pies of summer seem to delight us most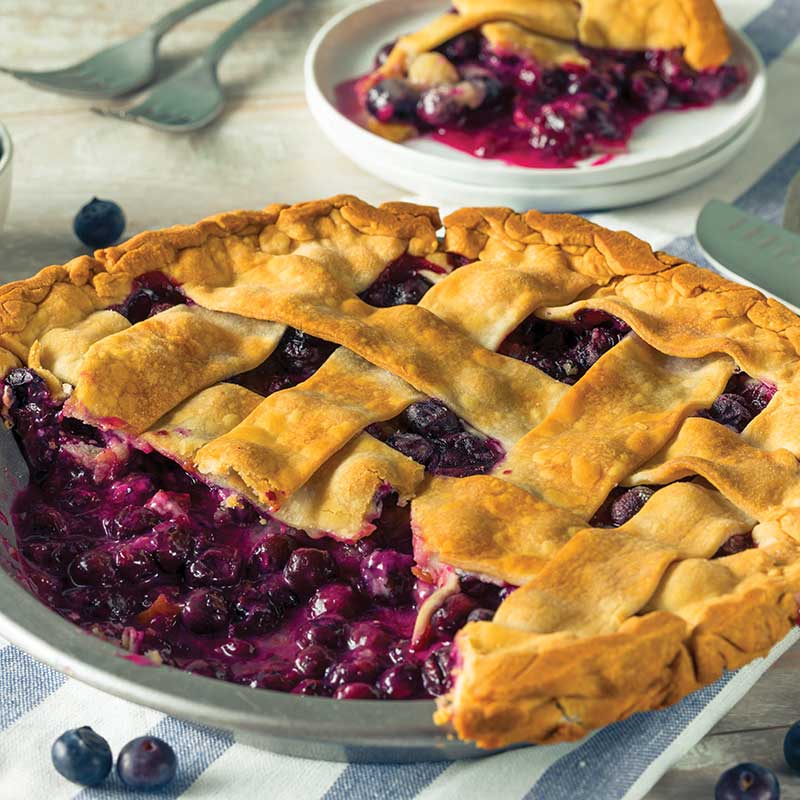 "Me oh my, I love pie…"
The pie song in the angel-on-earth movie "Michael" put to music what most people feel: Pie is heavenly. Their flaky, buttery crusts melt on their tongue. Their perfectly sweet fillings bring taste buds to life. And they're so, so pretty.
While Christmas and Thanksgiving have deep connections to pies such as pumpkin and sweet potato, the pies of summer seem to delight us most — baked and served in the warmest, brightest days of the year, devoured outdoors on picnic blankets laid upon barefoot-worthy grass.
True summer pies set themselves apart with the vibrancy of their filling and their sweetness — most often the result of the fruits and berries so plentiful in summertime.
Peaches, strawberries, blueberries, blackberries, huckleberries and more are ripe and ready for the picking, waiting to become the heart of sweetness and tang within a pie.
"Summer for me as a kid meant hot days spent picking berries and watermelon and eating pie," says Jason Hendrix of Sugar Mill Sweets in Fort Walton Beach, where he and his brother, Will, carry on their mother's and aunt's legacy of creating the irresistible sweets and baked delights that have kept guests coming in for nearly 40 years.
"Having those memories of berry and fruit pies really warms my heart," he continues.
And he's hardly alone. Fruits and berries seem to top the "it" list for summer pie fillings, as well as classically loved apples that seem to know no season and tropical fruits that bring to mind far-flung destinations with sun and sand.
Pineapple tarts, banana crème pie, coconut cream pie, key lime and lemon meringue … the list goes on and the flavor profiles are as diverse as the colors of the rainbow.
They can be tart and creamy or sweet and silky, refreshingly cool or piping hot. And even if you're not a fruit loop, custard and pudding fillings such as chocolate silk and vanilla will keep your fork piled with pie and your sunny summer days satisfyingly sweet.
Whatever the pie, there is one important thing foundational to achieving perfection: the crust.
Flaky, buttery crusts are key to a great pie, and while you can certainly make a good pie using a premade shell, there's nothing quite like a crust made from scratch.
"Pie crust has a few critical points that will especially affect the texture you're able to achieve, and foremost is the temperature of the butter you use," says Heather Regan, executive chef of Five Daughters Bakery in Seaside.
"Starting with cold butter will allow you to get the flakiness that makes pie dough so irresistible because of those small chunks of butter that don't fully break.
Once you've made the dough," Regan says, "you'll also need to chill it again, rather than rolling it out and sliding it right on into the oven. "Chilling the dough allows the butter to come back to a more solid state, and — much like the chilled butter you started with — this will ensure a flakier crust," she continues.
Obviously, this baker knows her stuff, and she puts that pastry prowess to work in her own pie company, fittingly called Liv Pies.
Some of the best summer pies use wet fillings, but no one likes a soggy bottom. To keep the crust dry and flaky, bakers in the know recommend a process called "blind baking."
To blind bake, place a sheet of parchment paper over the raw pie shell and weigh it down with pie weights or dry beans.
Once the edges of the crust are golden, remove the weights or beans and allow the empty pie shell to bake a little longer. Only then should you fill it with the fruits, berries, custards or chilled puddings you've chosen.
From warm, sweet fruits to cool, creamy custards, fill your summer pies with your family's favorites, give the kids a spin with the rolling pin, and bake something that will linger in memory long after the dish is empty.
Strawberry Pie 
9-inch pie shell
6 cups strawberries
(about 1 1/2 quarts)
1 cup sugar
3 tbsp. cornstarch
1/2 cup water
5 oz. cream cheese, softened
Bake empty pie shell at 450 degrees for 9-11 minutes until slightly golden brown, using the blind baking method.
Meanwhile, slice and mash enough strawberries to measure 1 cup.
Add sugar and cornstarch in a 2-quart saucepan, gradually stirring in water and mashed strawberries.
Cook over medium-high heat, stirring constantly until mixture thickens and comes to a boil.
Continue to boil and stir 1 minute, then allow berry mixture to cool.
In another bowl, beat softened cream cheese until smooth and spread over bottom of pie shell.
Fill shell with whole strawberries, then pour cooked strawberry mixture over top.
Refrigerate until set, at least 3 hours.
Serve with whipped cream and enjoy!
Recipe by Sugar Mill Sweets