Sacred Heart Hospital Surpasses Expectations With Emerald Ball
The charity event emphasized the continued growth of the health center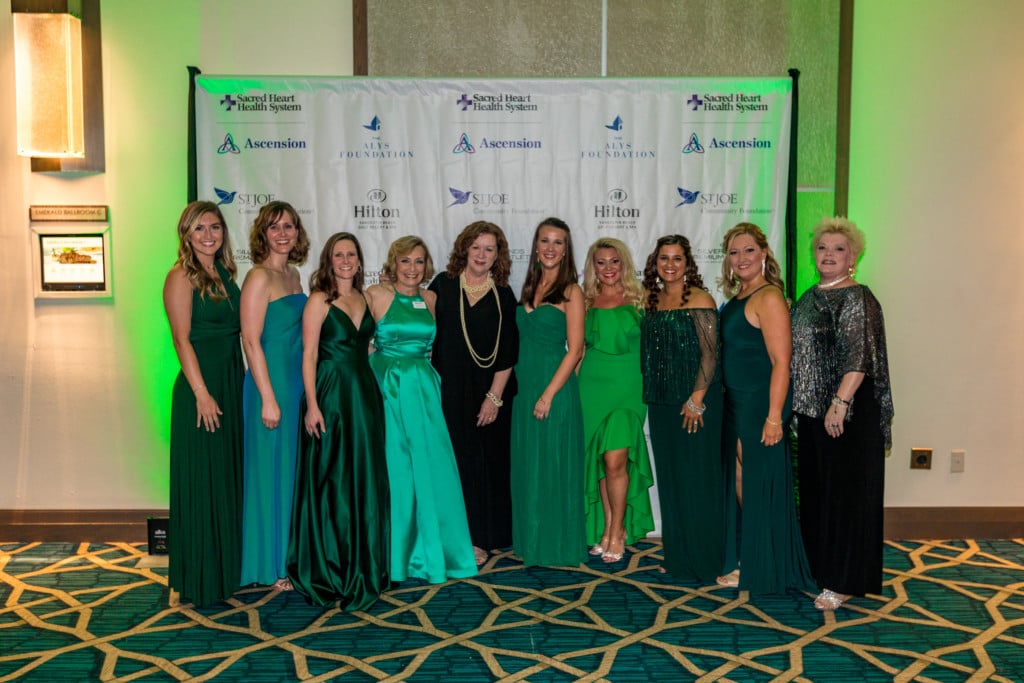 The inaugural Emerald Ball benefiting Sacred Heart Hospital overflowed onto Destin's shores with a gorgeous green to rival the Gulf waters.
The black-tie event — presented by St. Joe Community Foundation, Howard Group and the Alys Foundation — was a rousing success as patrons embraced the night's elegant theme by dressing in emerald green.
Champagne flowed in the Presidential Suite of the Hilton Sandestin Beach Golf Resort & Spa as sponsors, and VIPs marveled at a gorgeous sunset before stepping through the doors of the Emerald Ballroom to dine on delicious offerings.
The Bay Bridge Band's nostalgic and contemporary selections enticed everyone to stay on the dance floor, but guests could also try their chance at the Wine and Bourbon Pull or observe Jenna Varney, South Walton's Artist of the Year, complete an original acrylic painting that was auctioned later in the night.
Attendees were delighted with the live modeling of a curated selection of jewels from McCaskill and Company and were inspired to purchase an opportunity for a $5,000 shopping spree.
The finishing touch of the evening, delicious truffles made by Kilwins Chocolates, added a sweet touch to a beautiful evening.
Drs. Aaron Creek and Dale Landry offered appreciation for the generosity from all in attendance and detailed how the evening's proceeds will be used to purchase state-of-the-art robotic surgical equipment.
This equipment will complete a fifth operating room dedicated to the robotic spine program at Sacred Heart Hospital on the Emerald Coast.
Surgeons here perform more than 75 of these surgical cases each month, and the doctors assured each individual that their donation to the evening would change lives.
"I'm proud to announce that our community hospital has one of the premier spine programs in the nation," said Roger Hall, president of Sacred Heart Hospital on the Emerald Coast.
"We currently have four operating rooms that are at capacity, night and day, six days a week. I'm thankful for the generous donors who support our continued growth."