Reveal Your Best Skin
Coastal Skin Surgery & Dermatology offers new skin enhancers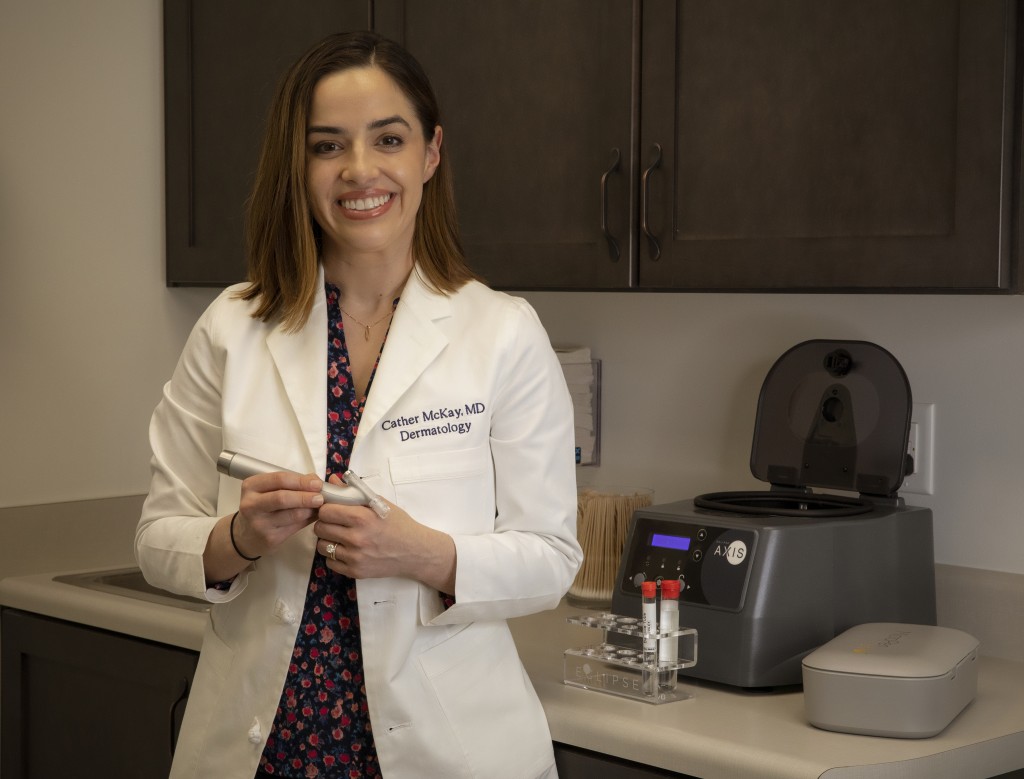 In keeping current with the latest in skin care solutions and specialties, Coastal Skin Surgery & Dermatology recently introduced a new microneedling device and PRP system. Both cosmetic dermatology options have become increasingly popular for improving skin appearance.
Microneedling is a procedure used to stimulate collagen production in order to treat issues including fine lines, textural irregularities and acne scarring and to improve pore appearance. Microneedling can be used on the body for scars and stretch marks, as well.
During the procedure, a motorized device with tiny sterile needles glides across the skin, puncturing the top layer. Dr. Cather McKay of Coastal Skin Surgery & Dermatology said the procedure creates micro injuries that in turn stimulate the skin to produce fresh, healthy collagen.
While the mention of needles may seem extreme to some, the procedure causes minimal discomfort and is safe for most people. The exceptions would be anyone with inflammatory skin conditions such as acne, infection or rashes. Other contraindications are pregnancy or the use of certain medications.
Patients should expect three to five days of redness after a treatment. Following the procedure, there are small open channels in the skin, and therefore only products approved for use should be applied to the skin during the healing period. Sun exposure should be avoided before and after treatment.
PRP, which stands for platelet rich plasma, is often paired with microdneedling to enhance results. This treatment supports growth stimulation because plasma is a component found in blood that contains an abundance of natural growth factors.
The PRP process involves drawing blood in the office and using a centrifuge to separate the blood into components. The portion of the blood called platelet rich plasma is isolated for use with microneedling or for injection.
PRP is often injected into the scalp to treat hair loss. Over the last several years, there has been increasing evidence to support its use in male and female pattern hair thinning, the most common form of hair loss.
PRP cannot be used on patients with blood-borne infectious diseases or in those with platelet disorders.
"A consultation is an easy place to start to see if these procedures are right for your concerns," Dr. McKay said. "Microneedling and PRP are overall very safe procedures with minimal downtime and with potential for great results. A series of treatment sessions is ideal, as is the case for many minimally invasive treatment options."
Because they are deemed cosmetic in nature, these procedures are not covered by insurance. They should be performed only by specialized, trained practitioners in an office, using sterile and approved devices.
The staff and doctors of Coastal Skin Surgery & Dermatology are pleased to offer these additional services to promote confidence and make you comfortable in your skin.
Coastal Skin Surgery & Dermatology | Miramar Beach/Destin |Fort Walton Beach | Niceville/Bluewater Bay | Panama City Beach | coastalskinsurgery.com