Restaurant Spotlight: Fish Out of Water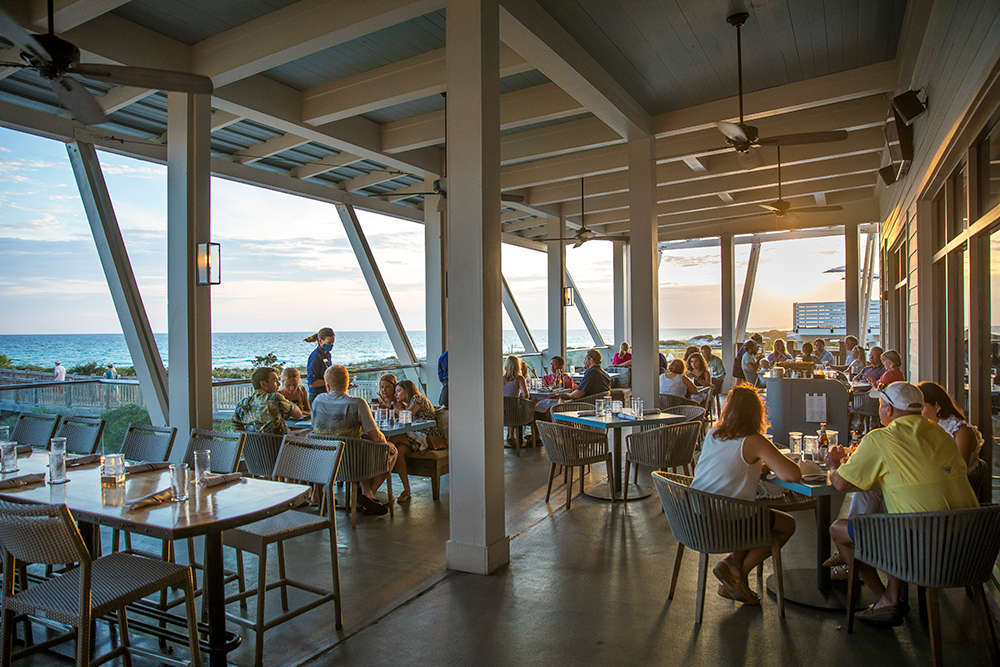 Fish Out of Water has long been synonymous with locally inspired, Southern cuisine that celebrates the Gulf Coast's very best — all served up in an approachable setting that's as ideal for a post-beach family lunch, a girls' happy hour or a romantic date night. Housed within the acclaimed WaterColor Inn, Fish Out of Water is a go-to spot for anyone in a vacation state of mind. As one of 30A's only large family-style restaurants and bars overlooking the Gulf of Mexico, Fish Out of Water embodies the spirit of the WaterColor community: coastal, laidback, elevated and fun.
Fish Out of Water's culinary offerings are guided by the world-class expertise of its culinary team and their commitment to authentic cuisine and impeccable flavors. The restaurant's impressively varied Brunch Menu (available 8 a.m–2 p.m.) features guest favorites like Avocado Toast on the restaurant's house-made sourdough, finger-licking handhelds that are the perfect beach lunch accompaniment (Gulf Fish Sandwich, anyone?) and Dinner Menu (available 4-10 p.m.) items include a signature pasta dinner dish, complete with Chardonnay lemon-butter sauce, mussels, shrimp and Gulf-sourced fish (drooling yet?).
In addition to Southern favorites like Smoked Gulf Coast Fish Dip and Carolina Pimento Cheese, Fish Out of Water's daily Midday Happy Hour Menu (2–4 p.m.) provides the opportunity to catch the sunset while sipping on one of the restaurant's inventive cocktails; choosing from an eclectic selection of craft beers; or choosing a wine from the restaurant's extensive on-site cellar — all while enjoying live music (available seasonally).
"Inviting and vibrant, Fish Out of Water specializes in coastal, Gulf-sourced cuisine," said Executive Chef Blaine Wilkinson. "Our open-kitchen setting also allows our guests to admire their food being prepared in real time by our amazing culinary team."
At Fish Out of Water, the best seat in the house is always guaranteed, thanks to glass walls that showcase breathtaking views from every seat and locally made wall art that elevates the restaurant's community-centric vibe. Long after lunch, dinner or vacation has ended, guests can replicate the Fish Out of Water experience with an impressive, well-curated selection of rare spirits, specialty barware, WaterColor-branded merchandise and more from the Package Store, located at the restaurant's main entrance.
Fish Out of Water is open daily, from 8 a.m. to 10 p.m. (seasonal hours apply). In an effort to seat guests more efficiently, the restaurant does not accept reservations. To-go dining orders may be placed online at foow30a.com.
---
Fish Out of Water | WaterColor Inn
34 Goldenrod Circle, Santa Rosa Beach | (850) 534-5050 | foow30a.com
---