Residential Community Bands Together to Rescue the Shalimar Pointe Golf Club
A Phoenix Rising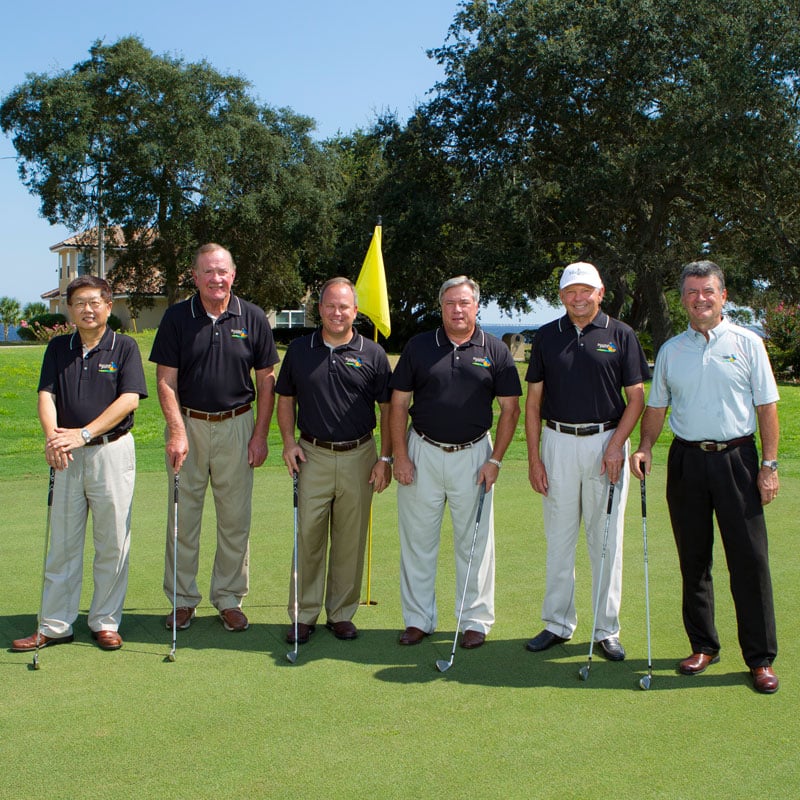 Jim Szabo calls the recent saga of Shalimar Pointe Golf  Club "the Flight of the Phoenix." And to be sure, there has been a remarkable rebirth at the picturesque course that has been located just off the edge of Choctawhatchee Bay since 1968.
Szabo is a retired U.S. Air Force colonel who currently serves as the club's general manager. His linkage involves Brian Pennigton, Paul Hsu, Mark Kunz, Edwin Watts and Tom West, the board members of Preserve Shalimar Pointe LLC. 
It was this group of more than 100 investors that raised more than $1 million last summer to purchase the course from Meadowbrook Golf in an all-cash deal. Among them was Watts, a local golfing maven with national credentials as the founder of Edwin Watts Golf.
Meadowbrook had been negotiating with a private developer that wanted to build nearly 200 homes — a project that would have turned the scenic sporting layout into a memory. 
In just the first few months, the new ownership and management was able to accomplish about $500,000 worth of improvements. Topping that list was a complete renovation of the clubhouse. This included a new roof, ceiling, lighting, carpet, bathrooms, storage rooms, appliances and paint — inside and out. The course itself now has a new irrigation pump system, new carts and enhanced maintenance practices that have brought back the turf quality on the tees, fairways and greens. 
Last summer, the club hosted a day-long event that attracted nearly 500 locals from all along the Emerald Coast to celebrate the "rescued" course. The festivities included a demonstration of long drives and trick shots by visiting pro Kevin "The Bull" Bullard and a nine-hole scramble tournament. Watts and his band, "The Mulligans," provided the evening entertainment.
EC Magazine met with Edwin Watts, Mark Kunz and Jim Szabo in the clubhouse to hear the story of how Shalimar Pointe residents quickly banded together to save their neighborhood course from being bulldozed. 
EC: Were you ever concerned that you wouldn't succeed? Were you surprised at the response? 
EW:  Yes, we knew we had to raise a lot of money, but we knew we could do it. We saw it when we went to our first meeting (at Shalimar United Methodist Church's Family Life Center). The whole gymnasium was full of people, and they were all in favor of not letting it happen. We knew good and well then we could make it work.
JS: At that first meeting, 99 percent of the people there wanted something done, rather than to have the golf course be gone. There's enthusiasm for a lot of things in life, and then somebody has to run with the ball. The beauty of this was, once the company got put together, enthusiasm didn't wane. 
EC: Why did you become involved, Edwin?
EW: I was one of the first residents out here. We built a house in 1987, and I've always loved the golf course.  I couldn't sleep, because I know a lot of people out here are retired military. To me they're heroes, and I didn't want something like that to happen to them. 
EC: What would you say is unique about the course?
EW: The layout is very challenging but fair. Anybody of any skill level can play out here and enjoy it.
JS:   I think this golf course challenges every aspect of your game. It's very strategic from tee to the green. It tests the whole package: driving, short game and putting.
EC: What will be done to ensure the new club succeeds?
JS: The idea is to develop the club into a member-driven venue. If you're just offering golf, you're just like anyplace else. But if you've got a place go on Friday and Saturday nights,  then you have more than just a golf club.