Playing Dress Up With Salads
DIY dressings enhance and enliven any salad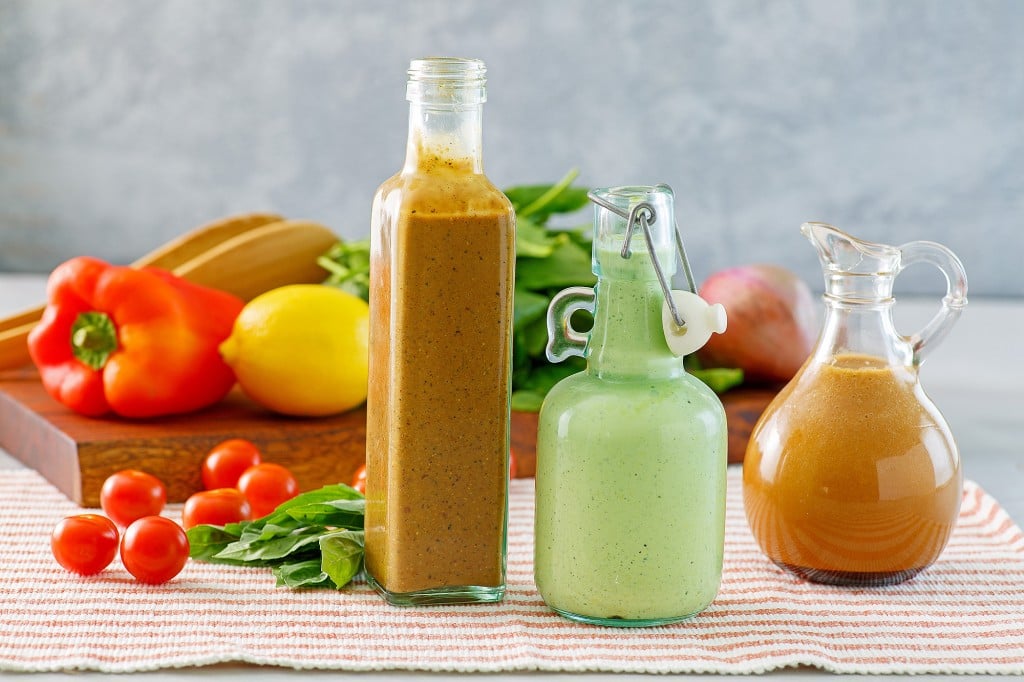 As vibrant and fresh as vegetables may be, if a burger and fries were placed before you, it might be a difficult choice.
You know the right choice though as vegetables are bursting with nutrients.
The easiest way to liven up an interest in vegetables is through salads because there are so many possibilities and varieties. What really sells a salad though, is the dressing.
Fortunately, many Emerald Coast businesses and restaurants are salad-centric and specialize in their own house-made dressings.
Everkrisp in Miramar Beach was first opened in Destin by Brendan McMahon and his wife, Ashley, in 2016 after they noticed a lack of healthy, fresh and fast options in their area. Everkrisp has a sizable salad menu and make-your-own options.
What truly excites customers are the enticing and unique dressing options such: Balsamic Pistachio Vinaigrette, Goat Cheese Caesar, Key Lime Sriracha and Champagne Grapefruit, just to name a few.
"The dressing brings it all together and takes it from something anyone can do right now to a specialty item," says Brendon McMahon.
"There is true craft in the dressings and they are treated with great care and really tie the signature and seasonal salads together."
Another local business that knows it's all about how you dress a salad is Bodacious, a Pensacola café and culinary shopping experience, specializing in traditional and infused extra virgin olive oils and balsamic vinegars.
While the café has become known as the local salad expert, the staff of Bodacious in Pensacola encourages customers to select their own oils and vinegars to create DIY dressings at home.
"Making your own dressing guarantees freshness," says Mallory Studer, director of branding at Bodacious.
"You control the quality and ingredients when you make your own dressing. Premade, store-bought dressing is often packed with preservatives and high in refined sugar. The wrong dressing can turn a healthy choice into a bad one. The right dressing makes all the difference."
Whether your taste buds tingle for a creamy, cool ranch dressing or zesty Italian vinaigrette, you can easily make your own dressings at home.
You will likely find that you already have most of the ingredients to make a dressing in your fridge or pantry.
Experimenting with recipes is encouraged in order to create a recipe that suits you and your salads.
Emerald Goddess Dressing
Ingredients
1 cup fresh basi

l

1 cup fresh spinach
¾ cup Greek yogurt
½ cup olive oil
½ cup light mayonnaise
3 tablespoons lemon juice
2 tablespoons minced garlic
2 tablespoons apple cider vinegar
Directions
Add all ingredients except olive oil and lemon juice to a food processor or blender. Pulse until ingredients are combined. Turned on low, slowly pour in the olive oil and lemon juice. Blend until smooth.
Balsamic Pistachio Vinaigrette
Recipe courtesy Everkrisp
Ingredients
2 cups balsamic vinegar
2 ½ cups blended oil (80% EVOO, 20% canola oil)
1 cup olive oil
1 cup toasted pistachios
3 tablespoons basil
2.5 tablespoons salt
2.5 tablespoons shallots
2.5 tablespoons garlic
1 tablespoon pepper
Directions
In a blender place the pistachios, vinegar, basil, salt, pepper, garlic and shallots. Turn the blender on low until the pistachios are almost smooth. Slowly add the oil and increase to medium speed. Once all the oil is added, increase to high speed until smooth. Makes 1 gallon.
Bodacious Blood Orange & Espresso Vinaigrette
Recipe courtesy Bodacious Shops
Ingredients
½ cup Bodacious blood orange extra virgin olive oil
3 tablespoons Bodacious espresso dark balsamic vinegar
Directions
Mix together and enjoy over your salad. We chose a simple bed of spinach with gorgonzola cheese to bring out the deep flavor of the vinaigrette.