Patti Labelle Headlines Sinfonia Gulf Coast Gala Event
Tuesday, Oct. 11 at the Sandestin Golf and Beach Resort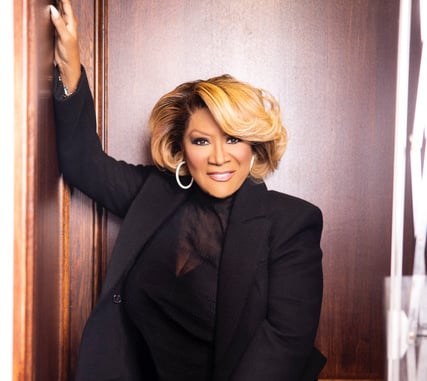 Award-winning entertainer, author, and entrepreneur, Patti LaBelle, will headline Sinfonia Gulf Coast's Annual Gala Event on Tuesday, Oct. 11. This incomparable music legend will grace the stage in the Magnolia Ballroom of Sandestin Golf and Beach Resort located in Miramar Beach, Fla. This highly anticipated one-night-only evening of entertainment begins with a reception at 6 p.m.
"Sinfonia's Gala Event always provides an incredible evening, and we are honored to present the Godmother of Soul, Ms. Patti LaBelle," says Sinfonia music & artistic director Demetrius Fuller.
Beautiful simply does not describe the incomparable force known to the world as Patti LaBelle. With chart-topping hits from Lady Marmalade to New Attitude, this soulful songbird's name has become synonymous with grace, style, elegance and class. Belting out classic rhythm and blues renditions, pop standards and spiritual sonnets have created the unique platform of versatility for which she is known and revered.
In 2017, LaBelle launched a record label, GPE Records, and released her first jazz album, Bel Hommage. Beyond performing music, she has been featured in popular films and television programs including A Soldier's Story, A Different World, American Horror Story, and starred in her own TV series, Out All Night. She's also wowed television audiences with unforgettable performances on the hit shows, Dancing with the Stars and The Masked Singer, and starred in Broadway productions of Your Arms are Too Short to Box with God, Fela, and After Midnight.
A celebrated author, LaBelle has written six books: Don't Block the Blessings, LaBelle Cuisine: Recipes to Sing About, Patti's Pearls, Patti LaBelle's Lite Cuisine, Recipes for the Good Life and Desserts LaBelle. As an entrepreneur, she launched Patti's Good Life, a food and lifestyle brand that features a variety of frozen comfort foods, breakfast items and desserts, including her world-famous sweet potato pie.
LaBelle's humanitarian work is also noteworthy. She remains an advocate for adoption, diabetes, cancer, HIV/AIDS and many other causes. In 1994, she was diagnosed with diabetes and shortly thereafter became a spokesperson for the American Diabetes Association. 
The same motivation that had Patricia Louise-Holte blossom from a choir member to lead vocalist for Patti LaBelle & The Bluebelles and later, to solo artist, is the same energy that keeps LaBelle's fire burning at 78. "Each year I grow, and that's a blessing from God. I do what I can do. It's not about making money because I don't need money, but I need to sing," she says.
Ticket prices for An Evening with Patti LaBelle are from $300 per person and include reception, silent auction, dinner, performance, taxes, and gratuities. Proceeds benefit Sinfonia Gulf Coast and its education and community engagement initiatives throughout Northwest Florida. Full table reservations are available, and a limited number of sponsorship opportunities remain. Purchase tickets online at SinfoniaGulfCoast.org or by calling the box office at 850-460-8800.