New Flames
A fireplace makeover is exciting and needn't be a messy, expensive project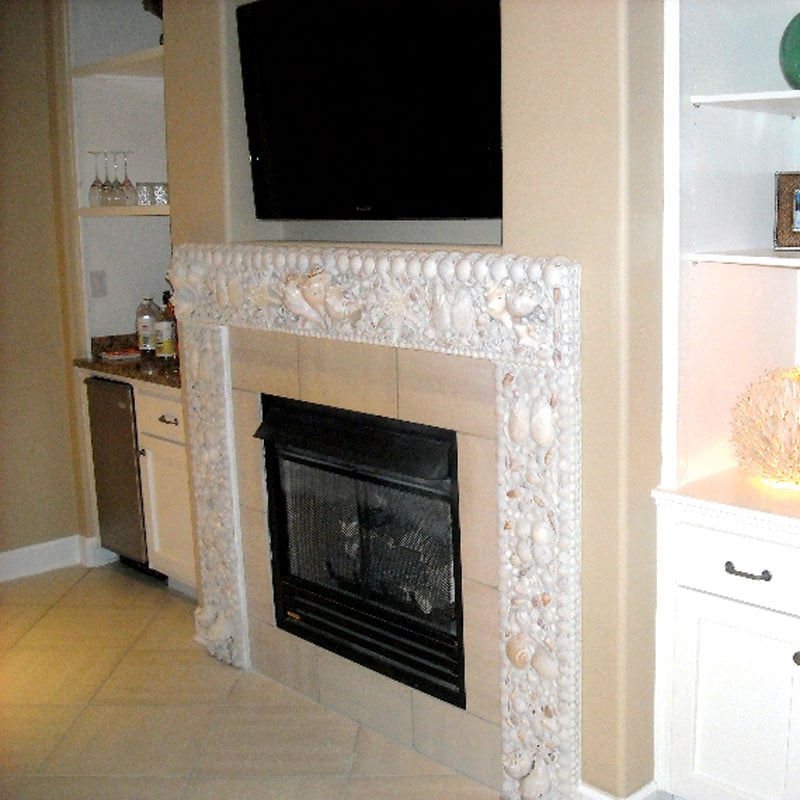 Surprise, surprise. Floridians love their fireplaces even more than folks in the coldest states. In fact, Florida ranks third in the nation for its number of fireplaces. So tells Wayne Paul, owner of Bay Breeze Patio, a Destin purveyor of gas fire pits and logs. Both he and David Bromstad, host of one of HGTV's top design shows, "Color Splash," find this perfectly natural.
"We don't have the high-quality heating systems they have up North," explains Paul. "So why not have a fireplace for those rare chilly nights?"
"Most Floridians are Northern transplants," adds Bromstad. "They love the romance and coziness of a fireplace, so they make sure they have one, even if they don't need it very often."
"A fireplace also ranks high for resale value," says Paul, quoting the National Association of Realtors, which notes that a fireplace can up a home's value by 12 percent."
But Destin interior designers Kelly Porter and Ashley Harkins are quick to point out that many fireplaces don't live up to their design potential. They say that a fireplace ought to be the beautiful focal point of any room, but too often it's boring, outdated or marred by chipped bricks, ugly paneling, a stained hearth or years of accumulated soot. The remedy is a makeover, and the good news is that this needn't be a terribly daunting or expensive project.
According to the Heating, Patio & Barbecue Association, a fireplace makeover can be done for between $200 to $2,000, but if you choose custom components or go for a complete tear-out that requires masonry work, the cost could run into five figures.
Paint, an easy solution         
Porter and Harkins say that many homeowners presume that fireplace remodeling will be so messy and budget-busting that they don't even bother to look into the options.
"That's a shame," says Porter. "Upgrading a fireplace can be as simple as painting it. For example, if you have one of those massive stone or brick fireplaces of the 1970s, an effective, inexpensive solution is painting it the same color as the wall, or a slight variation of that color. This is also a good solution for fireplace mantels that have little or no architectural interest.
You're literally camouflaging with paint. Then the fabulous art or mirror placed above the mantel will be the visual interest."
Harkins of Design Avenue, an award-winning design firm, adds stain to the equation. "A wooden fireplace mantel or surround  easily spruces up with a fresh coat of paint or stain," she says. "A faux finish is a good look without construction issues."
In fact, painting an old brick fireplace is so common that a new type of fireplace paint has been formulated. It provides a fresh new look but retains the texture of brick.
Surround Strategies
Making over the fireplace surround can provide a great new look without too much hassle. Ceramic tile offers options from traditional to contemporary. You can go all the way from handmade Craftsman styles to sleek porcelain tiles that mimic the most popular stone varieties. Ashley Harkins' particular favorites are the many decorative small tile designs that we often use for kitchen backsplashes or as accents in a bath.
Glass tile is an exciting option, and as with ceramic tile, the biggest problem is the huge selection of designs. Think colors from vanilla and sea foam to purple and black and finishes like metallic or iridescent.
Worth considering: Glass tiles are very easy to clean and are less likely to crack than ceramic tile. And while many tile choices will refract light, iridescent tiles trump them when it comes to drama. Think mother of pearl to imagine the effect.
Marble and granite surrounds up the budgetary ante, but these materials are classics, timely and timeless. However, pre-made panels of thin-cut stone are available at home improvement stores. They are budget-friendly, yet create a luxurious custom look.
Mantel Modes
Lots of attention goes to the mantel, that shelf above the fireplace, and no wonder. It's at eye level and it's where we place treasured objects, hang the Christmas stockings, and, just above it, install the flat-screen television. Sometimes the mantel is just that, a shelf mounted on the wall, and David Bromstad loves to dramatize it.
"To update a traditional fireplace, I make the mantel over-sized," he tells. "And then I always design the fireplace so it's floor-to-ceiling. This makes it even more the feature of the room: gorgeous and in charge of the space. I often encounter boring old brick fireplaces in my work, and I've brought them into the here and now by stacking reclaimed wood or flagstone horizontally from bottom to top. Recently, I made over another one of those no-identity fireplaces with metallic tile from floor to ceiling. Instant gorgeousness."
Designer Rosanne Painter-Mass of the Tamarind Group in Miramar Beach, also loves dramatic fireplace design. Antique reclaimed cypress doors found in New Orleans were incorporated in one of her most unusual designs and, as a nod to the Emerald Coast, she often customizes fireplace mantels made of shells or coral stone.
Such mantels are the specialty of Felicia Bassham of Navarre. She haunts Emerald Coast beaches for shells to use in her designs which are sold at Smith's Antiques in Destin. Each mantel is different and totally unique.
Traditional mantels are usually a shelf with side sections that frame the fireplace opening. You can buy a wide variety of stock designs made of wood or stone from home improvement stores, and there are even mantels manufactured from man-made materials. Paint them or stain them, and it's hard to tell them from the real thing. Mantels from old houses can often be found at antique shops and auctions.
The Extras
So what goes on the mantel? Bromstad likes a large piece of art flanked by a couple of small lamps, and Ashley Harkins warns not to put items that are too short on a mantel.
"Since a mantel is usually 5 to 6 feet tall, using accessories with some height is a good idea," she explains. "Of course, if the TV is above the mantel that adds a little wrinkle. Sometimes a long tray or bowl sitting under the TV is the best bet."
And what's inside your fireplace? If it's a gas fireplace, you probably have logs that please you enormously because they look so real. However, a more glamorous and contemporary solution involves river  or glass rocks or even coal so real even your poker isn't sure.
Finally, go looking for great fireplace tools. There's a set from Denmark so minimalist it looks like a line drawing on the wall, brushed stainless steel tools with wood handles, and a four-piece iron set that includes a hollow rod that functions as a bellow.