Myriad Events Full Rodeo Month Calendar
Competition expands to include new divisions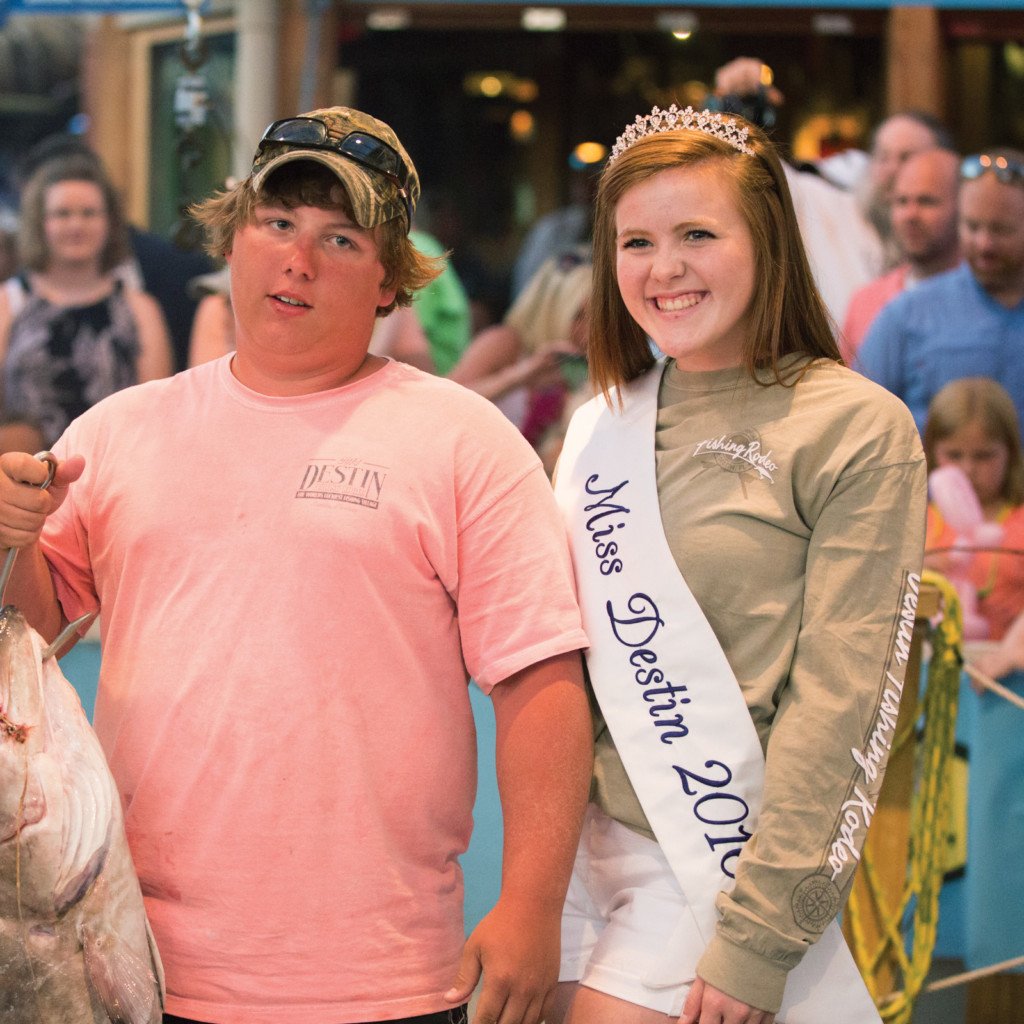 For decades, a sole billboard has stood at the foot of the Marler Bridge, welcoming visitors to "The World's Luckiest Fishing Village." A majestic billfish decorates the sign, riding a wave that arches over Destin's logo. Within the wave, bold letters proudly announce that you are entering the home of the Destin Fishing Rodeo, a month-long competition that invites anglers to experience the city's motto. Now in its 69th year, the event reels in thousands of fishermen who participate in divisions of competition ranging from paddleboards to party boats and compete for more than $100,000 worth of prizes. And, even if you're not trying your luck on the water, there are plenty of events that rock the docks all month long.
DFR 10th Annual Kid's Wagon Boat Parade
Oct. 1, 2 p.m.
The first day of Rodeo is a festival for little minnows. A parade of wagons disguised as everything from pirate ships to motor yachts roll through HarborWalk to reach AJ's Restaurant, the site of face painting, crafts, and other entertainment kids are sure to love. This event is free to the public and makes for a fantastic family Sunday fun day!
39th Annual Destin Seafood Festival
Oct. 6–8, times vary.
For an opportunity to taste all those deep-sea delicacies being wrangled up at the rodeo, the Destin Seafood Festival presents the area's most anticipated food fair of the year. Free general admission allows folks to celebrate the community, sample seafood from a variety of local vendors and enjoy live music with friends and family. destinseafoodfestival.com/destinfestival.htm
Shark Saturdays
Oct. 7, 14, 21, 28, weigh-ins at 7 p.m.
Shark week? It's Shark Month at the Destin Fishing Rodeo. Saturdays focus on especially toothy predators as anglers weigh in hammerheads, blacktips, bull sharks and more in hopes of winning the weekly $250 biggest shark prize.
Destin 5K Rodeo Run
Oct. 8, 8 a.m.
Beginning at Clement Taylor Park, runners and walkers join in a breezy 5K to benefit local charities and the Miss Destin Scholarship Fund. To register for the race, visit active.com/destin-fl/running/distance-running-races/destin-5k-rodeo-run-2017
Kids Fallfest
Oct. 9, Noon–2 p.m.
With the kids out of school for Columbus Day, AJ's Fallfest is the perfect mid-week reprieve. Kids will love getting into hands-on crafts, pumpkin carving, and reveling in all things autumn. While you're there, why not stick around for some grub while the family watches boats return for weigh-ins?
Bruce Cheves Day/ Ringing of the Bell
Oct. 16
If this ain't your first Rodeo, then you're well acquainted with weighmaster Bruce Cheves. After officially serving in that role since 1991, it's only right that he has his own day! Gather as Cheves tells some of his renowned sea tales, educates you on the many species of fish in the northern Gulf of Mexico and rings a bell at 5 p.m. to recognize captains and others who are no longer with us.
Rootin Tootin Rodeo Roundup
Oct. 21, 8–11 A.M.
Though they may not be big enough to participate in the rodeo just yet, children 10 and under are invited to gather on the Okaloosa Island Pier for some fun-filled fishing off the dock. Kids will be provided with baited rods and reels and a tasty lunch afterwards. Registration is limited, and can be completed at eventbrite.com/e/2017-rootin-tootin-rodeo-round-up-tickets-34725586163
Halloween on the Harbor
October 31, 5 P.M.
With the last day of the rodeo falling on Halloween, the 31st is a big day for Destin! Mermaids, pirates, ghosts and ghouls are invited to dress up for a Halloween bash as trick-or-treating and the final weigh-ins take place. As soon as night falls, fireworks light up the sky to wrap up the rodeo. Adults head over to AJ's at 10 p.m. for an annual costume contest and the chance to win a delicious prize!
---
List of Rodeo Awards Expands With more than 30,000 anglers participating in the Rodeo each year, rewards have gotten bigger and better, extra divisions have been created, and rules have been modified to make each experience better than the last. Here's a glimpse of what's new in 2017.
AJ's Bonus Awards
Largest Wahoo of the Tournament — $3,000
2nd Largest Wahoo — $2,000
3rd Largest Wahoo — $1,000
Big Mac Classic Daily Award
This new award requires at least 31 boats to participate with a $100 buy-in daily. The angler who catches the largest king mackerel of the day gets his $100 for that day back. The pot continues to grow throughout October and the angler who snags the biggest king mackerel at the end of the tournament earns 25 percent of the prize money, while the remaining 75 pecrent benefits local charities.
Oddball Division
This category is for any species (excluding sting rays, red snapper, amberjack, and triggerfish) that doesn't figure in other categories. First place for the largest legal entry at weigh-in earns a $200 Centennial Bank Visa gift card and trophy, while second earns a $100 Centennial Bank Visa gift card and trophy.
Extended Voyage Division
To qualify for this category, anglers must be out at sea for 18 hours at the least. There, they reel in the big catches, such as grouper, tuna, and wahoo. Like the Oddball Division, winners will receive cash prizes sponsored by Centennial Bank.
Record Breakers 
A $500 Centennial Bank Visa gift card will be awarded to anyone with a catch that sets a tournament record in for amberjack, dolphin, gag grouper, king  mackerel, wahoo or Warsaw grouper.
New Rodeo Rules
1.16 "Fish which have spoiled, been mutilated, frozen, or appear to have been frozen or chemically treated are not eligible for competition."
1.25 "HMS permits are required to weigh any sharks in the Destin Fishing Rodeo. All sharks brought to the weigh-in station must qualify based on federal regulations, regardless of state regulations.
3.2 "DAILY prizes must be claimed within 48 hours of the close of scales the day of catch."