Moving from Walker to Hiker in 3 Easy Steps
Taking the Next Step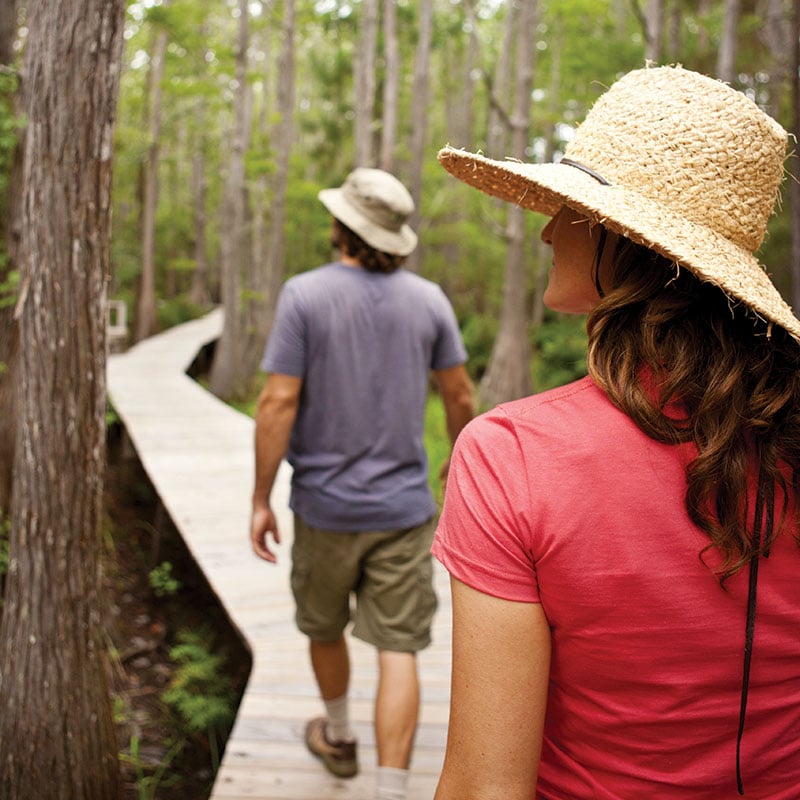 The health benefits of walking are widely recognized, and lots of people are using this form of exercise as their vehicle to fitness. You can spot walkers at the gym, on high school tracks, in the malls and on neighborhood streets. You may even be one yourself.
Did you know that, as a walker, you're halfway to being a hiker? Many walkers don't see themselves as hikers, and it's unclear why. Hiking isn't camping. It isn't rock climbing. It isn't backpacking. Hiking is walking … on a trail.
Here are three easy steps to transform from walker to hiker.
Step 1 — Outfit Yourself
You will certainly see everything from flip-flops to running shoes on the trail, but hiking boots give the best protection against stubbing a toe or rolling an ankle. Even along the Emerald Coast, with almost no elevation change, rocks and roots can still be factors. Boots lend stability when navigating obstacles.
Hiking boots are designed with different features in mind, and proper fit is essential. Michael Markey of Intracoastal Outfitters in Pensacola believes the correct boot can be the difference between a great day of hiking and exiting the trail early. Sore feet, tired feet and the dreaded blister can all be addressed through the right boot.
After boots, there are a few other essentials that most people already own. Many hikers prefer shorts, but loose-fitting pants will protect against scratches, some bugs and poisonous plants. Bring water, a hat, sunscreen and bug spray and you are outfitted for a basic, short hike.
Step 2 — Find a Hiking Partner
Hiking, much like swimming, should never be done alone. Remember, you are in nature, and nature is unpredictable. The danger of injury is a reality no matter how careful you plan to be. A twisted ankle on a lightly traveled trail is more than uncomfortable; it can lead to serious trouble.
Solution? Recruit a hiking partner. Your hiking partner should not be an online date you are meeting for the first time. It is not safe to be on a secluded trail with someone you hardly know. Protect yourself by bringing a friend, or connect with a legitimate hiking club.
Helen Wigersma, chair of the Western Gate chapter of the Florida Trail Association, encourages would-be hikers to contact their local chapter for weekly activities, including guided hikes. She says all chapters offer opportunities for people to get acquainted with the trails in their area and emphasizes that folks should not be intimidated. All skill levels are welcome.
Step 3 — Pick a Hike
Residents of the Emerald Coast are graced with easy access to spectacular trails. The nearly 1,300-mile Florida National Scenic Trail, or Florida Trail, starts at Big Cypress National Preserve and ends at the Gulf Islands National Seashore at Fort Pickens in Pensacola. Proximity, however, is not the only consideration when selecting a trail, especially if you are a novice. The wind, sun and loose sand on this leg of the Florida Trail are not for everyone.
Other trails will take you through sawgrass or wooded areas where the sand is harder, making for a different, possibly more enjoyable, experience. Try a variety of short hikes in various ecosystems to explore the options, and in no time you will identify your favorites.
Time to lace up your boots and get out there. Soon, signs that your inner hiker is taking over will be as clear as the marks on a well-blazed trail. You can look forward to amassing trail maps, creating a top 10 list of all-time favorite hikes and planning trips around trails you want to experience. Happy hiking!