Magical Art Projection Show Digital Graffiti Returns to Alys Beach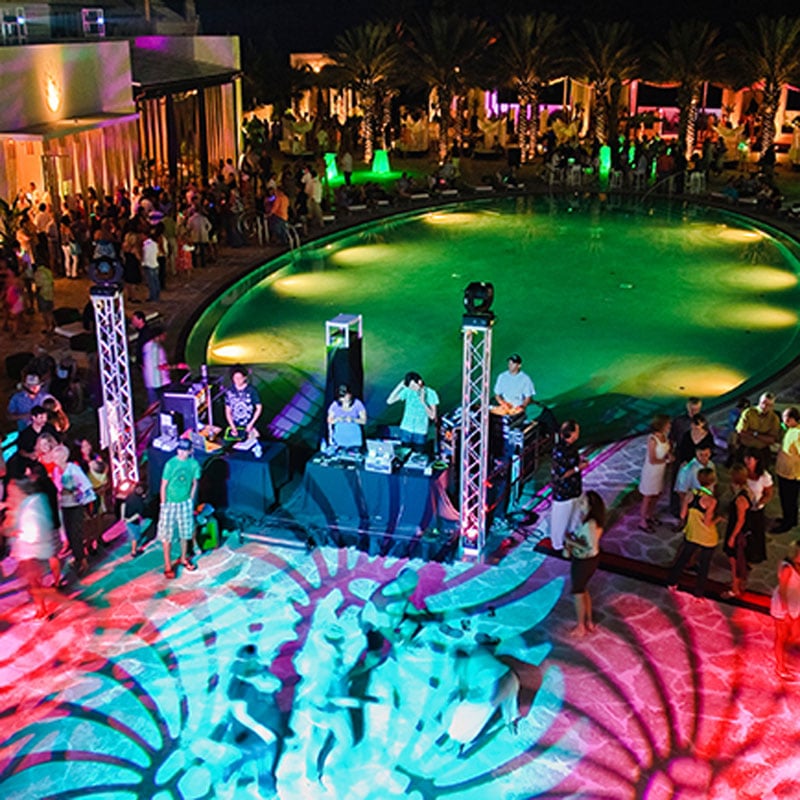 Photo courtesy of Digital Graffiti
Beautiful, dynamic images and colors seem beam, beat and bounce. Lights flash and move to their own beat. Voices murmur, fingers point, heads nod. One of the most magical, awe-inspiring art events returns to Alys Beach on Scenic Highway 30A for its eighth annual year. Digital Graffiti — the one-of-a-kind projection art festival known to locals as DG — will be held Thursday through Saturday, June 4-6, 2015.
For three nights, the iconic white walls throughout the town of Alys Beach will once again be transformed into larger-than-life canvases by both seasoned and emerging digital artists. This type of artwork is sometimes referred to as Photon Bombing or Urban Projection, an art form in which digital artists use the latest technologies and creativity to project dynamic images onto large sometimes unconventional canvases such as buildings. In the case of Alys Beach, vibrant art will be projected onto walls, windows, alcoves, pathways and bridges throughout the entire town.
The highly anticipated three-day art festival opens with a behind-the-scenes sneak peek of select digital art during the Curator's Tour and Talk on Thursday evening. The full exhibit officially opens Friday when art lovers can leisurely stroll along the pedestrian paths to view and discuss the latest in art, architecture, and technology with some of the digital artist finalists who have work on display. The event continues on Saturday, with a second night of exhibitions, the announcement of the DG 2015 award winners, and culminates with a celebration of still more digital art and music around Caliza Pool.
Earlier this year, artists from around the world submitted their creative works to Digital Graffiti in hopes of being selected as an artist finalist. Since the festival debuted in 2008, hundreds of artists have ventured to the Emerald Coast from from all over the globe in hopes of showcasing their unique and dynamic work, but also for a chance to vie for $10,000 in cash prizes, including a $5,000 prize for Best of Show. Last year, 29 artists representing 24 cities in 12 countries on four different continents competed. A panel of judges awarded prizes to seven winners hailing from Brussels, Canada, Portugal, France, Austria, Germany, New Zealand, India and 10 different cities throughout the U.S.
EC Magazine is excited to return to the event as a media sponsor. Be sure to come say hello to the EC magazine team inside the Welcome Tent as you arrive. The Alys Shoppe will be dressing us up, DJ Lady Muse will be spinning beats, there'll be photos by Pure 7, beautiful decorations by Fisher's Flowers, entertainment from US Gold Gymnastics & Cheerleading and drinks from Cathead Vodka to get you pumped for the art show. Tickets for Digital Graffiti are $75 for Thursday and Friday night and $160 for all three days. Tickets are now on sale. Purchase your tickets here and get ready to experience 30A's "must do" art event of the summer season.