Madewell Art Studios Heals Through Art
Creative process uncovers intense emotions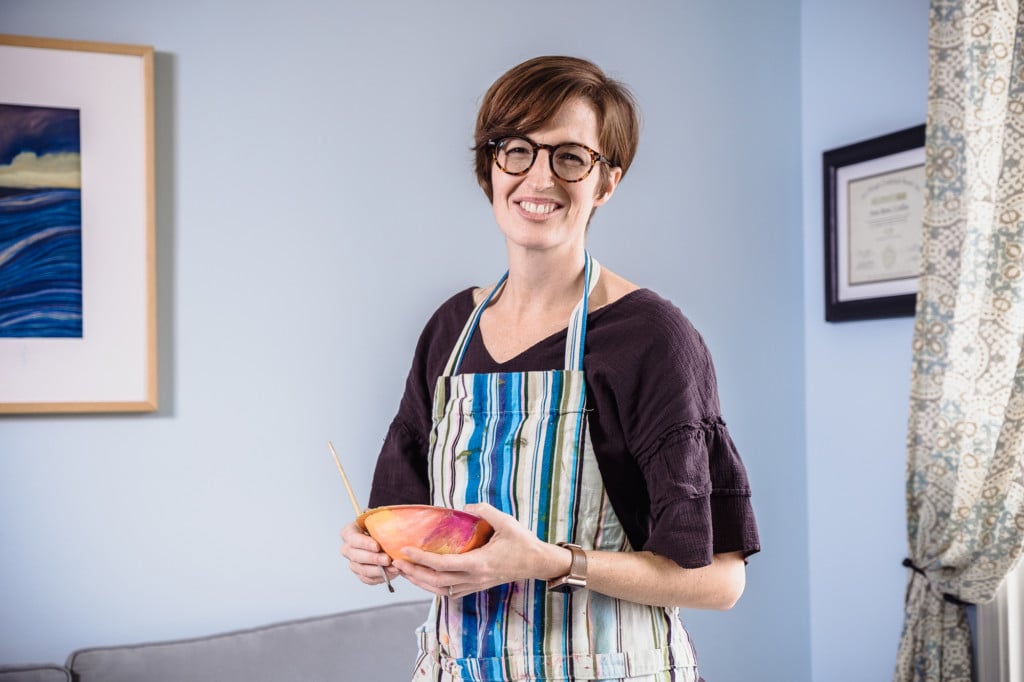 There is magic in art. It can be pleasing, inspirational, challenging and thought-provoking.
And healing.
"Art for healing transcends many levels," said Anne-Marie Collins, a registered art therapist and owner of Madewell Art Studios in Gulf Breeze.
"It can be used to help unlock the challenges and issues associated with emotional, physical or mental health problems.
"Many times, people have tried talking with a traditional therapist," Collins said.
"But that might not be enough. People may need a different or additional approach. My role, in those cases, is to use creative materials to help people process nonverbally and make their feelings visible."
Collins has been an art therapist for 10 years and opened her own practice a year and a half ago.
Given the universality of art, she spent two weeks in Tanzania and Nairobi with the Global Alliance for Africa.
There, she met African artists whose work helps improve the lives of poverty-stricken, at-risk and orphaned children.
"Being in Africa was a pivotal time for me," Collins said. "I learned so much. Kids need an outlet to express themselves, gain confidence and feel like they are a part of a community. The artists provide opportunities for kids to create and be around art, even in the slums."
Raising awareness and correcting misconceptions about art therapy are objectives that Collins, herself an artist, is passionate about.
"Art therapy coloring books and art parties are great and can be beneficial because crafting and creating is inherently good," she said.
"However, true art therapy doesn't happen unless a registered art therapist is present. You need the triad of client, art therapist and the art. There is nothing wrong with relaxing with art, but our job is to promote change. Art therapy is actually a part of the mental health profession.
"I work with individuals, but I really enjoy working with groups," Collins noted. "I feel I can benefit more people, especially women. In one group, we made inside-outside masks. We used wire and glitter and colored pencils. The outside of the mask is what women felt they show the world and the inside of the mask is what the world doesn't see.
"When I look at their art, I don't interpret it for the clients, because it's not really about the art," Collins said.
"There is absolutely no artistic experience or talent needed. I help them decode their art and express their story in a less confrontational way. I ask pointed questions about what they think it means."
By creating art, clients foster self-discovery.
"Art is a form of coping and a refuge for intense emotions," Collins said. "I might draw your attention to things you may not have seen in your art."
Collins finds that art therapy is helpful to victims of sexual or domestic abuse; people dealing with cancer, eating disorders and post-traumatic stress disorder; people undergoing major life changes; and people living with disabilities.
Collins noted that art therapy is used extensively by therapists working with hurricane victims.
Following Hurricane Katrina, therapists in New Orleans found that children and adults tended to draw houses in the shape of triangles.
Therapists initially wondered why so many people drew the same thing, then realized that the triangles were just rooftops and reflected the pain associated with flooded homes.
"I often tell my clients," Collins emphasized, "that if you do nothing else in a given day but immerse yourself in art, that experience could help direct you toward positivity, personal empowerment and increased self-esteem."