Mac & Cheese Festival Raises Over $30,000 for Boys & Girls Club
Impacting thousands of children across the Emerald Coast, the impact is far and wide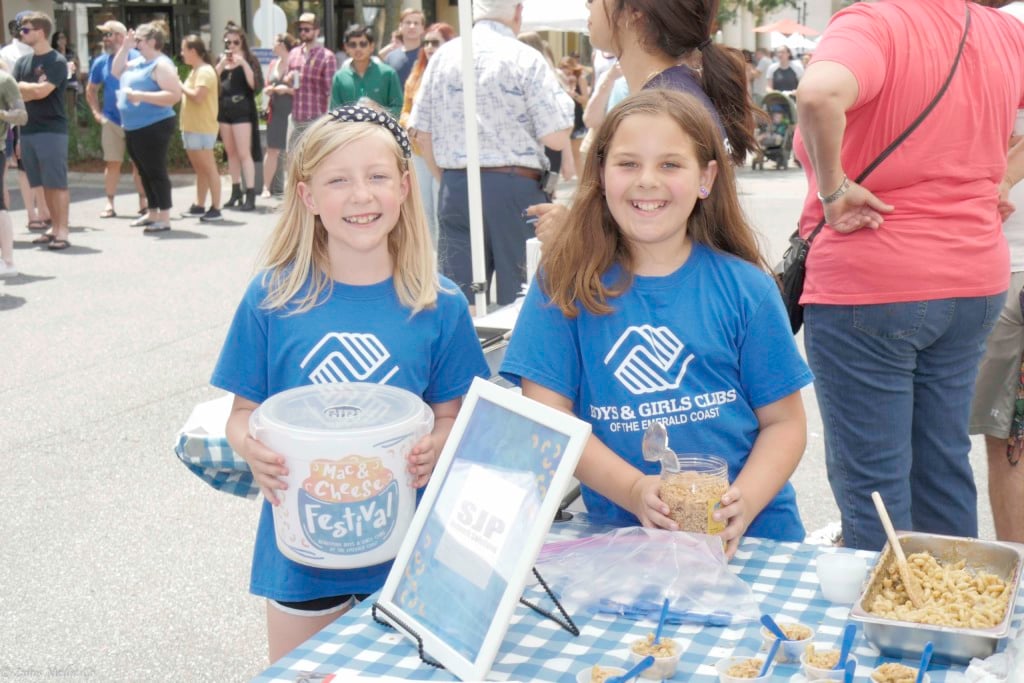 On Sunday, May 19, over 3,000 people packed Main Street for the inaugural Mac & Cheese Festival at Destin Commons, proving that the heavenly, hearty and dairy-licious dish isn't solely intended for children.
The festival's proceeds were, however, as the more than $30,000 raised will benefit the Boys & Girls Clubs of the Emerald Coast, a nonprofit devoted to "enhancing the development of boys and girls by instilling a sense of competence, usefulness, belonging and influence through its programs focused on academic success, good character and citizenship, and healthy lifestyles."
"Our first Mac & Cheese Festival was a huge success and thoroughly outperformed our own expectations," Chief Executive Officer of The Boys & Girls Club of the Emerald Coast Sheriv Rassa said in a news release.
"We are extremely thankful to all that attended, all of our cooking participants, Destin Commons and all of our sponsors for making this first-year event an instant hit. Every cent raised through this event will make an impact on the over 4,000 youth we serve on an annual basis."
Those who pre-purchased tickets online were in luck, but curious Commons shoppers tantalized by the afternoon's bouquets of cheese-laden sausage, seafood and vegan-friendly pastas were left with an empty stomach, as the event sold out within 20 minutes of its commencement.
But a few lucky thousand could exchange taste tickets for remixed versions of the conventional comfort food from 14 local restaurants and organizations: Longhorn Steakhouse, Stinky's Fish Camp, Red Fish Taco, Bubba Gump Shrimp Co., Panera Bread Company of Destin, Cox Media, 98 BBQ, 790 on the Gulf, Okaloosa Island Fire Department, Basil and Baxter's Kitchen and Cocktails, SJP Network Solutions and Paula Deen's Family Kitchen.
Libation tents boasting drafts of Honey Cream Ale and 30A Beach Blonde Ale supplied frosty, frothy palate-cleansers, and were valued by every parent whose child dragged them to dance the "Cha-Cha Slide" before the DJ, or pose at the photo booth with zany props and macaroni-shaped balloons.
Children had a voice in appointing the event's Best in Show. Unsurprisingly, the ever-classic and creamy Vermont white cheddar mac from Panera Bread claimed the Kid's Choice Award.
Adults opted for a more sophisticated spin on the chow, electing Basil and Baxter's Kitchen and Cocktails' smoky, Cajun-spiced mac as the People's Choice.
As for Judge's Choice, Red Fish Taco's spicy, cantina-style noodles were deemed the supreme plate-licker.
"Too much comfort food can be uncomfortable," said Steve Bornhoft, the editor of 850 Magazine and a festival judge, "so I tried to eat responsibly. The 12 dishes we sampled ranged from the traditional to the adventuresome, but all had merit."
Bornhoft said he was glad for the opportunity to fill a fulfilling role at the festival.
"I have long been aware of the often-transformational impact that Boys & Girls Clubs have as a formative influence on young people," said Bornhoft.
"By supplying homework assistance, recreational opportunities, practical life lessons and a safe place to hang out, the clubs come to feel like second homes to the boys and girls they serve."
Among Bornhoft's fellow judges was the Boys & Girls Club of the Emerald Coast's Youth of the Year, Jacobe Turner.
Youth of the Year is a prestigious position that honors one's "outstanding leadership, service, academic excellence and dedication to living a healthy lifestyle."
An aspiring chef himself, Turner was coy when asked to dish on his favorite festival contenders, but he had plenty to say about his journey in serving as a regional Boys & Girls Club ambassador.
"To be selected as Youth of the Year, you write three essays on our personal brand, our vision for America's youth and for our Boys & Girls Club experience," Turner shared.
"We're then called upon to compose a speech about why we should be selected as Youth as the Year and undergo an interviewing process."
Once selected, Turner had the pleasure of competing at state-level event determining Florida's Youth of the Year.
Sadly, he lost, but Turner counts it as a "positive opportunity that granted invaluable experience."
"Honestly, days like today are one of my favorite parts about being Youth of the Year," Turner said of his taste-testing role.
"It's great seeing all these people come out to support our Boys & Girls Clubs, and all of the children seem to be having a great time."
Rassa agrees, there was no better way to raise money for children than to showcase their favorite food.
"Kids are our most prized possession, and they are our legacy we leave behind. For us to be able to advocate, mentor, educate and guide them to be productive adults is really the legacy we're going to leave behind for our country and in perpetuity."
The Boys & Girls Clubs of the Emerald Coast is a registered IRS 501(c)3 charity receiving funding from contributions, special events, grants and major donors such as Destin Charity Wine Auction Foundation and United Way agencies in Escambia and Okaloosa/Walton Counties.
To learn more, please visit EmeraldCoastBGC.org.