Impact 100 of Northwest Florida Grants $508,000
To benefit five Okaloosa and Walton County non-profits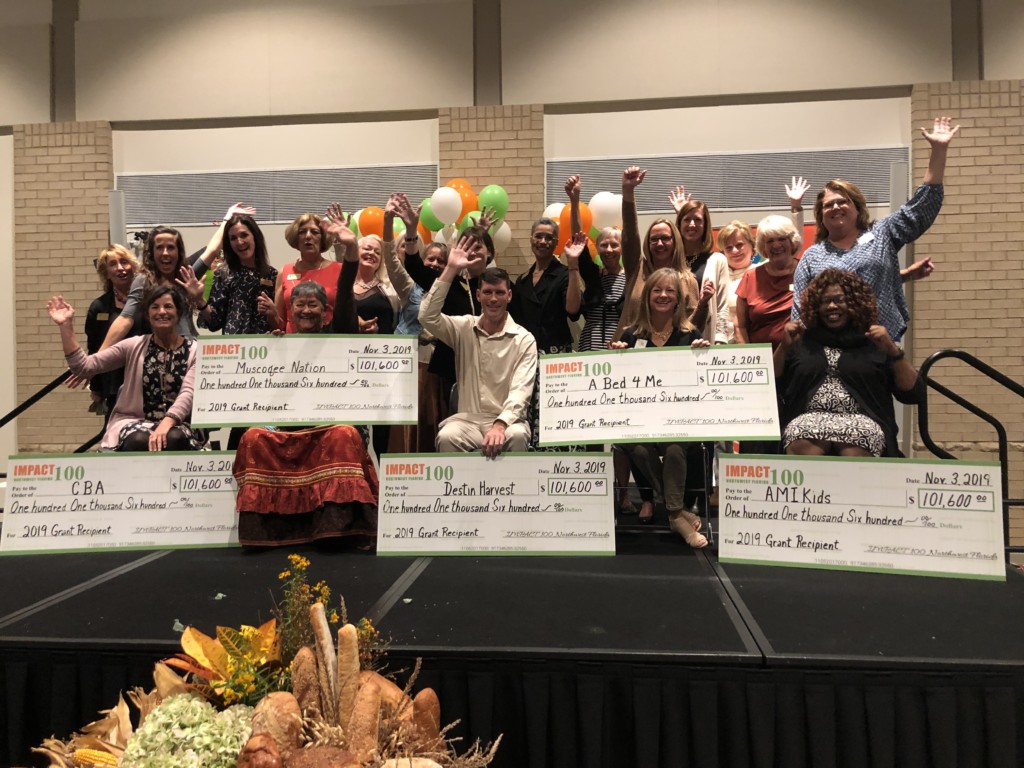 Hundreds of Impact 100 of Northwest Florida members gathered at the Parish Hall of the Resurrection Catholic Church in Miramar Beach last Sunday, Nov. 3 for an annual grant funding vote and check presentation.
The event was a culmination of Impact 100's yearlong grant application process, in which 508 women donated $1,000 each to fund and further the causes of five non-profit 501(c)(3) organizations in Okaloosa and Walton counties of their choosing.
"Giving to local non-profits is our number one mission, but a big part of our mission statement is to empower women to be philanthropists and leaders in their community," said Amanda Gordon, president of Impact 100. "We utilize an incredibly unique and effective philanthropy model where 100 percent of each member's thousand-dollar donations go directly to the non-profits they select."
Last April, Impact 100 hosted an open workshop in which interested organizations learned how to apply for funding. Gordon said Impact 100 seeks to provide "transformational, high-impact grants" for projects that will expand an organization's program to best serve Okaloosa and Walton counties.
Grant review committees in five areas of focus — arts and culture, education, health and recreation, environment and family — conducted site visits, interviewed executive directors and staff from each organization and ultimately determined two finalists from each category.
Representatives from each of the 10 contenders were invited last Sunday to give a brief, five-minute speech on how a grant would help them impact the community before Impact 100 cast its final votes.
The following organizations received $101,600 each for their respective projects:
Arts and Culture Recipient – Muscogee Nation of Florida, Inc.
Project: Muscogee Nation of Florida Agri-Tourism Initiative
Education Recipient – AMIKids Emerald Coast
Project: Vocational Training for At-Risk Youth
Environment Recipient –Choctawhatchee Basin Alliance (CBA)
Project: Building a Better Bay: Improving Water Quality Through Community-Led Restoration
Family Recipient – A Bed 4 Me Foundation
Project: Big Impact on Big Dreams
Health and Recreation Recipient – Destin Harvest, Inc.
Project: Fortify Food Rescue
"It's one woman, one vote, so we never know what the outcome will be," said Gordon. "But no one is ever disappointed because these are all worthy organizations. All of our finalists are deserving."
Since 2012, Impact 100 has donated $2.2 million to non-profits of Okaloosa and Walton counties. As grant funding scales with Impact 100 membership, Gordon addressed the audience last Sunday with a simple plea: "Each one, ask one."
"We obviously wish we could award grants to all of our finalists," said Gordon. "The majority of our 508 members are present at this meeting, so I ask them this each year. If each of those women could recruit a friend, we would have a thousand members, and be able to make that funding possible."
And, Gordon encourages all non-profits to reapply. The Choctawhatchee Basin Alliance (CBA) had been a finalist for several years and for them, said Gordan, "the stars finally aligned."
"They didn't give up on us, and we didn't give up on them," she said. "We're a whole new batch of women every year, and we always want to help your cause make a difference in our community."