Idyll Hounds Brewing Company Announce Houndfest9
Proceeds from the annual event will benefit Westonwood Ranch, 501 c (3) non-profit corporation in the heart of Walton County, established in 2017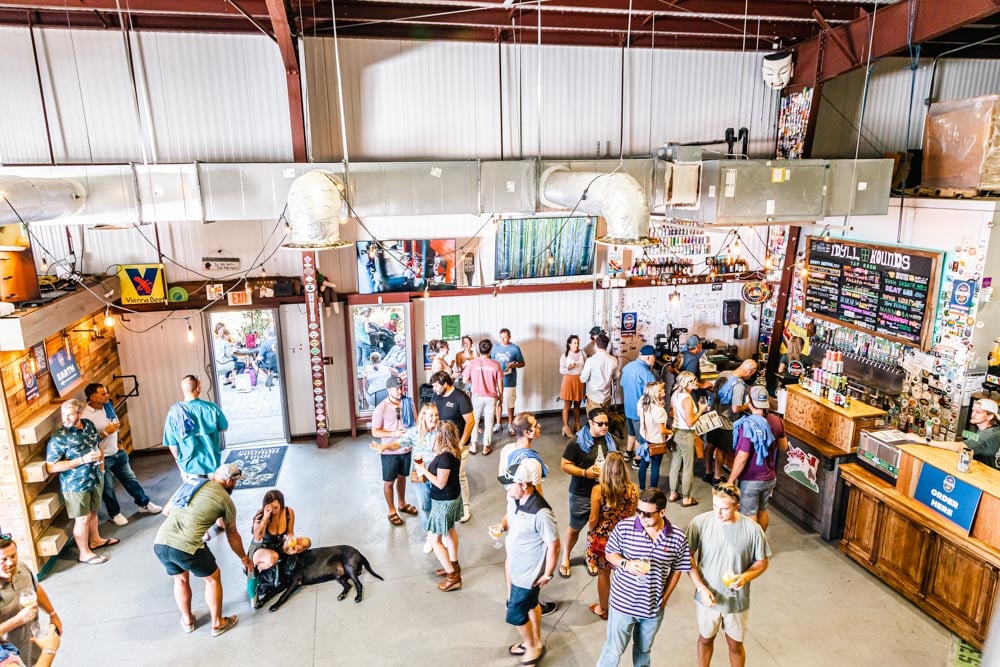 Idyll Hounds Brewing Company Announces Ninth Annual Signature Event, Houndfest9, to Benefit Westonwood Ranch
SANTA ROSA BEACH, Fla. (September 7, 2023) – Idyll Hounds Brewing Company's signature event, Houndfest9 presented by Rosemary Beach Realty & Cottage Rental Company, will take place Friday-Saturday, September 29-30 with proceeds benefiting Westonwood Ranch.
To kick off the event weekend, Idyll Hounds Brewing Company has added a new VIP dining experience, presented by The Henry Haus, in partnership with Idyll Hound Proper, on Friday, September 29 from 6-9 p.m. VIP guests will partake in an elegant dinner under the stars on the lawn at 30Avenue. Attendees will be delighted with live music and have the exclusive opportunity to mix and mingle with the brew masters who will be featured during the main event. The five-course meal will feature local cuisine and custom beer pairings based upon the essence and flavors of each dish. There are a limited number of tickets available for $115 per seat. Those planning to attend both the Friday-night dinner and the main event on Saturday are encouraged to purchase "The Hound Pass" for $215 which includes exclusive VIP access and perks. To purchase or learn more, please visit https://www.idyllhoundsbrewingcompany.com/houndfest/.
"We wanted to create a unique experience for our guests to meet with these beer experts one-on-one," said Idyll Hounds owner and brewer, Frasier Hansen. "Each has a story to tell, and this is the perfect setting."
On Saturday, September 30, guests are invited to the brewery, located at 845 Serenoa Road, for the main event from Noon – 5 p.m. featuring craft brews poured by an array of regional and local breweries, including Alga Brewing Company, Emerald Republic, Grayton Beer Company, Odd Pelican Brewing Company, and Tampa Bay Brewing. Idyll Hounds will be debuting new, packaged beer releases during the event along with various options on draft, including several specialty barrel-aged beers as well as brand-new stouts, sours, and hard seltzers. They will also be serving one off specialty releases of some of their flagship beers, including Divide and Conchr, Boosh, Man O Wit, and more. Both VIP and general admission ticket holders will have full access to all breweries and enjoy unlimited samples of the various beers being poured throughout the afternoon.
There will be a plethora of food options for purchase by 3 Sons Barbecue, Aja 30A, and Idyll Hound Proper along with non-alcoholic beverages available from Amavida Coffee, Noli South Kombucha, and water provided by ADT Solar.
Guests will enjoy live music by Dirty Bird and the Flu followed by main act, The Zydeco Gents. There will also be a photobooth courtesy of Driftwood Wine & Spirits, and various shopping opportunities from local vendors. Those interested will have the opportunity to participate in a Steinholding Competition, sponsored by Action Audio Visual, where competitors hold a full one-liter beer stein out in front of their bodies with a straight arm parallel to the ground as long as they can.
General admission tickets are available for $60 in advance and $75 at the door and include a commemorative bag courtesy of Visit South Walton, koozies courtesy of Buddy's Seafood, a t-shirt, sticker, and glass to sample unlimited beers throughout the event. Guests can elevate their experience with a VIP Ticket for $119, which includes all the same perks as general admission plus early entry at 11 a.m. to enjoy an extra hour of the festival, a reserved area provided by Emerald Coast Magazine with complimentary food by Idyll Hound Proper, and a limited-release bottle of craft beer to take home. There will also be designated driver tickets available for $30 for those not drinking during the event. To purchase in advance and to learn more about the different options, please visit https://www.idyllhoundsbrewingcompany.com/houndfest/.
Proceeds from the annual event will benefit Westonwood Ranch, 501 c (3) non-profit corporation in the heart of Walton County, established in 2017. Westonwood Ranch offers a unique learning curriculum to improve life skills and pre-vocational skills to young adults with developmental differences. Their goal is to help their program participants increase independence, gain self-confidence, obtain gainful employment in the community, and successfully transition into adulthood.
"We are honored, appreciative and thrilled to be the Houndfest9 beneficiary this year," said Lindy Wood, Founder/CEO of Westonwood Ranch. "These funds will help support program financial aid scholarships, which allows our organization to provide evidenced -based programs at very little cost to the families that need them the most."
While the cost of therapeutic interventions can be a significant financial burden for many families, Westonwood Ranch believes that the cost of therapy-based programs should not be a barrier and therefore aims to provide these services in the community for teens or young adults who are affected with Autism, Down Syndrome, and other related disabilities.
"We do what we can to make an impact in the lives of this special population we serve," Wood said. "We are coming beside families with support with the goal to empower these youth with self-advocacy skills, tools that promote independence, and provide opportunities to contribute to society in a meaningful way. We are very thankful to Idyll Hounds for partnering with us in this mission."
Lodging partner, The Lodge 30A, is offering guests traveling from out of town an exclusive rate to stay for the festival weekend. To book, please visit https://www.thelodge30a.com/offers/houndfest.
Idyll Hounds would like to thank the following individuals and local businesses who will be sponsoring this year's event including Buddy's Seafood, Christie's International Real Estate, HMX Productions, Kombi Keg 30A, LD Carlson, SoWal.com, Vacayzen, and Warren Averett Accounting. There are multiple sponsorship opportunities available for local businesses or individuals interested in getting involved in this year's event. To learn more, please email jessica@proffittpr.com
Photos from the 2022 event can be found here.